Bill Buckner
Role: Project Manager
How Does He Help You: A Project Manager is in charge of running your remodeling project. They coordinate permits, inspections, electricians, plumbers, and deliveries. They oversee all of the work.
Phone: 973-610-3614
Email: [email protected]
Call 973-635-7900 to schedule an estimate.
Sample of Bill's Projects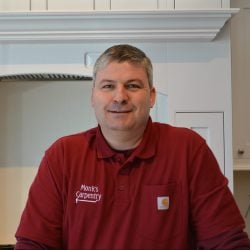 Background & Experience
For over 15 years I've been working in project management in both the residential and commercial setting. As a licensed contractor, I owned my own contracting company specializing in custom kitchens and bathrooms, as well as structural remodels. Prior to that, I managed Home Depot's installation department for North Jersey for a number of years.
During this time, I've managed a lot of moving parts. I take great pride in running my remodeling projects smoothly and proactively. All the while, I've delivered projects that are on time and on budget. Additionally, I'm focused on completing a top-quality remodel. My goal is to make the remodeling process as pleasant and stress-free for my clients as possible.
The environment at Monk's Home Improvements is ideal. The entire in-house team is all focused on a single goal. I enjoy working with professionals who are committed to delivering top-quality work and customer service.
I look forward to working with you on your kitchen, bath, or other home remodeling project.