Meet Shane Sweeney
Role: Estimator
How Does He Help You: He provides you with a detailed, written estimate. He schedules and coordinates his crews to complete your project quickly and efficiently.
Phone: (973) 534-7469
Email: [email protected]
Call 973-635-7900 to schedule an estimate with Shane, or book online.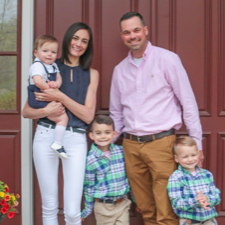 Background & Experience
I have been working in the home improvement industry since 2002. Upon graduating high school I began working for a local carpenter. After spending several years learning and perfecting my carpentry skills, I decided to move onto construction. I progressed to superintendent for a commercial real estate company where I was overseeing larger construction fit-outs.
After working in the commercial industry for some time I realized my heart was still set on residential home improvements. Residential projects are what I truly enjoy doing. It hardly feels like a job to me. Being able to build or construct a custom project exactly as a client envisioned is my favorite part.
Currently, I reside with my family in Chester, NJ. My wife, Katie, and I have three amazing boys. We're expecting a daughter in the fall of 2020.
Shane Sweeney is providing home improvement estimates in Madison, Chatham, Florham Park, and New Vernon, NJ.