Zoriana Pogorilets
Showroom Location: Fanwood
Role: Designer
Education: Ternopil Ivan Pul'uj National Technical University – Ternopil, Ukraine
Experience: 3 yrs
Mobile: 973-975-0044
Email: [email protected]
Not sure where to start with your project? Then book a 30min preliminary project consultation with a Designer and Project Lead. We'll brief you on our process, answer all your questions, and map out next steps.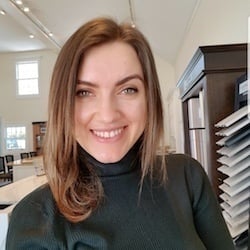 Background and Experience
Back in Ukraine, I studied alternative energy sources at a university engineering department. However, I did not find my passion here. So, I decided to move to the USA to travel and challenge myself. Like most people, I believe that you can do and achieve anything you wish for here in the U.S.
Since being in the United States, I worked for a company that imports granite, marble, other natural and man-made stones from all over the world. That's when I started falling in love with interior design.
For the past 2 years, I have been designing kitchens for clients. Creating 3-D designs, helping clients with product selection, placing orders, managing delivery and coordinating installations, I've seen kitchen remodels through from beginning to end. I love designing kitchens, as I believe it's the most important room in the house. Since it is where all family and friends gather, it needs to be comfortable, functional and in style.
I promise to make your kitchen or bathroom remodeling experience a positive one. I have a passion for design, an attention to detail, and I'm very responsive. My best reward is a happy customer.  I look forward to working with you to make your dreams a reality.