Scope of work: Carpentry, Exterior Painting
Location: Madison, NJ 07940
Timeline: 10 days
Often times when our team is called in to perform an exterior paint job it is because the home has not been painted in many years.  Sometimes, this is the first repainting the home has had in decades.  When this is the case our team has to thoroughly sand the house down to 95% bare wood before applying any paint.
This home in Madison, NJ was over one hundred years old and had never received a new exterior paint job.  In order to properly paint this home after decades of wear and exposure to the elements, our team had to begin the project by sanding the cedar siding down to 95% bare wood.  Our team at Monk's always makes sure to take every measure to protect your home as we work.  Our team sealed all of the windows with plastic.
It was discovered that several sections of trim were also rotting.  Our team at Monk's removed the broken sections and replaced them with Azek, a composite, moisture-resistant material.  A decorative triangle ripped off of the house during Hurricane Sandy.  Our team would also rebuild and replace this decorative element.
Once the home was machine sanded, our team gave the home a thorough light hand sanding.
Next, two coats of primer were applied.  Once the primer was dry our team applied two coats of exterior paint.
In only twelve days our team at Monk's had transformed this home with a beautiful new paint job.
After Exterior Painting Madison, NJ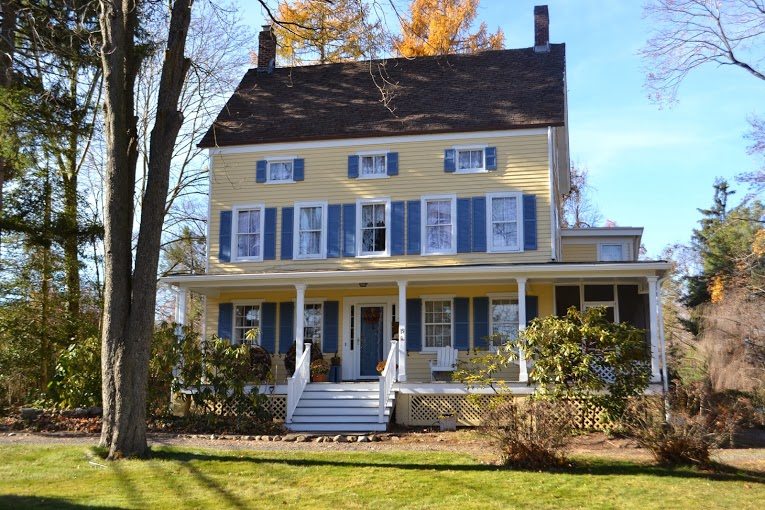 To see more exterior painting projects by our team at Monk's check out our exterior painting gallery.
If you would like to see even more projects by us check out this hardwood floor refinishing job, this tile backsplash or this amazing treehouse.
If you are considering an exterior painting project for your home we would like the opportunity to tell you why we think we are the best exterior painting contractor in Madison, NJ 07940.