Where Monk's is Now
During this uncertain time, we're making decisions to best position Monk's for our employees, customers and northern New Jersey community. We have a responsibility to protect the health of our people and customers, while also preserving our long-term ability to provide jobs and benefits.
Currently, our showrooms in Morristown and Fanwood-Scotch Plains are closed, complying with state regulations. We are, however, offering our customers a virtual designing and shopping experience through the use of video calls and screenshares with our experienced design team.
Additionally, we are providing a combination of no-contact estimates and home improvement work that can be done safely by employing social distancing best practices.
Our New Jersey Employees
Through a combination of Monk's Home Improvements and Monk's Design Studios, we directly employ 48 New Jerseyans. Through our franchisees and subcontractors, we provide work for hundreds more.
To this date, we have not laid off any employees because of the Coronavirus and have no plans to do so in the foreseeable future.  On March 16th we started moving all of our employees out of our office and set them up to work from home. Currently our call center, accounting department, and showroom associates are all remote.
When You are Ready
We understand the current situation has impacted families differently.  We want to let you know that we are here to assist with your home improvement needs the best way we can, whenever you are ready.  Monk's wants to let you know that we can help in the following ways.
Repairs & Emergency Assistance
Our carpenters can help with repairs from rot, animals or water damage. We can handle rotted trim, broken gates or fences, or any type of handyman work. Just call us and we'll get out to you as soon as possible.
Exterior Painting & Carpentry, Decking, Windows & Doors
Monk's painters and carpenters are continuing to offer exterior painting and powerwashing services, as well as carpentry services. We can reface decks and install replacement windows and doors. We will come to your home to provide an estimate. However, we encourage our customers to stay inside during the estimate. We will discuss everything with you on the phone as we inspect your exterior. When our crews are on site to perform the work, they will remain outside of your home. In fact, we will bring a port-o-john so there is never a reason for us to enter your home.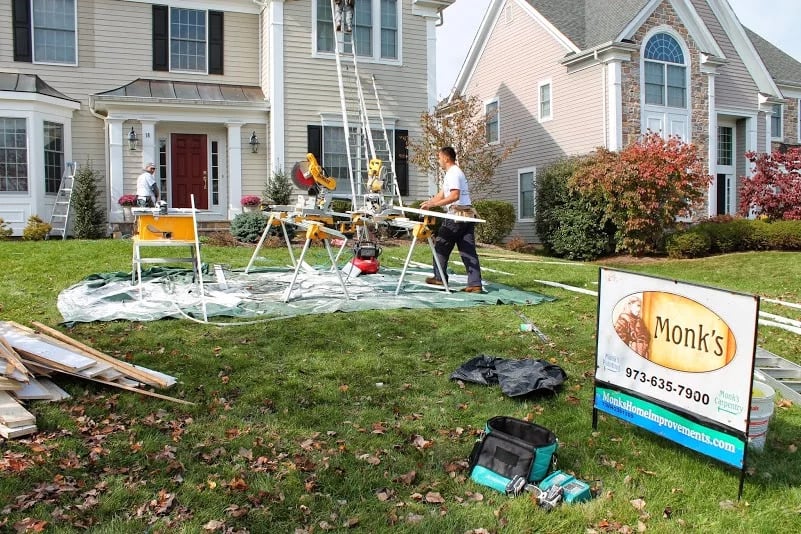 Kitchen & Bathroom Remodeling
We understand that these are larger projects that require a longer timeline. However, we can take a few steps that will help shorten the timeline when you are ready to move forward.  We can discuss your project on the phone and then come inside to measure your space.  We request that you allow us to measure the kitchen or bathroom without you present, so we can all maintain safe social distancing.  If we have any questions, we will call you on the phone.
Our designers will schedule a time to FaceTime with you while they are in the showroom to help you select materials.  We will then drop your selected materials off at your house so that you can see them in person.  When you are done with them, we will come pick them back up so you don't have to leave your house.
Preliminary Consultation
Considering a remodeling or renovation project, but have lots of questions or aren't sure where to start? Monk's can help. Schedule a preliminary project consultation (remote) appointment with us. A Project Manager and a Designer will walk you through our process and answer any of your questions. We can put together a general timeline for you and guide you on your next steps. You can schedule this consultation online.
Online Kitchen & Bath Design Tools
From the comfort of your couch, start configuring your new kitchen or bathroom. Play with different color combinations, cabinetry styles, and tile patterns. With so many material choices, it is very helpful to start narrowing down your design preferences. When you are ready, you can collaborate with one of our Designers who can answer questions and help guide your material and color selections. Visit our kitchen design tool or our bathroom design tool.
Interior Painting, Carpentry & Floors
Interior estimates and work are a little tricky. We can do them a couple of ways. First, we can provide an estimate virtually, using FaceTime or Zoom, for example. Second, we can do them on-site while you are outside the home. Your Estimator can discuss the details over the phone before they arrive, and only enter your home to take measurements. When we perform the work, we are putting up plastic whenever possible to wall the work area off from the rest of the house.
New Homeowners
Many new homeowners want work done to their new home. Even before the pandemic, Monk's teams were carefully coordinated to provide new homeowners with improvements between closing day and move-in day. We can organize our crews and provide painting, carpentry, and floor refinishing or installation.
Anything Else
If you have questions on anything, please don't hesitate to reach out. Our office staff are answering the phones from the safety of their homes. If they don't know the answer, they will find out. We're here to help our neighbors any way we can! We hope you all stay safe and healthy.