Scope of work: Wainscoting, Interior Painting
Location: Chester, NJ 07930
Timeline: 10 days
These Chester, NJ homeowners were looking to improve the look of their entryway. The series of hallways off the front foyer, as well as the stairway, were painted a neutral beige color.  The walls were plain and featured simple baseboard molding. The contracted Monk's to build and install custom wainscoting and provide interior painting.
Recessed Wainscoting Installation
Wainscoting is a lovely addition to any home. Wainscoting provides architectural character and formality. There are a number of different types of wainscoting to match different styles of homes. For example, beadboard is often used in cottages and provides a casual, coastal feel. Board and batten is another option which can be used in many different ways and at many different heights.
For this project, the homeowners requested a classic recessed wainscoting design to match their home. We sketched out all the elements to allow the homeowner to approve or make changes before we began the installation.
The carpenters used pine moldings to create the recessed panels. Then the carpenters installed the wainscoting in the hallways, up the stairs, and down to the sunken family room as you can see below.
Painters applied an oil based primer to the newly installed wood. Then they gave the walls, ceiling, and trim two coats of premium interior paint. The grey-blue walls and bright white wainscoting transformed these walls from boring to beautiful.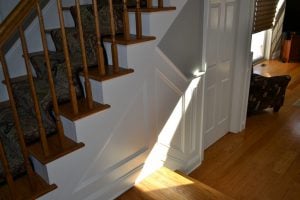 Another job well done by our team at Monk's Home Improvements. See all the photos and detail for this interior carpentry project at the Recessed Wainscoting Installation project page.
Other Monk's Projects
To see more wainscoting projects by our team at Monk's be sure to check our our wainscoting and crown molding gallery.
If you are considering a carpentry project for your home we would like the opportunity to tell you why we think we are the best carpentry contractor in Chester, NJ 07930.