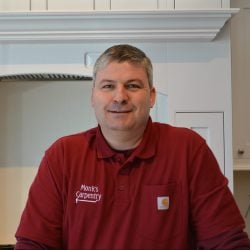 About bill
Role: Project Manager
How Does He Help You: A Project Manager is in charge of running your remodeling project. They coordinate permits, inspections, electricians, plumbers, and deliveries. They oversee all of the work.
Phone: 973-610-3614
Email: [email protected]
Call 973-975-4451 to schedule an estimate.
Background & Experience
For over 15 years I've been working in project management in both residential and commercial settings. As a licensed contractor, I owned my own contracting company specializing in custom kitchens and bathrooms, as well as structural remodels. Prior to that, I managed Home Depot's installation department for North Jersey for a number of years.
During this time, I've managed a lot of moving parts. I take great pride in running my remodeling projects smoothly and proactively. All the while, I've delivered projects that are on time and on budget. Additionally, I'm focused on completing a top-quality remodel. My goal is to make the remodeling process as pleasant and stress-free for my clients as possible.
The environment at Monk's Home Improvements is ideal. The entire in-house team is all focused on a single goal. I enjoy working with professionals who are committed to delivering top-quality work and customer service.
I look forward to working with you on your kitchen, bath, or other home remodeling project.
Featured Projects
We've worked with Angelo 3x's already
Angelo is one of the best guys I've dealt with. He's fair and honest and gives you good advice and information when considering a project. Some times you feel as a home owner that your getting ripped off by the sales rep. Not with Angelo. We've worked with Angelo 3x's already and will look to continue to work with him in the future.
Keep Reading
– Kieran K. (Chatham, NJ)
Their customer service is excellent
We have used Monks for a few projects on our home. Angelo Santoro has been extremely helpful and professional. He oversaw fence repair, new outdoor shutters, and new closet organization. All of the work was done as scheduled and finished on time. Their customer service is excellent as is the completed work.
Keep Reading
– Amanda D. (Harding Township, NJ)
Ready to learn how Monk's can help you?
Contact us for your free, no obligation consultation and estimate.
Call the office at 973-635-7900 OR