New Tile is Cost-Effective & Modernizes your Home
Tile has many benefits over other materials. Since tile is waterproof, it is a great material for bathrooms and basements. Tile is also very durable, so it is often used in high-traffic areas like kitchens and hallways. From a design standpoint, tile provides limitless color, texture and pattern options.
Monk's can install tile in just a couple of days, so your home will have an updated look quickly.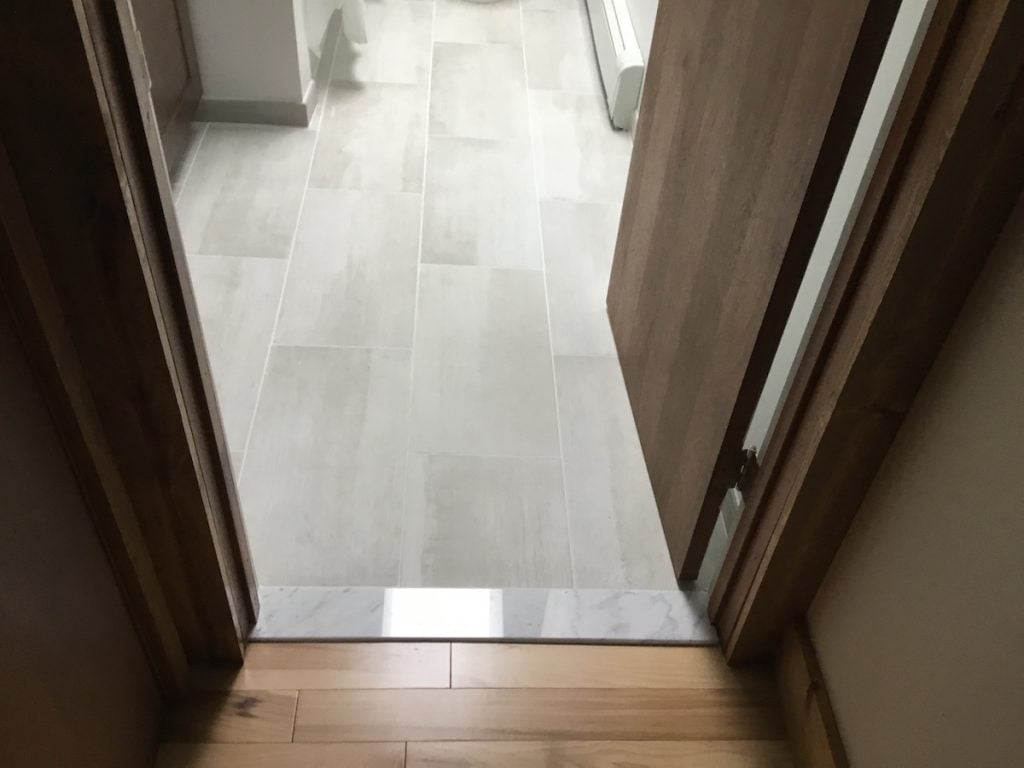 ---
Customer Reviews
Highly recommend Monk's
We couldn't be happier with the results. The bathroom is perfect, classic and transformed. The black tile and white marble with the dark cherry vanity is elegant. The worksmanship on an intricate tile design was superb. The family room was also transformed. All the craftsmen that worked on our renovations were knowledgeable, helpful, personable, and reliable. We are very pleased with everything…Thank you. We would highly recommend Monk's and would definitely use them again.
Keep Reading
– Susan & Vince Y. (Basking Ridge)
One-stop shopping at Monk's
We just finished remodeling our Master Bathroom and used Monks. Mike Drohan helped us with design and ordering all our supplies. As I installed everything myself, it was great that I had one-stop shopping at Monk's to deliver all my needs from tile to fixtures and accessories. Mike was very helpful during the process with many follow up questions. We now have a wonderful master bath and many friends commented that it looked like a professional did the job. Well we did get help from the Professionals – Monk's. Thank you!!!
Keep Reading
– Alicia (Morris Township)
---
The Most Popular Types of Tile Installation Projects
In northern New Jersey homes, tile is most commonly used in the bathroom. It is featured in the shower, the floor, and sometimes on the walls. Lately, we have been replacing tubs with fully-tiled walk-in showers. Another popular tile project is simply replacing the current bathroom tile with an updated look. We can remove dated or dirty tile and replace it for a fast bathroom transformation.
For high-traffic areas, we install porcelain or ceramic tile most often. Ceramic and porcelain tile are durable and come in a wide variety of looks to coordinate with any color or style preference. A very popular tile flooring option is porcelain wood-look planks. These porcelain tiles are great for the kitchen and mudrooms since they are water-tight and clean up easily.
Tile backsplashes are another popular tile project. We do these as part of a full kitchen remodel, or as stand-alone projects. Tile is the most popular material to use for a backsplash because it can handle water and grease from cooking. Backsplash tile can be simple and neutral or be used to add color or visual interest to the kitchen.
Tile Ideas and Inspiration
Selecting tile for a project can be overwhelming because there are so many options. Our Showrooms designers are always available to help you to select the best material and colors.
Currently, marble and marble-look tile are extremely popular. White and grey tones are in style, so marble easily lends itself to this design trend. A basketweave mosaic tile in the shower floor is fashionable. Sometimes we continue the basketweave over to the bathroom floor, as well. Otherwise, we install porcelain tile that looks like wood.
Subway tile is still on-trend for the shower walls, paired with mosaic tile used in niches and for accent.
How Much Does Tile Installation Cost?
According to HomeAdvisor, the labor cost to install ceramic or porcelain tile ranges from $4 to $32 per square foot. Installing flooring makes up the lower end of this range while installing a backsplash is between $25 to $32 per square foot. These numbers do not include removing existing materials, or the cost of installing new sub-floor or sheetrock.
Simple layouts with larger format tile are faster to install, and typically cost less. Using delicate tile and mosiacs can add to the installation cost, as well as intricate patterns and layouts.
Ready to learn how Monk's can help you?
Contact us for your free, no obligation consultation and estimate.
Call the office at 973-635-7900 OR