Basement Remodeling
Finishing, renovating, or remodeling a basement is a popular renovation project, and for good reason. It adds additional living space, therefore improving the quality of life for you and your family. It also substantially increases your resale value. Since a basement renovation is less expensive than an addition, it's a more cost-effective way to the additional square footage you want.
If you have a finished basement but it needs a makeover, we can renovate, reconfigure, add a bathroom, bedroom or bar. In either scenario, adding an egress window can also bring in light and provide safety. We offer a variety of services to renovate your basement space.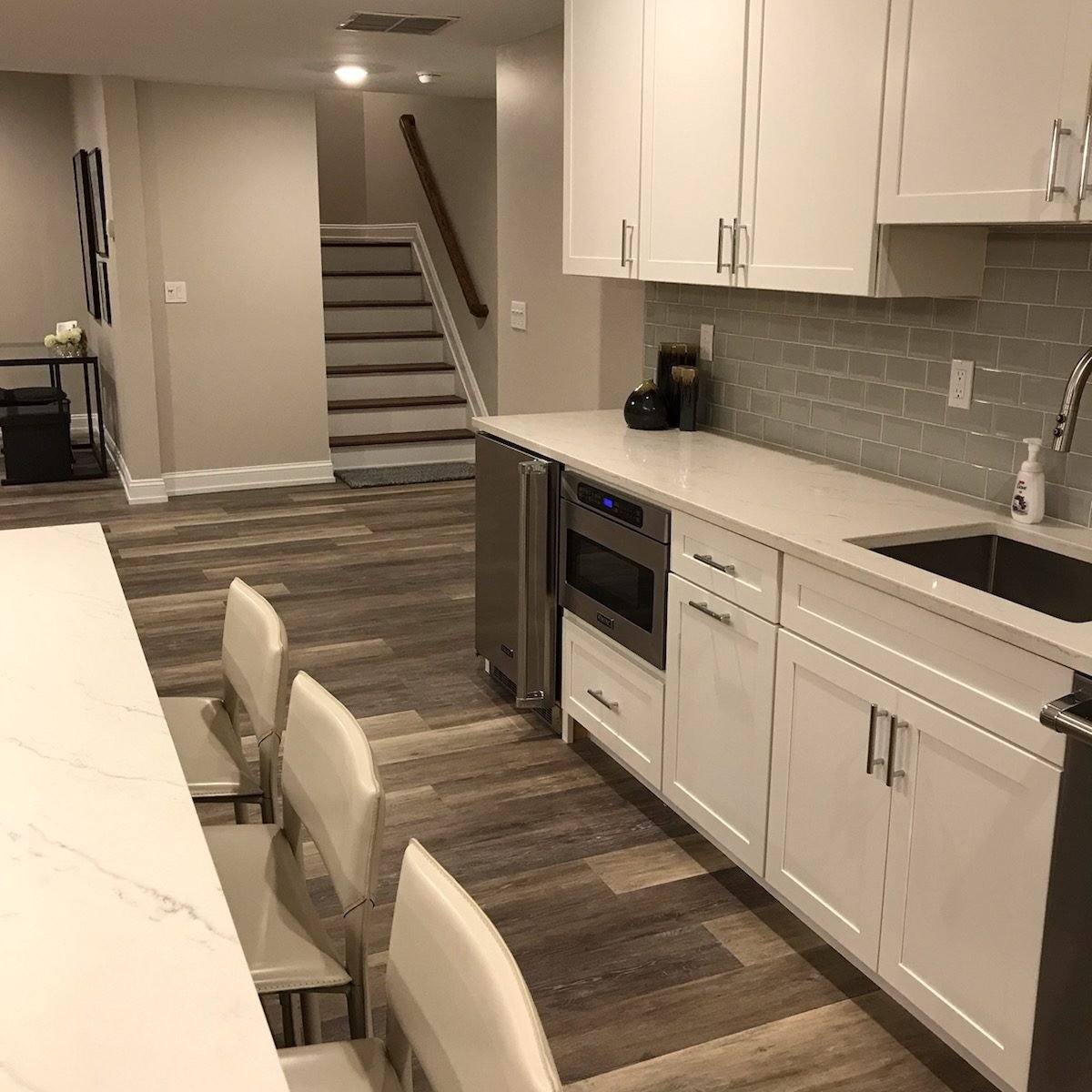 ---
Customer Reviews
Job well done, very happy
Job well done, very happy with the workers and supervisors. In a time of unprecedented work volume they kept pushing to keep the work moving forward. Basement looks great. Special thanks to Eric, Eddy, David, Dennis, Sergio, and a bunch of other guys who worked their butts off. Couldn't have had a crew of nicer guys living in my basement for a couple months.
Keep Reading
– Brian R. (Morristown)
Team offered significant guidance
We hired Monks to finish our basement and also paint the interior of our home. The basement renovation included a kitchen, full bath, office, and casual living area. The 1500 square foot renovation was extensive and Monks completed the project in a very timely manner. The team which included Mike Drohan, Jason Schroth, David Espinoza, and Dave Cleaves were invaluable with their professional and technical expertise. This team offered significant guidance and initiative throughout the project. Monks efforts have not only enhanced our home but also gave us a beautifully designed and finished living space. We will hire only Monks to do additional future projects.
Keep Reading
– Robert G. (Warren)
---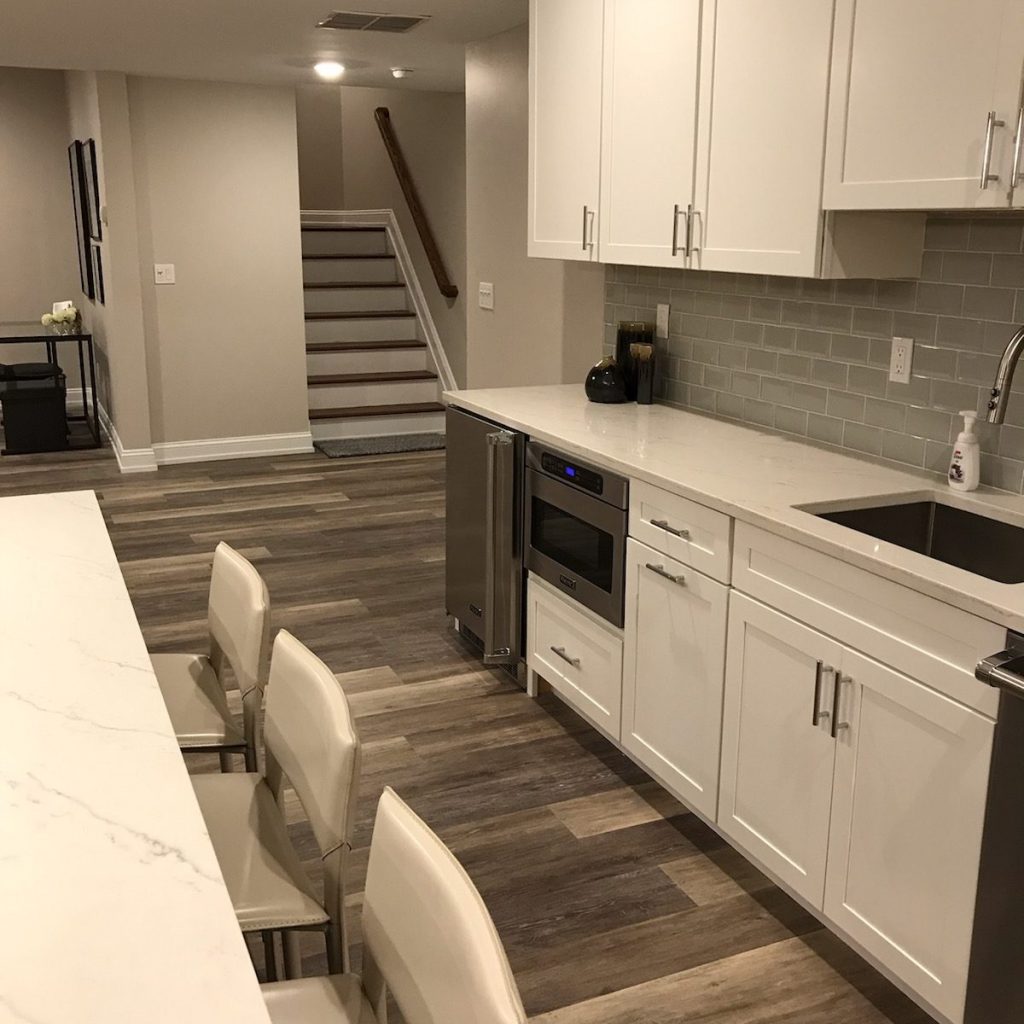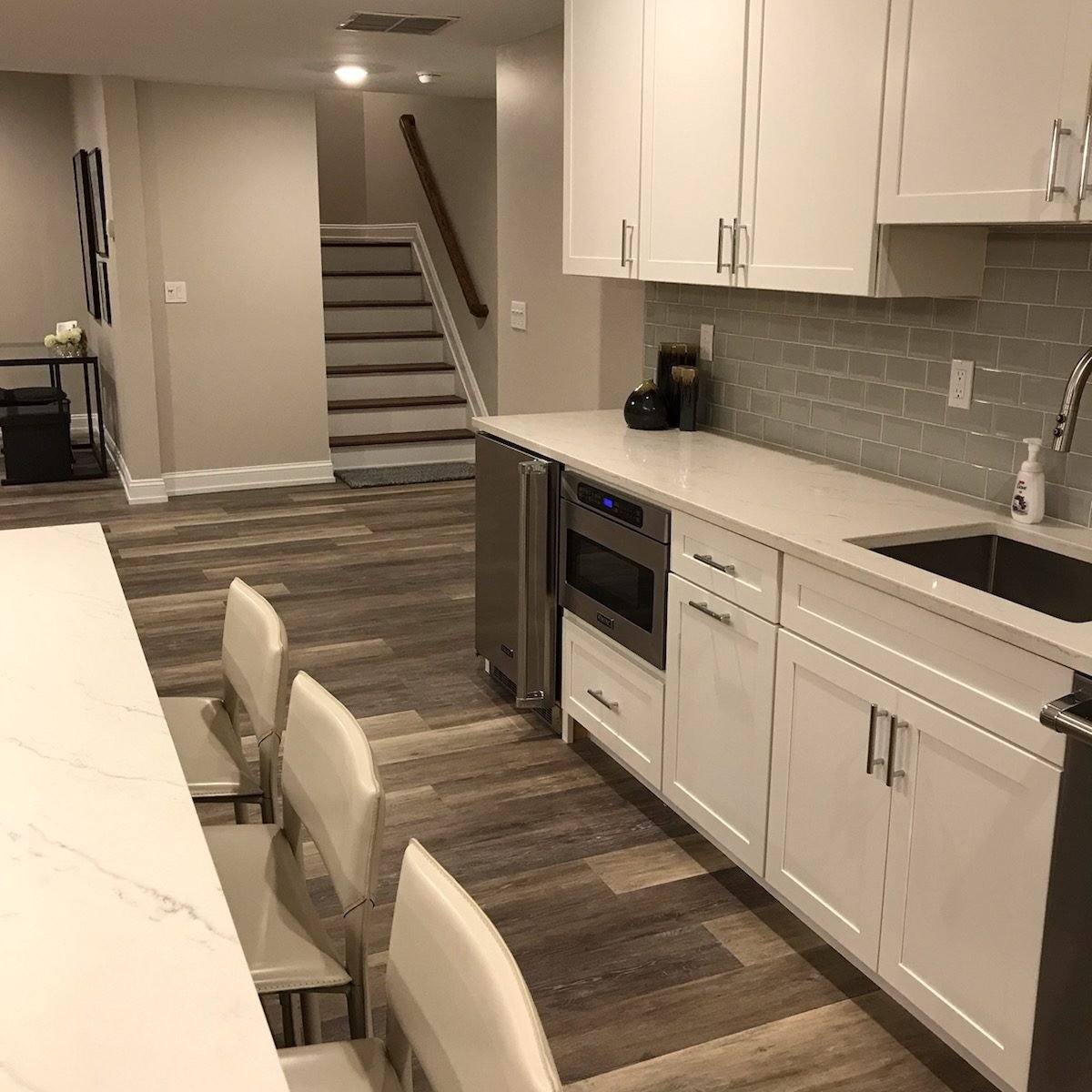 Reasons for a Basement Renovation
Our customers have many reasons for finishing their basement, such as creating a
Play area for children
Media room for family
Office space
Guest room or in-law suite
Finished utility space
Finished laundry room
Entertainment area with wet bar
We've delivered finished basements for all of these needs. Similarly, our team of skilled craftsmen and diligent project managers work closely with you to create the ideal basement space for you.
The basement to the left started out as a huge, unfinished space. We created a full kitchen, bathroom, dining room, exercise room, bedroom, and seating area.
Our Basement Remodeling Process
First, we will send an Estimator to your home to draw a footprint of the space and discuss your wishlist. Our Estimators work with you to build a space that meets your budget and needs. Stamped basement plans start at just $1,000
Then, you'll work with one of our in-house Designers to create a layout that is both functional and beautiful. This meeting will happen in one of our two showrooms. If you are adding a kitchen or bathroom, your Designer will also help create these areas. She'll walk you through selecting all of your materials, based on your style and budget. 3-D renderings are included.
For basement remodels that include new windows, doors, flooring, or custom wine storage, you'll also find experts on these products in both showrooms. We offer many types of doors, windows, pre-finished flooring, luxury vinyl tile, and other engineered flooring products, perfect for basements.
Your Project Manager will work with you finalize the designs, verify all material, file the proper sub-codes and complete the permit application process. Your project manager will oversee your project from start to finish.
Ready to learn how Monk's can help you?
Contact us for your free, no obligation consultation and estimate.
Call the office at 973-635-7900 OR