Below are answers to the most commonly asked questions about home interior painting projects with our customers in Northern New Jersey.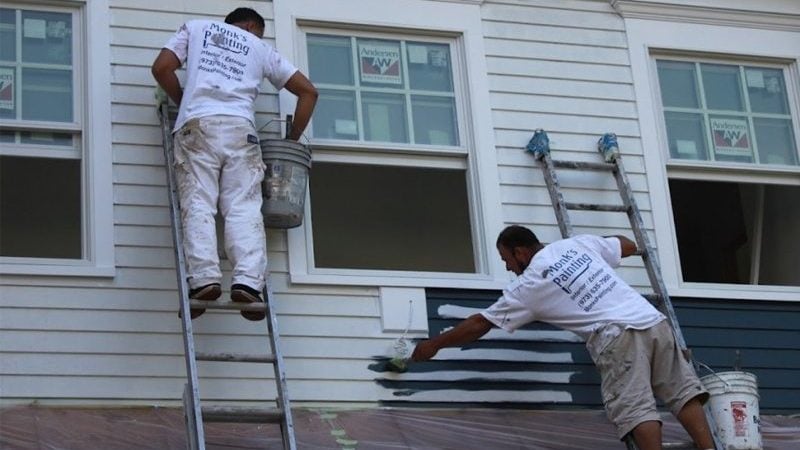 General FAQ
When should I schedule my painting estimate?
Schedule the estimate for your painting once your drywall has been installed. It is our experience that once your drywall has been hung, you are about six weeks away from painting. Your contractors still need to tape, spackle, and sand your drywall, install your trim, hang your interior doors, and install the kitchen cabinets among other jobs. We do not recommend getting your painting estimate before the drywall has been hung because too many things can change. Those changes will affect the scope and price of the project. Once the drywall is up, most surprises have been found and the house tends to stay the way it is.
When does painting begin?
We will start painting after the carpenters have completely finished. You will not save time on a new construction job by having us start work while the carpenters are working in a different part of the house. Carpenters create lots of dust which will inevitably end up in your trim paint and ruin the finish. Carpenters will also be changing small things throughout the house on their punch list until they leave. A small change for the carpenters can easily force us to re-paint entire walls or rooms after they have been completed. That wastes time and money.
Your electrician should return after we are completely finished to hang your light fixtures. If the electrician hangs your fixtures before we paint, we will either paint around them or he will need to return to re-hang them when the job is completed.
Exterior Painting
New Construction
What is Monk's responsibility for a new construction job?
On a new construction or major renovation project, we will not be responsible for any work on the new drywall. Your contractor is responsible for any wall repair, tape lines, or corners on the new drywall. If the house is a mix of new drywall and old walls, we are usually responsible for repairing the old walls. We always take care of caulking and filling nail holes in the trim. We are not responsible for rebuilding new trim that was installed with large dents or gaps. If you have a new banister or railing being installed, we can stain or paint it.
Is there a difference between painting new construction and an existing home?
Absolutely! While similar, each type of painting has different demands.
New Construction
For a new construction house, we pay particular attention to all nail holes and caulk lines. We'll provide a large, experienced crew so the job is not rushed, yet completed in a timely manner. There are typically a dozen or more different contractors working on a new construction house so it is important to know exactly what order everything needs to be completed, and who is responsible for what. Wall repair is usually minor or not required. Also, new construction houses are empty and easier to maneuver.
Existing Home
When re-painting a residential home, the character of the painter counts as much as his skill. The painters must be aware of any variety of small and delicate items that need to be protected or moved. Wall repair is typically required and can be extensive. The day-to-day living needs of the customer and their family need to be taken into account. Therefore, it is common to only have two or three painters on a residential job. We try to work from room to room while giving the customer as much of their privacy as possible during the job. For this reason, we do not use radios inside of people's homes. Protecting the floor, carpets, and walking areas are of paramount importance to us.
What is the right way to paint new construction windows and doors?
It is extremely important that all sides of new construction windows and exterior doors are primed and painted. If you have a problem with your windows years after your job is completed, the first thing the window manufacturer will check is if the sides of your windows have been primed and painted. If the sides of your windows are not painted, your warranty is probably void. Because windows tilt to the inside, we consider this the responsibility of the interior painter. Because we do not want to build up too much paint on the sides of the windows, we give the sides one coat of primer and one coat of paint.
We will paint the tops of all the doors in your home. If you would like us to paint the bottom of the interior doors, we need you to have the contractor remove and re-hang the doors for us. But in our opinion, it is not important to paint the bottoms of most interior doors. We think that it is important to paint all 6 sides of a new exterior door. New exterior doors have the same warranty considerations as new windows. All 6 sides of the door must be painted or stained for the warranty to be in effect.
Interior Painting
How long does interior painting take?
An average interior room takes us a day and a half. We can frequently finish within a day, but because of dry times and touch-ups, we may need a few hours the following day to complete a room. If you are doing several rooms at once, things go a little faster because we can work in a second room while the first room is drying.
Do you recommend oil or latex paint?
For walls we use latex. For your trim, we will check to see if your existing paint is oil or latex and typically use what you already have. Mixing paint types can cause you long-term problems that can only be fixed by stripping all the paint from your trim or by installing new trim.
How do you paint the trim?
All trim gets caulked and the nail holes get two coats of an epoxy wood filler. We then prime all trim with an oil-based primer. If your trim comes pre-primed, we will be priming it again because we need to apply this coat of primer to cover the wood filler and caulk we have applied to your nail holes and seams. After we prime your trim we apply two coats of paint. We sand your trim after we fill your nail holes, after we prime it, and after the first coat of paint.
Monk's recommends oil-based paint for interior trim. There is a difference between how the oil and latex look when it dries. Oil-based paint is also easier to sand and will give you a smoother finish on your trim. We recommend a semi-gloss finish for your trim.
How do you prime and paint my walls?
We recommend having new walls primed immediately after the taping and spackling job, but before any of the interior trim is hung. We can prime the drywall of most any house in two days. It does not affect our price if we prime the walls and then return in several weeks to finish the job, or if we prime and paint in one trip at the end of the job.
Once the walls are primed, it is easier to spot any problems in the drywall job. You can see if the seams, corners, and screw heads are evenly finished. If you need to call the Sheetrock contractor back for some touch-up work, there is plenty of time without holding up the job.
Priming the walls before installing the trim also makes it easier for the carpenters to see exactly how their trim looks on a white wall. It can be hard to see exactly how big the gaps between the wall and trim are when the wall isn't primed first. In addition, having us prime early ensures that all your drywall is sealed up before any cabinets are installed.
After priming, we coat all the walls with two coats of latex paint. We use Benjamin Moore and Sherwin-Williams products because we think they are the best. We recommend a flat finish for your ceiling, a matte finish for most walls, and an eggshell finish for your kitchen and bathrooms. On a large job, it may be worthwhile for you to hire a color consultant.
What items do I need to move for the painting project?
You need to move all the small, delicate, and valuable items from the work area. Other examples include:
You should remove all your wall hangings before we arrive, but we can help you move heavy mirrors.
You need to move the books, but we will move the bookshelf.
Disconnect any large flat-screen TVs before we arrive.
We will handle the sofas, desks, chairs, and beds.
How do you protect my floors and furniture during painting?
We cover your wood floors in work areas with resin paper and use plastic covered with canvas tarps to protect your carpets and furniture.
What goes first, the floors or the painting?
The best situation for the homeowner is to have the flooring contractor complete the sanding, staining, and one coat of polyurethane before painting begins. We will then protect the floors with resin paper while we paint. After we finish, the flooring contractor comes back and applies the final coat of polyurethane. Most reputable floor contractors work this way and will not be surprised if you ask for this arrangement.
If the flooring contractor applies all three coats before we arrive, the painting job becomes very difficult. That's because it's difficult to tape resin paper to the new polyurethane on the floor without damaging it. Plus, we will be creating dust in the house that will end up on the new polyurethane.
Also, if the flooring contractor doesn't start his sanding until after we finish, dust will be all over your newly painted walls. The flooring contractor might also ding up the paint job on the baseboards as he sands the floor.
No matter what, the flooring contractor needs to leave and return to the job between coats of stain and polyurethane. It does not add any work for him to delay the final coat by a week or two. If we paint after the sanding and before the final coat of polyurethane, you will find most rooms dust-free with clean fresh paint and polyurethane. Your floor and walls will then be in perfect condition.
Monk's also offers dustless floor refinishing. We will coordinate our crews to minimize your project time while ensuring the best result. Please let us know if you are interested in this option.
Do you remove the wallpaper or do you paint over it?
Monk's painters will not paint over wallpaper unless it has been previously painted over. The first person to paint over wallpaper creates a big problem for someone else that must be corrected sometime in the future. Additional paint jobs do not make the problem any worse. If you have a house where the wallpaper has been painted over, we recommend continuing to paint over it until the paper starts peeling from the wall and becomes a problem. It is very difficult to remove wallpaper once it has been painted over until the glue fails and the paper starts coming off by itself.
Otherwise, we will remove the wallpaper prior to painting your walls. After removing your wallpaper, we will prime your walls with one coat of an oil-based primer. This prevents any remaining glue from ruining the paint job over future years. Without priming them first, your paint will flake and peel for years to come. It is very difficult to solve this problem once the walls have been painted. After the oil-based primer dries, we will repair any cracks and smooth the walls before painting.
How do you fix Sheetrock walls and ceilings?
Nail pops and seam failures are the biggest issues we correct on Sheetrock walls and ceilings. For nail pops, we install additional screws around the popped nail head in an effort to secure the Sheetrock and prevent future nail pops. For seams, it is often necessary to remove the old tape and install new tape. Ultimately most houses have Sheetrock issues because the house is settling. Painters can repair the visible issues, but the causes are in the walls and we cannot promise that the issues will not return.
For holes in drywall, we have two options. If the hole is small enough, we can use a patch kit to cover the hole and then skim coat the patch to match the wall. If the hole is larger, we will cut the drywall back to a stud and patch the hole with new drywall.
How do you fix plaster walls and ceilings?
We mix our own plaster for repairs. Depending on the size of the hole, we may mix the plaster with steel wool. If a significant section of a plaster wall or ceiling is damaged, we may recommend installing a new section of sheetrock. When dealing with cracks in plaster, we use a knife to open up the crack and remove the pressure before filling the crack with new plaster.
Other Surfaces
Do you paint kitchen cabinets?
Do you do faux painting or hang wallpaper?
We do not do faux (or specialty) painting and we do not hang wallpaper. Most good wallpaper hangers and faux painters want to practice their particular craft full time. We will come in before they do to prepare the walls and apply a base coat. If you would like referrals for faux painters or wallpaper hangers, please ask us.
Do you hang Sheetrock (drywall)?
Yes and no. Hire Monk's to install Sheetrock in a room or two. We also hang all of our own Sheetrock when we finish basements. However, find a drywaller if you need to install drywall on a large new construction job. Sheetrock contractors are set up to come into an empty house with a giant crew and hang sheets faster than you could ever imagine. Typically they do not do demolition, move furniture, or hang Sheetrock in one or two small areas.