Monk's Kitchen & Bath Design Studios and Showrooms
Monk's provides an end-to-end solution for any remodeling or home improvement project.
We have two conveniently located showrooms where you'll find everything you need for your remodel — from expert design services to a robust selection of materials and products.
** OPEN! IN-PERSON OR VIRTUAL SHOWROOM APPOINTMENTS AVAILABLE **
Our showrooms comprise 7,500 square feet filled with displays and samples of our high-quality products including cabinetry, countertops, tile, hardware, fixtures, flooring and windows and doors. You'll be inspired and be able to envision your new kitchen, bathroom, or basement space.
There's no substitute for seeing and touching materials in person. But for a preview of the products and lines on display, check out more information on the brands and lines we sell in the showrooms.
What's more, our expert design teams work on premises. Not only are we able to answer your questions about anything you see in the showroom, but we are ready to help you with complete, and complimentary, design services.
Kitchen and Bath Design Services – Our Process
After an Estimator takes measurements, you'll meet with a Designer in one of our showrooms. She'll listen to what you want your remodel to deliver. She will build a computer-aided layout of the room and help you select all of your materials. Since our showrooms feature everything you'll need, can see at once how your selections will look together. This will save you lots of time and running around.
Since we offer a full-service solution, this means we also order and provide delivery, pull permits and handle the installation.
Unlike most showrooms, our design services are entirely complimentary. There is no deposit required. You are never under any obligation.
Meeting with your Kitchen and Bath Designer
Your Designer will be ready to discuss your project during your scheduled appointment. She will have received the measurements based on your in-home estimate. You will sit down together and go over your wishlist and style preferences. Together, you'll view relevant products for your project. She'll help guide you based on your style, budget, and lifestyle. You will receive undivided attention in order to make the most of your visit. Subsequent appointments are scheduled as needed.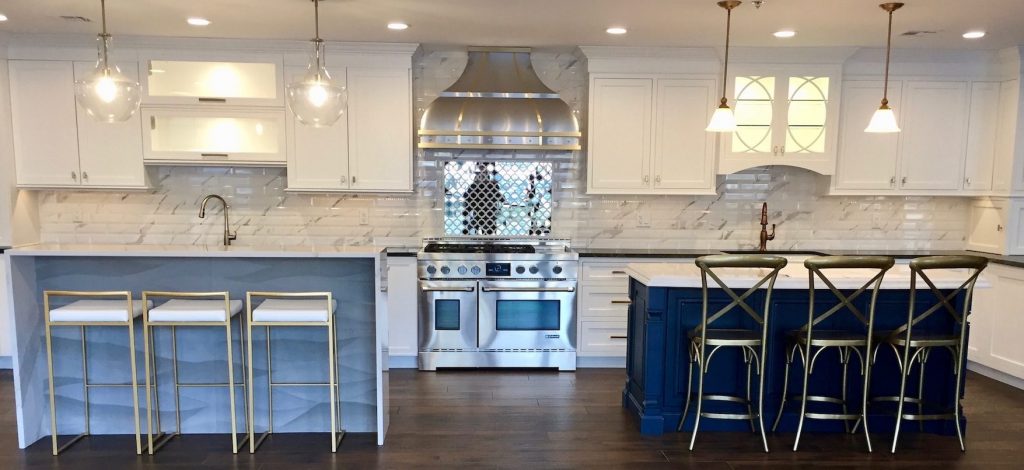 Meeting with your Windows and Doors Specialist
If you will be replacing doors or windows as part of your remodeling project, or as a stand-alone home improvement project, we have a team of specialists to help. Since we sell multiple brands, we can highlight the benefits of each while considering your budget requirements. We provide a relaxed environment that is very different from some high-pressure competitors. We sell and install windows, interior doors, entry doors, and storm doors.
Planning Your Visit to Monks Kitchen & Bath Design Studio
To make sure a Kitchen & Bath Designer or Windows & Doors specialist is available when you arrive, we strongly encourage making an appointment. This way we can guarantee that you will receive undivided attention to make the most of your visit.
For directions and parking information, see our Morristown Showroom and Fanwood-Scotch Plains Showroom pages.
Plan on spending about an hour and a half during your first visit. If you have not had Monk's out to measure your space, please bring measurements or architectural drawings. Also, please bring any photos of rooms, colors, or materials that you like. This will help us get focused on your style preferences.
To schedule an appointment, please call (973) 635-7900
1095 Mt. Kemble Ave. (Rt 202)
Morristown, NJ 07960
Tuesday: 1pm – 6pm
Wednesday – Friday: 10am – 6pm
Saturday: 9am – 5pm
Sunday & Monday: Closed
246 South Ave. Suite 101
Fanwood, NJ 07023
Tuesday: 10am – 6pm
Wednesday: 1pm – 6pm
Thursday: 10am – 6pm
Friday: 10am – 6pm
Saturday: 9am – 5pm
Sunday & Monday: Closed
Call 973-635-7900 to schedule a free estimate or design appointment