Transform Your Home with Hardwood Floor Refinishing
In just a few days, Monk's can take your floors from scratched and stained to smooth and shiny. See what our dustless hardwood floor refinishing system can do for the look of your home. You'll wish you'd done it sooner!
Monk's Home Improvements offers both screening and re-coating, as well as refinishing of hardwood floors. We can also repair or patch damaged areas as needed. And if you have carpet, we will remove and dispose of it for you.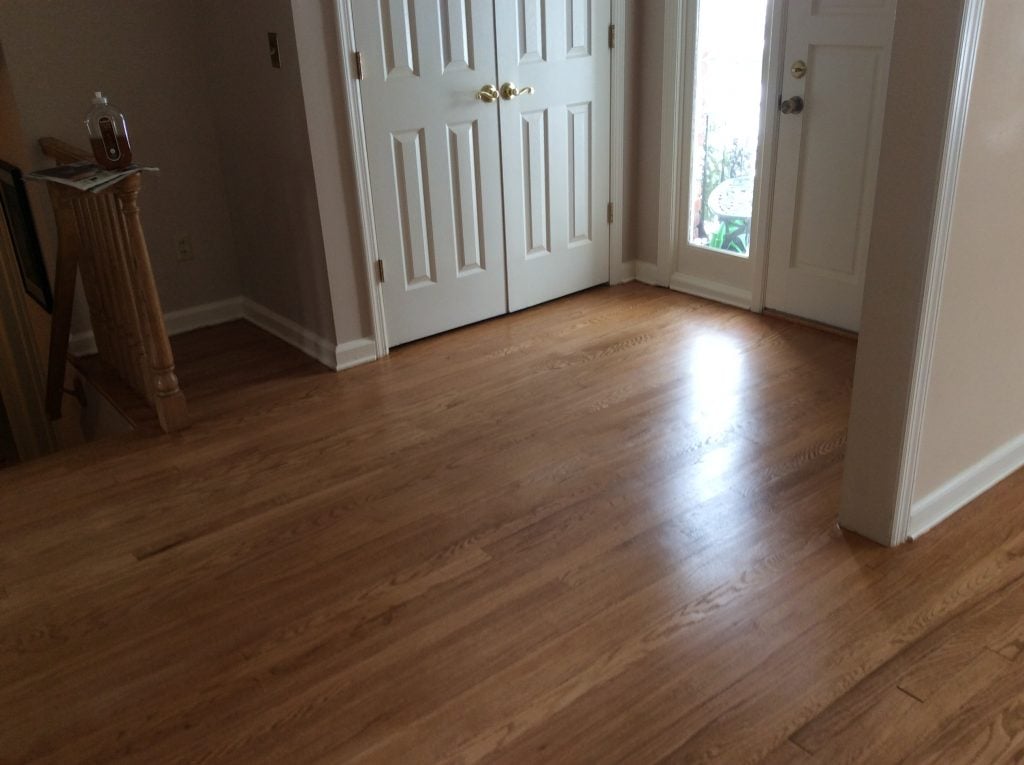 Monk's Process
Clear the room(s) where we'll be refinishing the floors.
Seal off the room with plastic sheeting and tape to minimize dust.
Prep the floors. Hammer in any popped nails and fill any holes with wood putty.
Sand the floors using both a drum sander with HEPA filter, and a hand-held edger or palm sander.
Clean the dust. Sweep, vacuum, and then wipe down all surfaces with a damp cloth or tack cloth.
Stain the floors using high-quality stain. Multiple applications may be required if a dark color is desired.
Seal the floors using a high-quality water based polyeurethane. Let dry completely and apply a second coat.
Reasons to do it
Wood refinishing can typically remove:
Water damage
Pet stains
Scratches
Fading and sun damage
Some typical project timelines include:
Simple screening & re-coating: Only one day.
Sanding & refinishing hardwood: Usually 3-4 days.
When to Refinish Wood Floors
Floor refinishing can be done any time of the year. However, consider that you'll need at least a couple of windows open with fans during the sanding and sealing process. Even a dustless sanding system that uses HEPA filters still produces some dust. And water-borne polyurethane with low VOC still emits an odor. Polyurethane will take longer to dry when the air is very humid, like during the summer.
The best time to refinish floors is before moving into a new home. It's a great time to paint, too. Imagine having it all done before moving in! You can see how we prepped a new home for these California transplants. We've also done interior painting and floor refinishing prior to moving day.
Cost to Refinish Hardwood Floors
Typically, the cost to refinish hardwood floors is based on a set cost per square foot. This will normally include all labor and materials for the project. In our area, a standard range is $4 – $6 per sq. ft. Furniture moving will incur an additional cost. Sometimes the floor refinishers will provide this service. If a large area is being refinished, you may need to store furniture in a Pod outside of the home. The cost to remove and dispose of wall-to-wall carpet is also additional.
Refinishing hardwood stairs costs more than regular hardwood floors. Each tread needs to be hand sanded, stained and sealed. The handrail, and possibly the spindles, are also refinished.
If you're only sealing the hardwood (not staining), your cost will be less. If you're staining a dark color requiring multiple coats of stain, your price per square foot will be higher.
---
Customer Reviews
Delivered as promised
We used Monks to refinish our wood floors, renovate our family room including built in window seats and split stone fireplace surround, and redo our master bath. We couldn't be happier with the results. The floor was done while we were away. Gilberth led the flooring crew that did a beautiful job, very professional, and delivered as promised.
Keep Reading
– Susan and Vince Yaniro
We are very pleased
I have used Monk's now for several projects and would consider using them again in the future as I feel they are very reliable. The end-state matched our original drawings perfectly making this experience very rewarding for us. We are very pleased with the workmanship and professionalism Monk's staff bring to a home improvement project.
Keep Reading
– James G. (Westfield)
Ready to learn how Monk's can help you?
Contact us for your free, no obligation consultation and estimate.
Call the office at 973-635-7900 OR