Kitchen Remodel Ideas and Services
Whether you're looking to make a few cosmetic changes or dreaming of a total kitchen remodel, Monk's Home Improvements is ready to help make your kitchen remodeling project a reality. Call 973-635-7900 today for a free estimate.
A well designed kitchen layout is an important part of any kitchen remodel. Monk's comprehensive design process helps you plan all the right details from storage to appliance placement. We create renovations emphasizing function, technology, and style. All at an affordable price.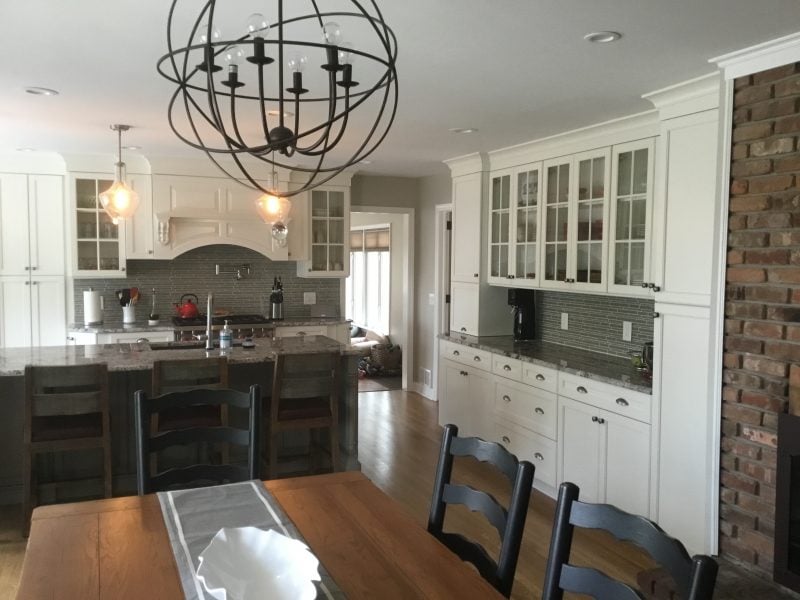 Get a Custom Remodel Consultation
Monk's works with you to plan and install your entire kitchen project. Here's how it works.
First, contact us today at 973-635-7900 to schedule a free custom kitchen remodeling consultation. A Project Manager will visit your home to discuss your project and measure your space. Then, we'll craft a detailed, written estimate covering all the elements of the installation.
For design ideas and inspiration, visit Monk's Kitchen and Bath Design Studio in Morristown. While you are here, our Designers will create a kitchen layout that meets your needs. In our Showroom, you can choose from a wide range of cabinetry, countertops, tile for back splashes and floors, fixtures, hardware, and more. We'll help you select all of your materials, saving you time and giving you confidence in your decisions.
Then our Monk's remodeling crews handle the installation. We'll manage every stage, including permits and inspections, with the end goal of you enjoying your new kitchen as soon as possible.
For more ideas, including before and after project photos, visit our Kitchen Remodels Gallery.
Customer Reviews for Kitchens
I have worked with Monk's on several projects. They recently did the remodel of my kitchen and I couldn't be happier. I especially enjoyed working with Maria Hernandez. She was approachable, professional, and went above and beyond. Would use again and highly recommend.
Monk's Home Improvements is fully licensed and insured. Contact us today at 973-635-7900 for your free estimate.