Expert Kitchen Remodeling Services
Whether you're looking to make a few cosmetic changes or dreaming of a total kitchen remodel, Monk's Home Improvements is ready to help make your kitchen remodeling project a reality. Call 973-635-7900 today for a free estimate.
A well-designed kitchen layout is an important part of any kitchen remodel. Monk's comprehensive design process helps you plan all the right details from storage to appliance placement. We create renovations emphasizing function, technology, and style. All at an affordable price.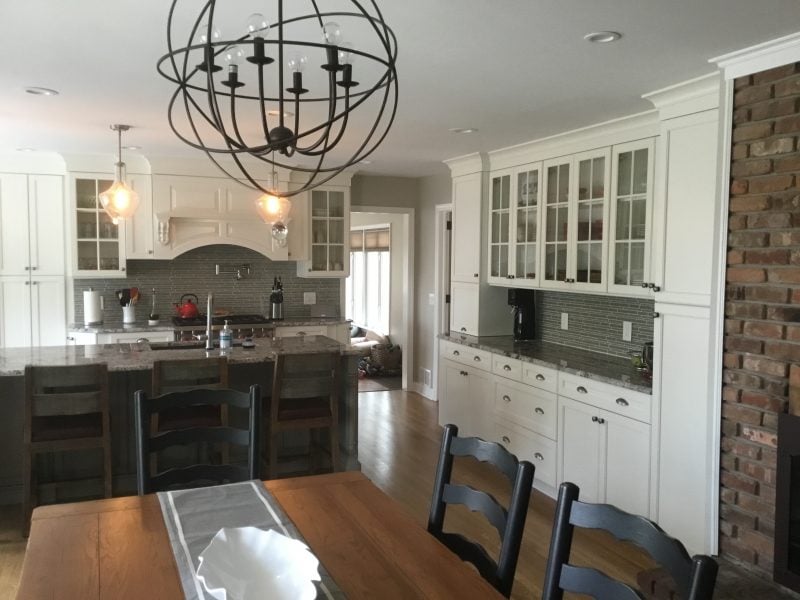 Get a Custom Remodel Consultation
Monk's works with you to plan and install your entire kitchen project. Here's how it works.
First, schedule an initial project consultation in our showroom. You'll meet with a Designer and Project Manager, we'll discuss your project, answer your questions, take you through our process and walk you through your specific next steps. You can book this 30-minute appointment online now.
Secondly, an Estimator will visit your home to measure your space. Then, we'll craft a detailed, written estimate covering all the elements of the installation. If you are ready for this step, you can also book this appointment online. For either of these appointments, you can also call our office to schedule at 973-635-7900.
For design ideas and inspiration, visit Monk's Kitchen and Bath Design Studio in Morristown. While you are here, our Designers will create a kitchen layout that meets your needs. In our Showroom, you can choose from a wide range of cabinetry, countertops, tile for backsplashes and floors, fixtures, hardware, and more. We'll help you select all of your materials, saving you time and giving you confidence in your decisions.
Then our Monk's remodeling crews handle the installation. We'll manage every stage, including permits and inspections, with the end goal of you enjoying your new kitchen as soon as possible.
For more ideas, including before and after project photos, visit our Kitchen Remodels Gallery.
Customer Reviews for Kitchens
I have worked with Monk's on several projects. They recently did the remodel of my kitchen and I couldn't be happier. I especially enjoyed working with Maria Hernandez. She was approachable, professional, and went above and beyond. Would use again and highly recommend.
Monk's Home Improvements is fully licensed and insured. Contact us today at 973-635-7900 for your free estimate.
Good Reasons to Remodel or Renovate Your Kitchen
A kitchen remodel is the most daunting of any home renovation project. It is typically the most costly, time-consuming and inconvenient. So why bother? Because the kitchen is the most important room in the home. It's used not only for cooking and dining but also for homework, bill-paying and entertaining. Since this room is in constant use, a remodel here makes a huge impact on your lifestyle.
By reconfiguring the layout or storage, you can improve your day-to-day. Even if it's simply a cosmetic upgrade, you'll enjoy your morning coffee in a room you love.
Of course in the northern New Jersey real estate market, homebuyers demand upgraded kitchen and bathrooms. Your home is much more marketable with an up-to-date kitchen.