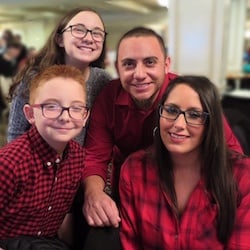 About eric
Role: Director of Projects
How Does He Help You: He manages the Project team. He ensures your job runs smoothly.
Phone: 973-908-2813
Email: [email protected]
Call 973-975-4451 to schedule an estimate.
Background & Experience
Eric recently moved to New Jersey from his native Colorado to be closer to family. Eric started in the construction industry when he we just 16, working with a company building doors and cabinets. He joined the industry in 1997, working his way through the trades and continuing to learn all aspects of the home building and remodeling process.
While in Colorado, Eric owned A&E Complete Home Services for 8 years. Eric built his business working directly with Real Estate agents and investors, maintaining and renovating houses for banks like Wells Fargo, Suntrust and Bank of America. Now Eric has transitioned to focus on what he enjoys most, working with customers and managing their home remodeling projects.
Eric and Amy spend their free time with their twins, Anthony and Ella. They enjoy boating, golfing, and camping. Eric and Amy often volunteer with the Boys and Girls Club, introducing intercity kids to mentoring programs and various foundations to help them stay on the right track.
If you would like to talk to Eric Alvarez, please give us a call at 973-975-4451.
Featured Projects
had the job deliver on time and on budget
Monk's does a real nice job…from helping us plan and select materials through completion and ensuring it was done to our satisfaction. Eric was a super project manager that had the job deliver on time and on budget….something seemingly rare in the industry. We are glad we used them for remodeling both our laundry room and bathroom….and would readily recommend Monk's!
Keep Reading
– Christine P. (Summit, NJ)
more than happy with our beautiful ,new bathroom.
My husband and I hired Monk's to redo our upstairs bathroom that had some water damage and needed an overhaul. Eric Alvarez, our project manager, was not only a pleasure to work with, but got everything finished in record time. We are more than happy with our beautiful ,new bathroom.
Keep Reading
– Krista C. (Basking Ridge, NJ)
Ready to learn how Monk's can help you?
Contact us for your free, no obligation consultation and estimate.
Call the office at 973-635-7900 OR