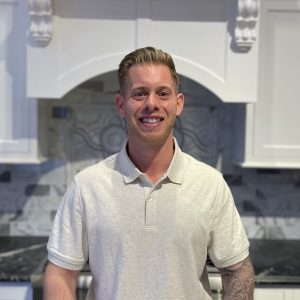 About Mike
Role: Estimator
How Does He Help You: He provides you with your free estimate. Then he schedules your work and can help with any questions.
Phone: (973) 315-8438
Email: [email protected]
Call 973-635-7900 to schedule an estimate.
Background & Experience
A lifelong resident of Bergen County, NJ, I began my career as a sales representative. After 5 years in the sales industry, I left to pursue my interest in the construction field. While in construction I was able to be involved with all aspects, from demolition to overseeing my own projects. I was able to use my talent and skills to work as a supervisor of construction projects, specializing in new school additions and remodels.

Throughout the years I decided to use my skills and work on residential and office improvements. This is when I realized that my true passion is in remodeling and helping clients achieve their vision.

I look forward to helping you fulfill and execute your individual home improvement needs. As a member of the Monk's Home Improvement team, I pride myself on making customer satisfaction a number one priority.
Mike Mina provides home improvement estimates in Morristown and Randolph, NJ.
To schedule an estimate with Mike, please call the office at 973-635-7900.
I will and have used monks for all furture projects.
After purchasing a home that had wall paper in every room on plaster walls. We called Monks to remove all the wall paper and paint. George put his team to work and work it was! In the end, the walls came out beautful. The team was so clean, covering all the floors, cabinets, and anything that was a perminate fixture. They were thorough, came on time everyday till the job was completed. George was always there keeping on top of his team to make sure it was done right. I never had to worry. I will and have used monks for all future projects.
Keep Reading
– Kristin V (Mendham, NJ)
Great job by these guys.
Great job by these guys. Had our kitchen remodeled, All new floors throughout the house and 4 rooms painted. Everything looks beautiful. The crews that worked in our house were all friendly great guys who knew what they were doing. The electricians that they contracted out to do our electric work was some of the nicest guys we've ever had do work for us. Eric the project manager was great. The few things that we were not happy with, he corrected right away with no problem at all. He went out of his way to make sure we were satisfied. And I want to give a shout out to Jennifer Caladano who helped us design our kitchen right from the get go.
First Rate All the Way !!!
Keep Reading
– John Pagnotta (Parsippany, NJ)
Ready to learn how Monk's can help you?
Contact us for your free, no obligation consultation and estimate.
Call the office at 973-635-7900 OR