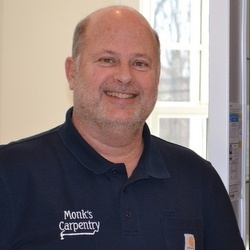 About peter
Role: Director, Windows, Doors & Floors
Experience: 20+ Years
Phone: 973-908-2336
Email: [email protected]
Call 973-975-4451 to schedule a consultation with Peter Sicoli.
Background & Experience
My "home improvement" career dates back to my high school days. Then I tinkered with small projects in wood shop and worked part time with a furniture refinishing shop. I found furniture repair and finishing to be extremely rewarding because the finished piece is a work of art. Plus, the craftsmanship is much appreciated by homeowners. This appreciation inspired me to start a small business in my garage that soon developed into the fabrication of custom wood products and refinishing antiques.
Fast forward several years and my involvement with the home improvement industry included plenty of interaction with interior designers and architects. Working closely with these folks I soon found a void in both the improvement and new construction side of the industry and my niche developed into custom doors, windows, bars, and wine cellars. I developed a passion for both interior and exterior doors, along with custom millwork and windows. My passion continues to this day, and I take great pride in helping homeowners achieve great curb appeal and proper functions for the items in their homes.
I look forward to meeting with you to discuss your window or door project.
Featured Projects
EXCELLENT as always!
EXCELLENT as always! The crew has always been sensitive to my son's autism. They do what they can to minimize the odors, timing of project, noise factors and wisking past my son to ease his discomfort with "strangers in the house." I need not worry about the painters smoking, using profanity, urinating outside or blasting their radio. I wish all contractors held this type of work ethic!
Keep Reading
– Happy Monk's Customer (Chatham, NJ)
they are GREAT!
Not just good, they are GREAT! Spanning a 27 year career in Real Estate and beginning in 1962, I have owned ten previous homes in various towns (five houses and three condos in NJ, plus two town homes in VA).
Only the two town homes in VA were new, all of the remaining eight were "fixer-uppers" including a 250 year old treasure in Chatham, NJ. Every single one required work, some more than others.
I wish I had known Monk's back in the day and especially Travis Marion's team. No matter what your home requires, be it painting, papering, new kitchen or bath, decorative touches like crown molding or making your color selections . . . they can do it all and their work is impeccable.
I have recommended them to family and friends and will use them again on my next "fixer-upper." So anyone looking for "The Best Ever" to perform miracles in their home, give monk's a call . . . they're not just paint!
Keep Reading
– Mary A. (Chatham, NJ)
Ready to learn how Monk's can help you?
Contact us for your free, no obligation consultation and estimate.
Call the office at 973-635-7900 OR