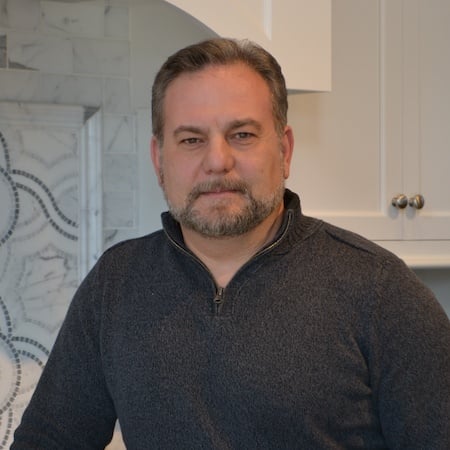 About Vincent
Role: Field Manager
How Does He Help You: He oversees the project crews and can assist with any questions or problems that occur during the project. He makes sure you are fully satisfied with the end result.
Phone: 732-841-9940
Email: [email protected]
Call 973-975-4451 to schedule an estimate.
Background & Experience
Vince began his trade career 35 years ago. His passion to work in the trade industry began when he was 7 years old by watching his father and uncle in their carpentry shop. He has always had an appreciation to build and put things together from scratch.
Vince started out in the industry by installing floors. After a few years, he started his own business. During this time Vince was a hands-on carpenter and remodeler, as well as handling all the necessary aspects of running a small business. Home improvement projects that Vince has run consist of add-a-level, bathrooms, kitchens, windows, and doors. For the past 13 years, he has managed remodeling projects and trades including estimating and scheduling.
Vincent Pileggi at Monk's
Vince joined Monk's in 2019 as a Project Manager and has recently moved into the role of Field Manager. He oversees all the crews to ensure a quality project. He also works with the homeowners to problem solve any concerns.
Vince prides himself on quality work and customer satisfaction. He is a multi-tasker and always makes himself available to his customers and contractors. He believes effective and open communication is a key factor in a successful project.
Vince resides in Dunellen, NJ with his wife Teri and dog Diesel. He has 2 daughters and 2 grandchildren. In his spare time, he likes to ride his Harley.
Featured Projects
We've worked with Angelo 3x's already
Angelo is one of the best guys I've dealt with. He's fair and honest and gives you good advice and information when considering a project. Some times you feel as a home owner that your getting ripped off by the sales rep. Not with Angelo. We've worked with Angelo 3x's already and will look to continue to work with him in the future.
Keep Reading
– Kieran K. (Chatham, NJ)
Their customer service is excellent
We have used Monks for a few projects on our home. Angelo Santoro has been extremely helpful and professional. He oversaw fence repair, new outdoor shutters, and new closet organization. All of the work was done as scheduled and finished on time. Their customer service is excellent as is the completed work.
Keep Reading
– Amanda D. (Harding Township, NJ)
Ready to learn how Monk's can help you?
Contact us for your free, no obligation consultation and estimate.
Call the office at 973-635-7900 OR