Bathroom Tile Ideas
Unless your home is brand new, chances are you have at least one bathroom that is in need of a remodel. With so many types, styles, and colors of tile, it's difficult to know where to start. We've collected a few examples of bathroom projects we've designed and installed. Hopefully, these photos will provide some inspiration and help you find a look for your tile project!
Tile Over Tub
Most homes have a hallway bathroom that features a shower over a tub. A bathtub is a great feature for bathing kids, pets, and maybe even enjoying a relaxing soak on a rare occasion. Tiling above a tub is necessary to protect the walls from water. You are typically working above a white or off-white bathtub. Here are a few bathroom tile ideas involving traditional bathtubs.
Below, Row 1: Beveled subway tile is very popular. By adding a decorative shampoo niche to a simple white beveled subway tile, you can add a pop of interest very affordably. Subway tile is being used in new formats beyond the traditional 3″x6″. Using larger format tiles is a fresh take on the subway tile pattern.
Row 2: Classic looks like marble and low maintenance marble-look porcelain tile is very popular. You can also go very custom and use multiple shapes and sizes for your tile. This last photo shows many styles of tile being used and is anything but boring. If you plan on selling your home in the near future, this look is not recommended. A more neutral, universally appealing look would be advised.
Last photo: A free-standing tub gets a glamorous backdrop with the use of very large format granite tiles. The tiles give the look of a solid wall of granite and is very striking.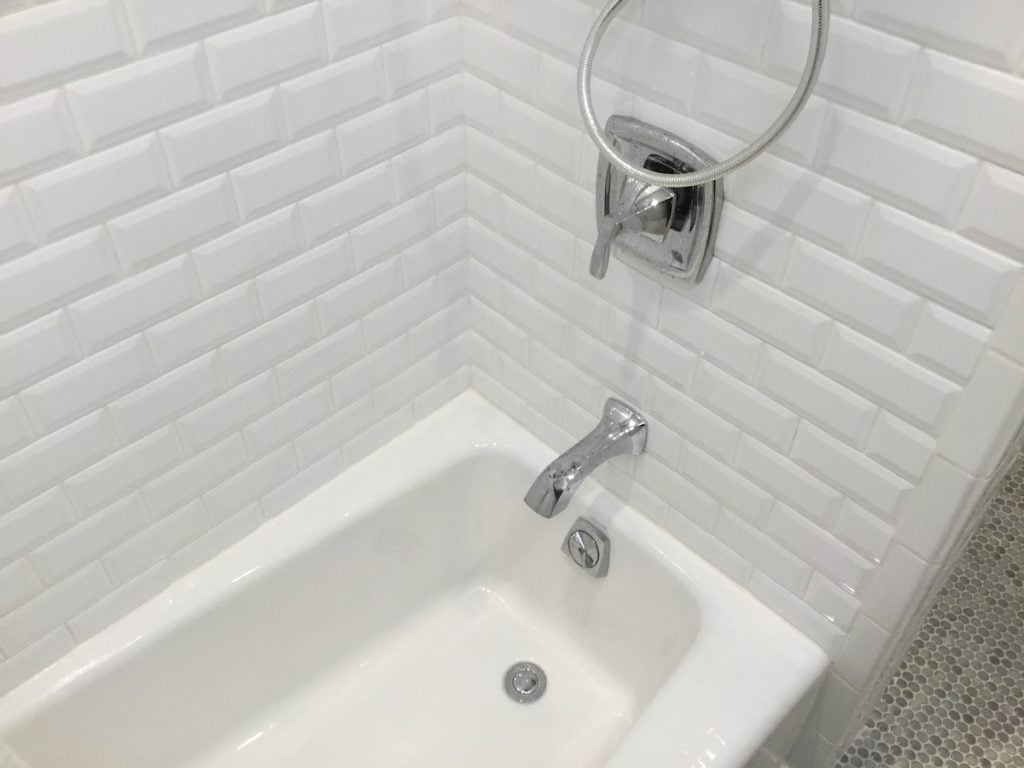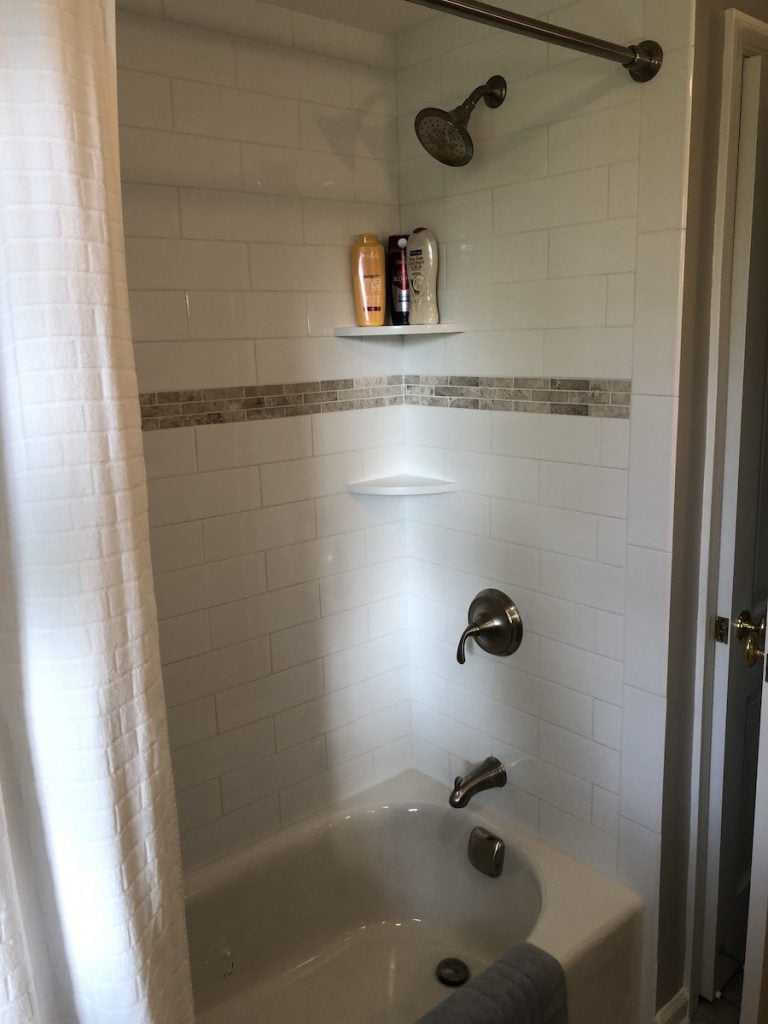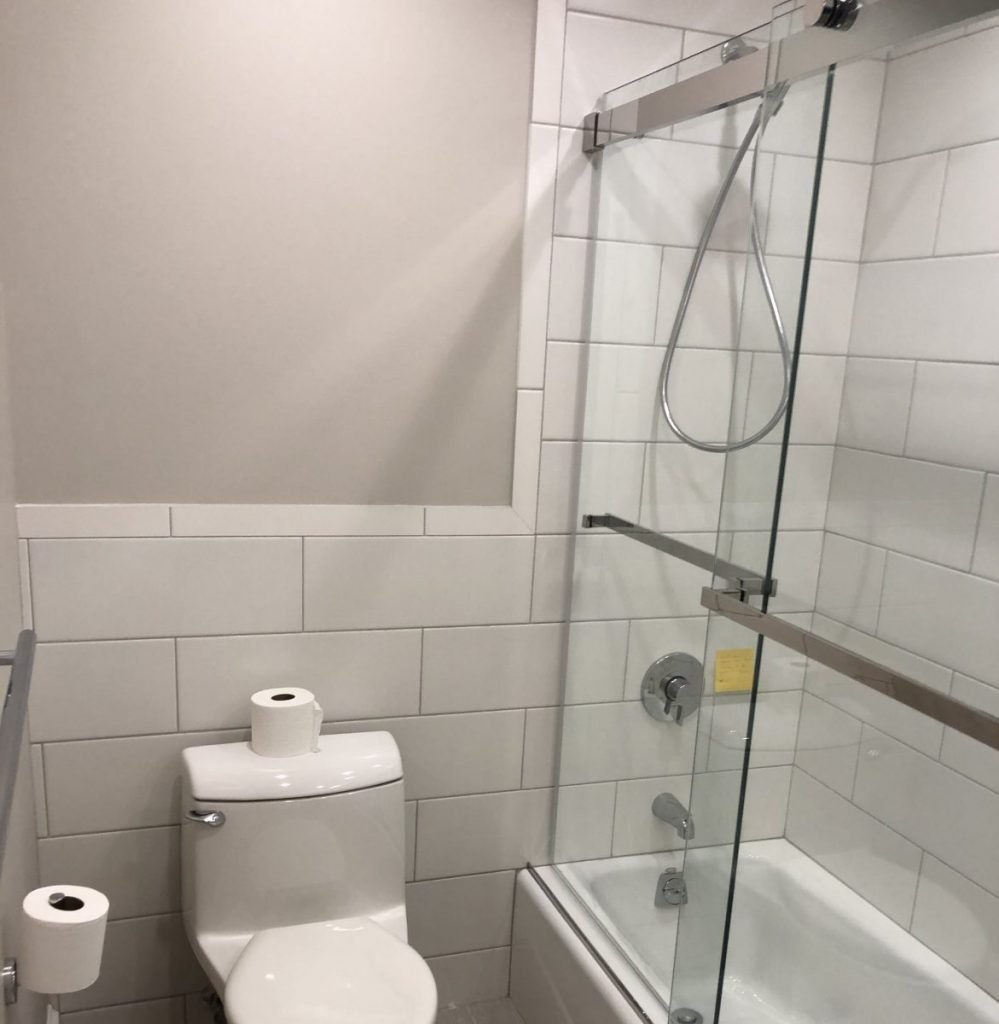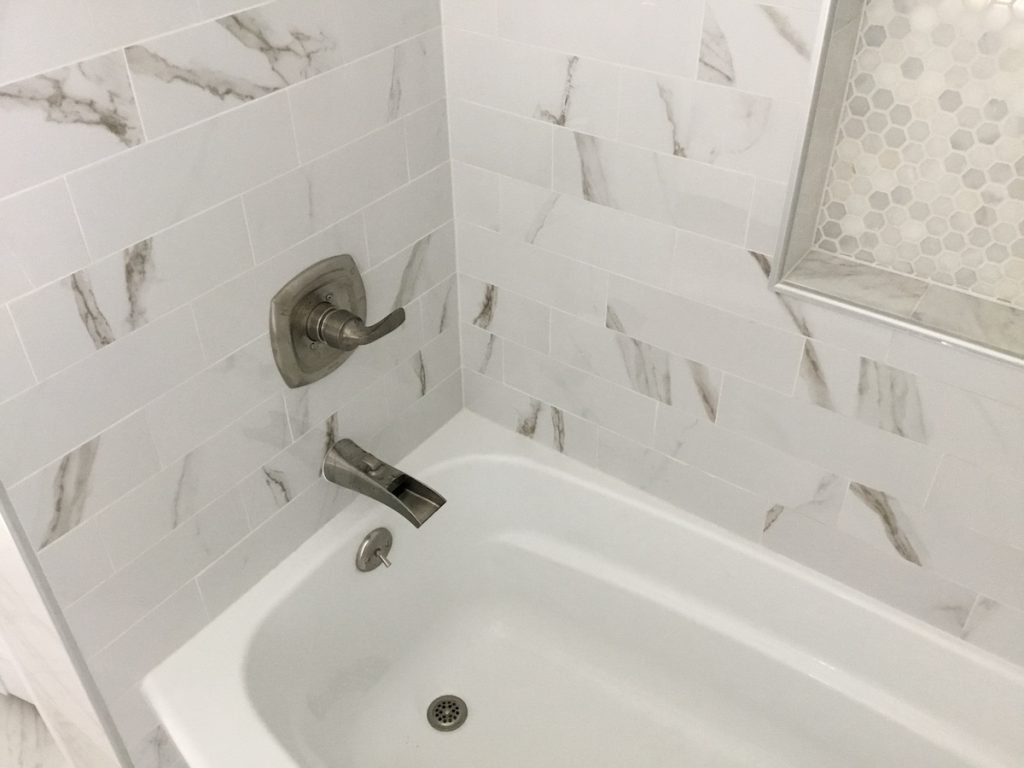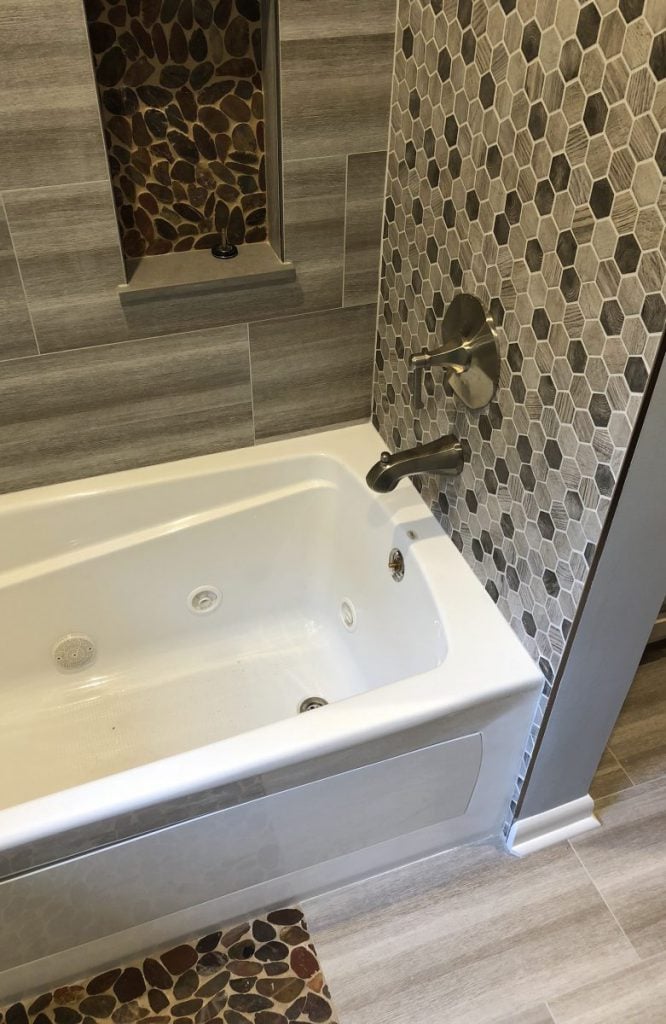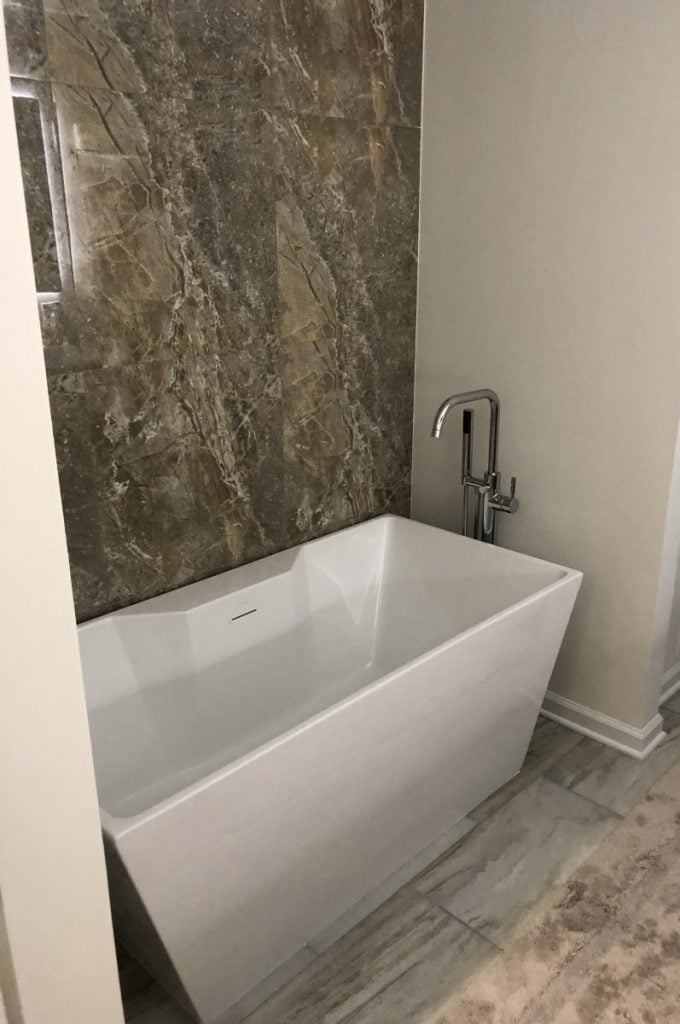 Shower Tile Ideas
In the master bathroom, many homeowners are opting to remove their bathtub and replace it with a large shower. Showers are more practical for most people. Plus, a large walk-in shower with a bench, grab bar and removeable shower wand are perfect for homeowners who are aging in place.
As for shower tile designs, neutral colors are still the most popular. White, grey, and beige are the most requested tile. While the color patterns are simple, we can add interest through texture, pattern, and color combinations.
Basic white subway tiles are used in these showers, but dark grout is used to provide some contrast. Black and white color combination is classic, but these examples add a contemporary twist.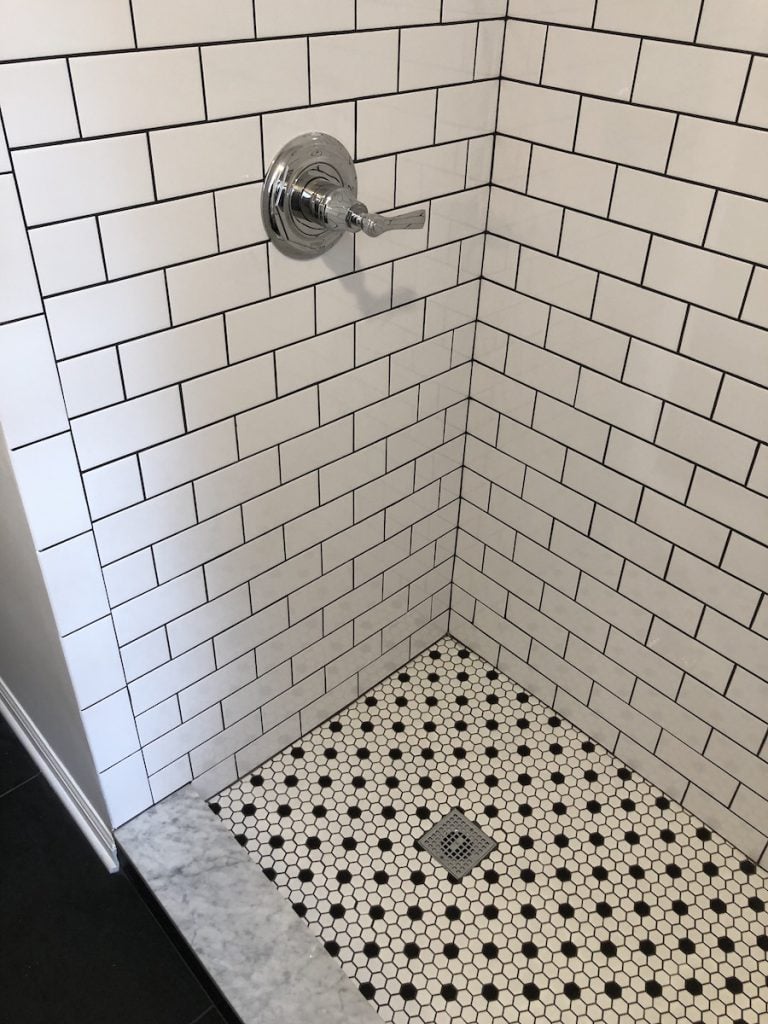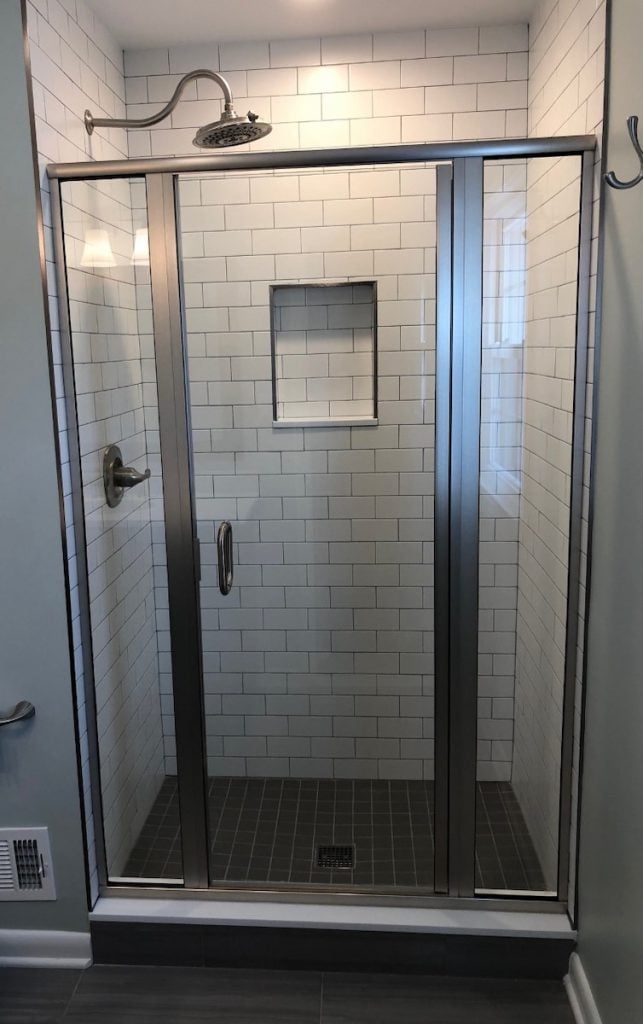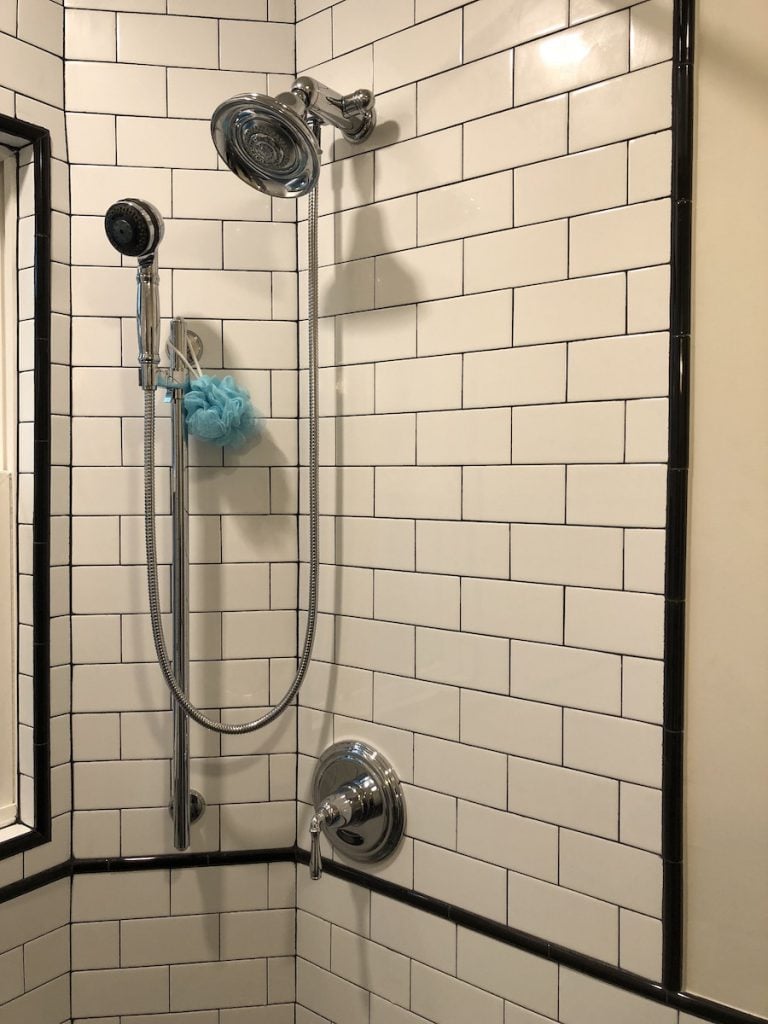 Textured Shower Tile
A modern, streamlined look is possible without being boring. Another way to add character to a tiled shower is to use tile with some texture. Tile with an irregular surface is becoming more popular. Below you can see examples of glass tiles with waves, perfect for a beachy feel. Ceramic and porcealin tile is manufacured with both uniform and irregularly "shaped" surfaces which can appear to be molded. For a more mascline look, stone-look tile adds authenticity with a rough, raw surface. This tile is also great for shower floors to help prevent slipping.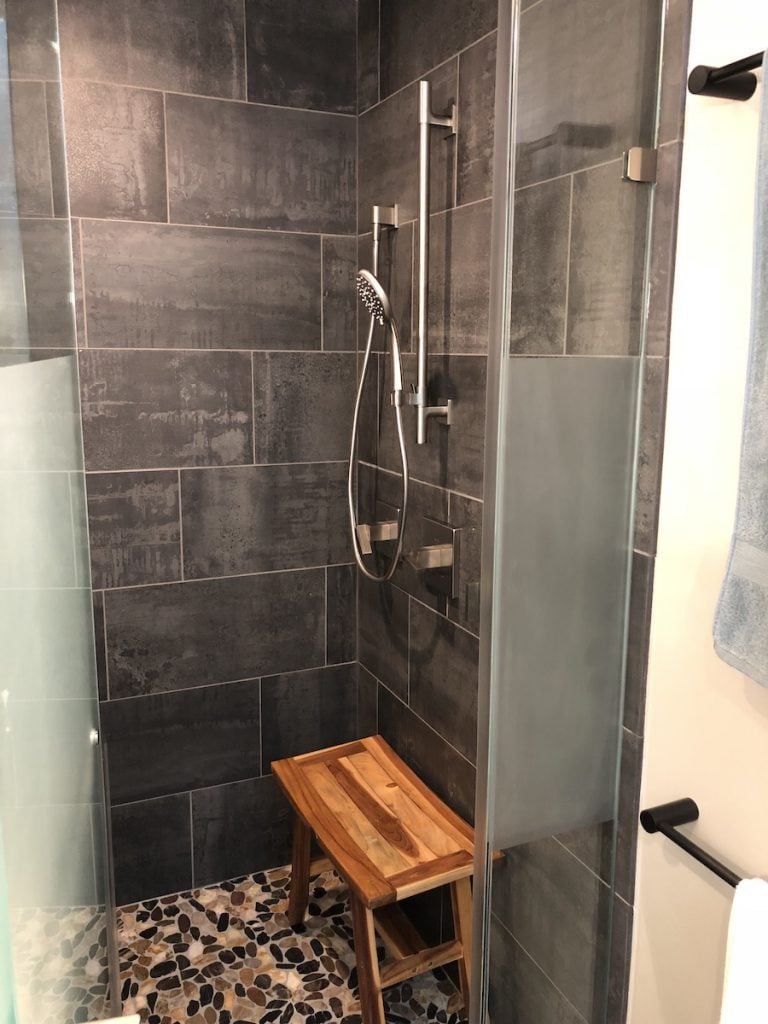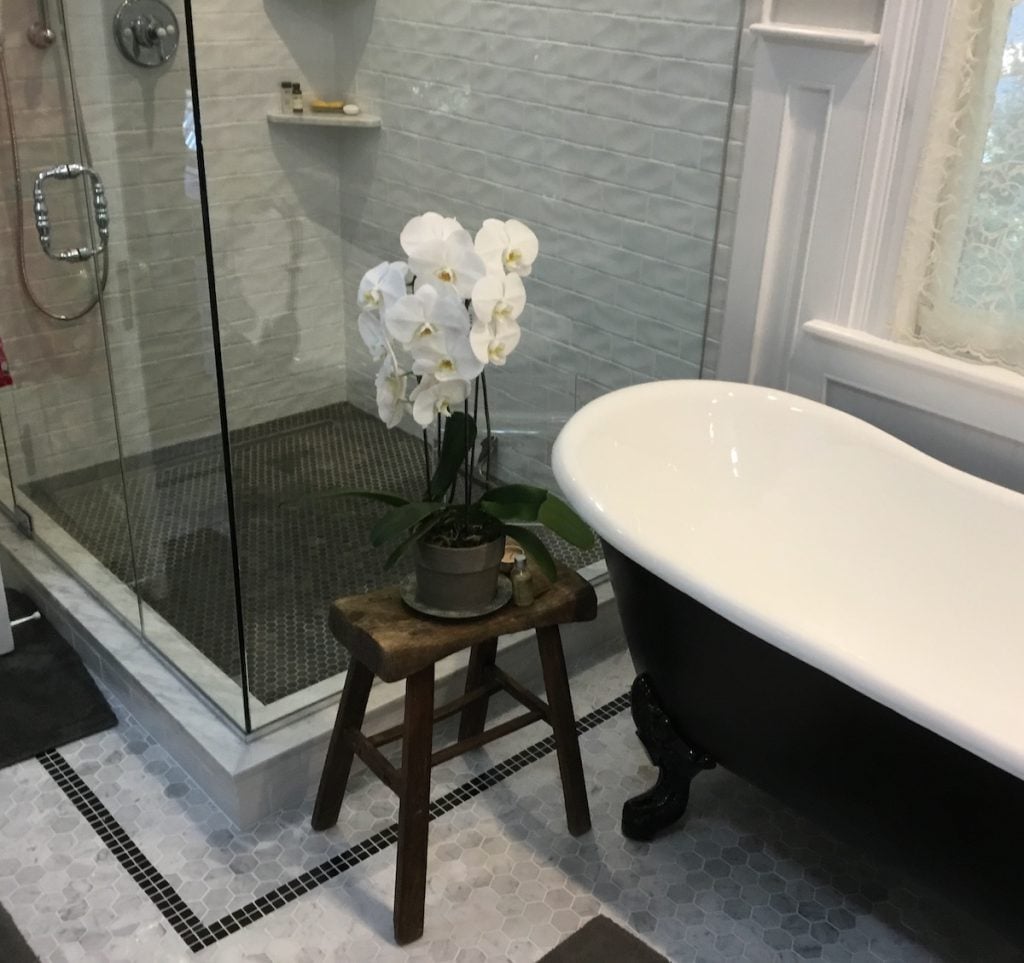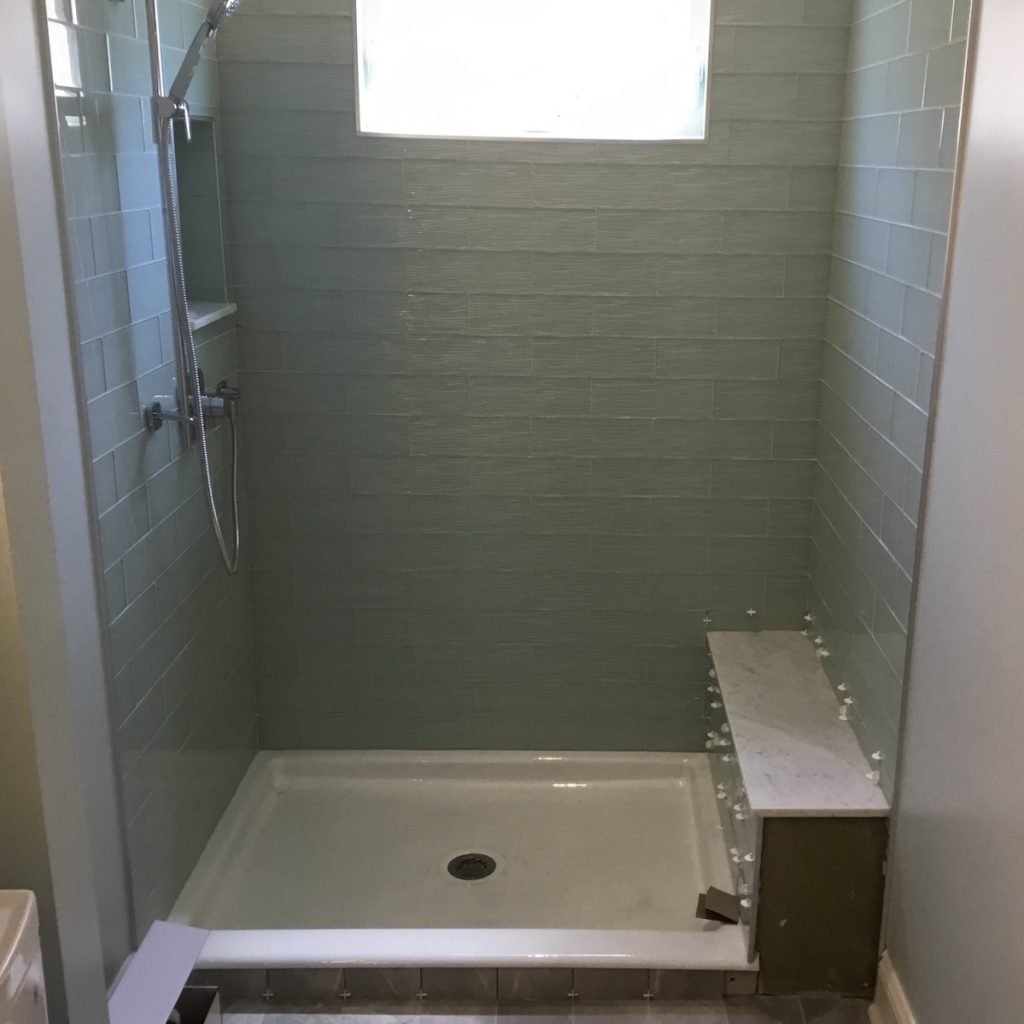 Large Format Tile
Large format tile is another trend we've been installing in our customer's bathrooms. These large format tiles give a sleek, modern look. They can be used on shower walls and bathroom floors for a consistent appearance. Large format tiles are typically porcelain which is low maintenance and durable. The limited grout lines make cleaning a breeze.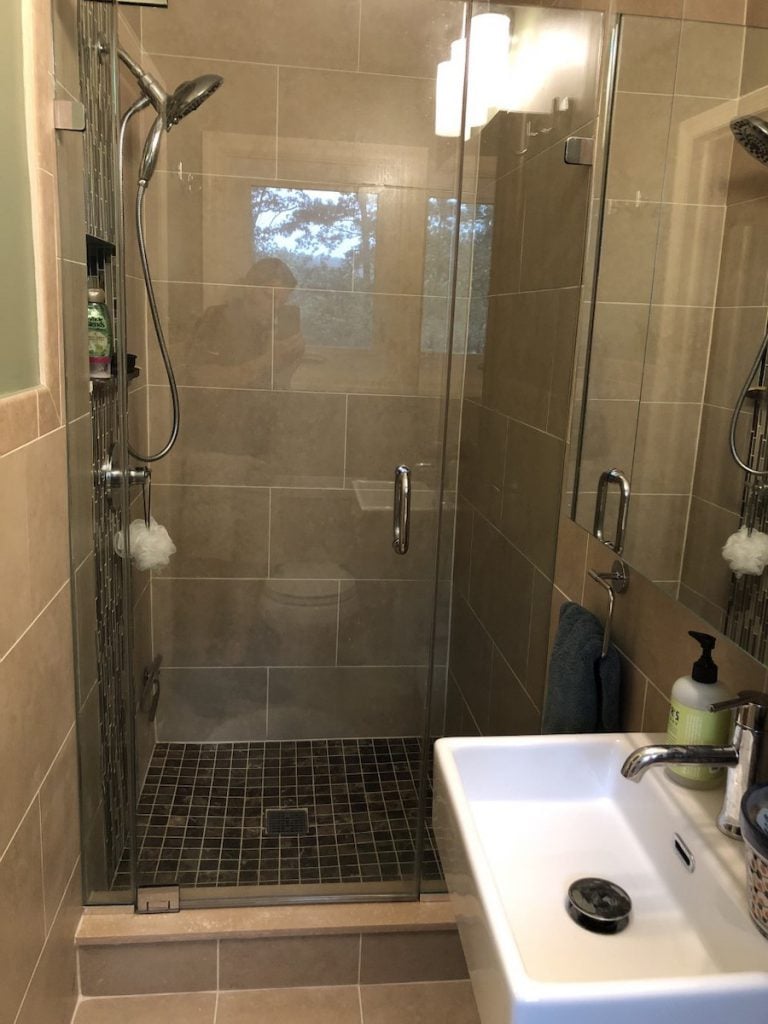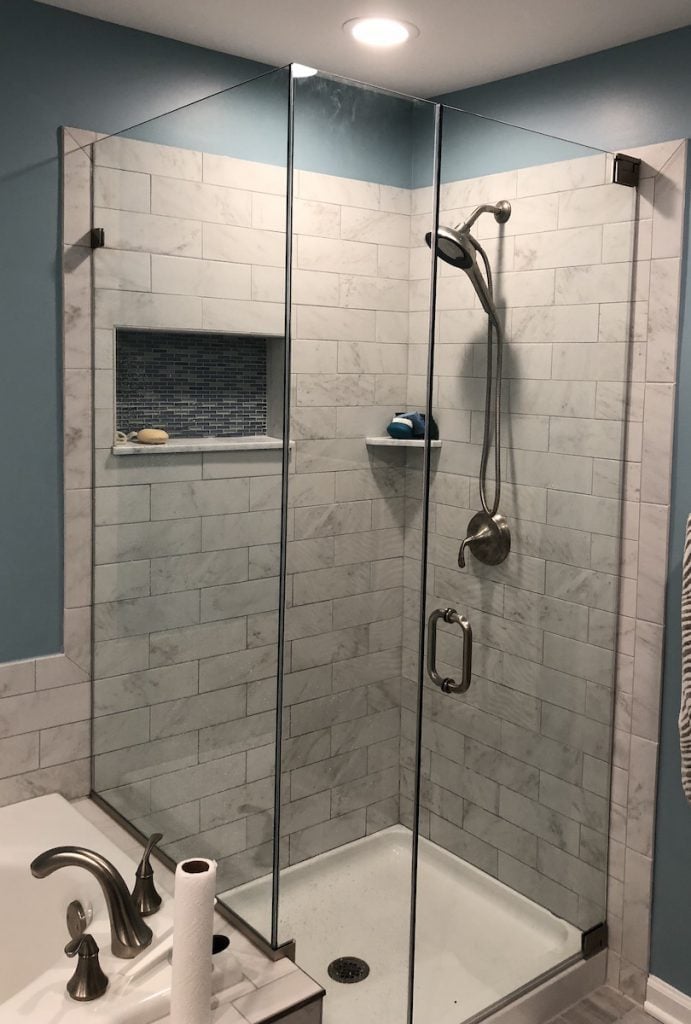 Bathroom Floor Tile Ideas
Various wood-look tile continues to be very popular for bathroom tile floors. Of course, these faux wood tiles are actually made of porcelain so the floor is watertight. These wood-look tiles vary from very rustic looking, to more modern with just a hint of a hardwood appearance. To make these floor tiles a little more unique, playing with the layout of the tile is an idea. In the last photo, we laid these tiles on an angle in this powder room.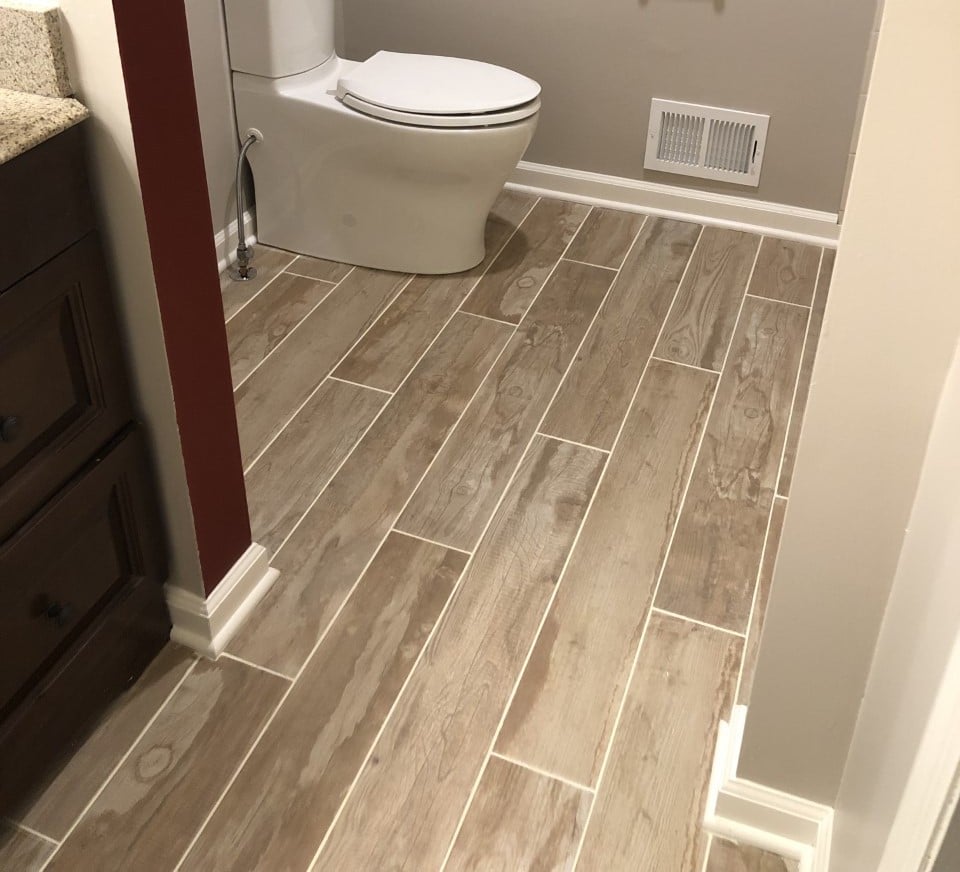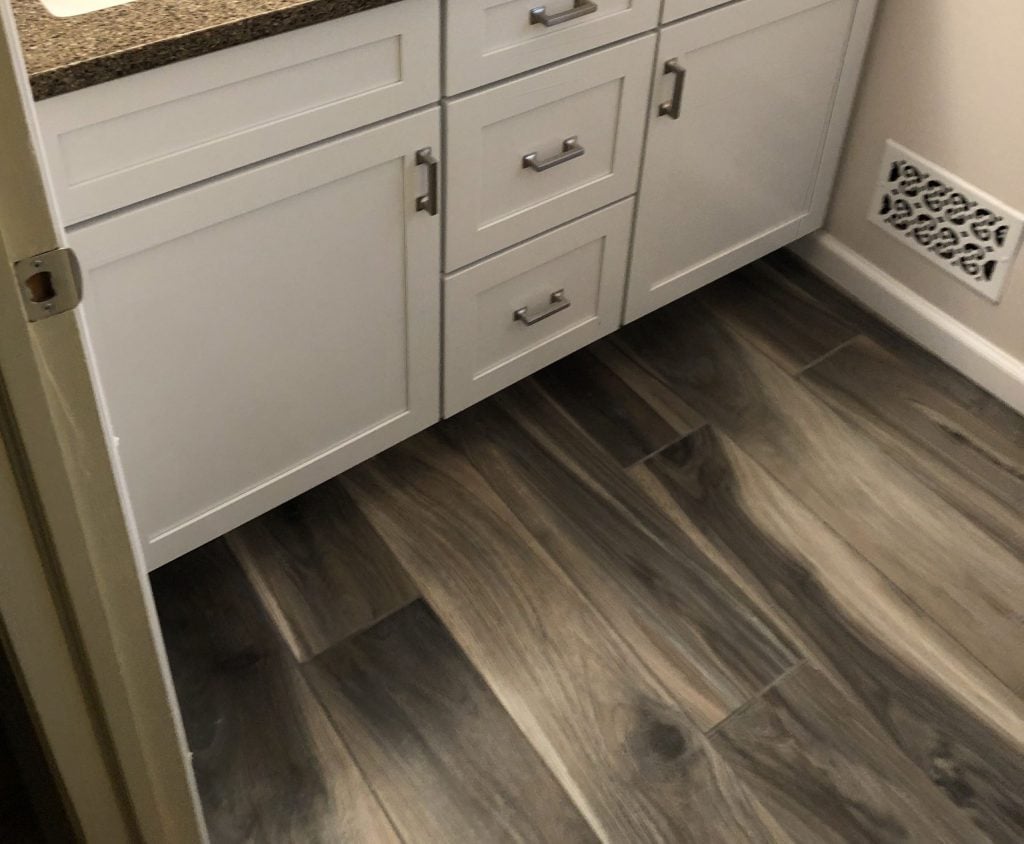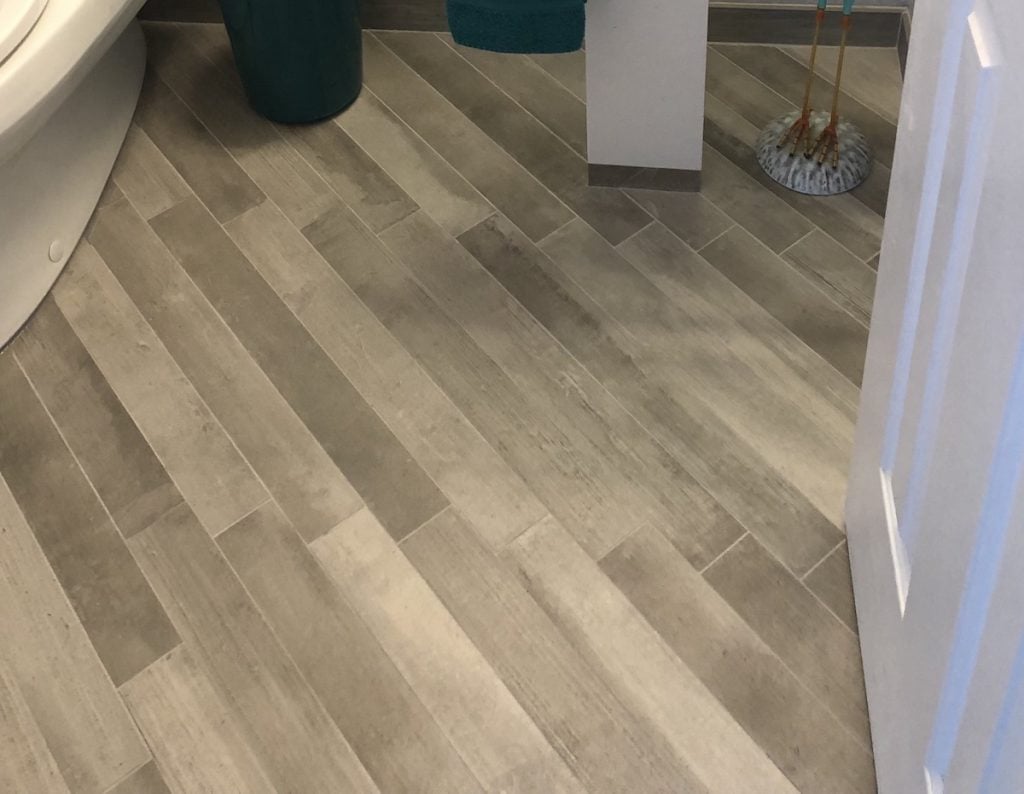 Mosaics and Herringbone Patterned Tile
Perhaps the most interesting tile can be found on powder room floors. Because it is a small space, homeowners can splurge on more expensive tile because less product is needed. Also, there isn't any other tile to coordinate with, so the floor tile can be a unique design or pattern all on it's own.
Powder room tile is moving towards either large format tile (left photo) or to detailed, smaller tile like this pretty mosaic tile pattern (center photo). Tile laid in a herringbone pattern continues to be popular. However, it's evolving from tile sheets of pre-assembled herringbone, to larger format tiles patterend on site.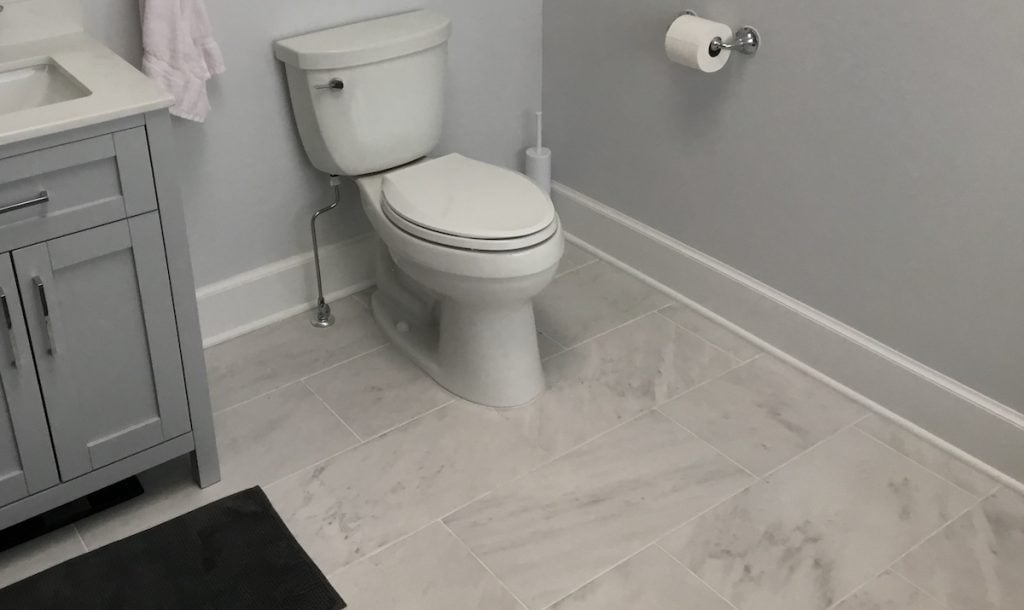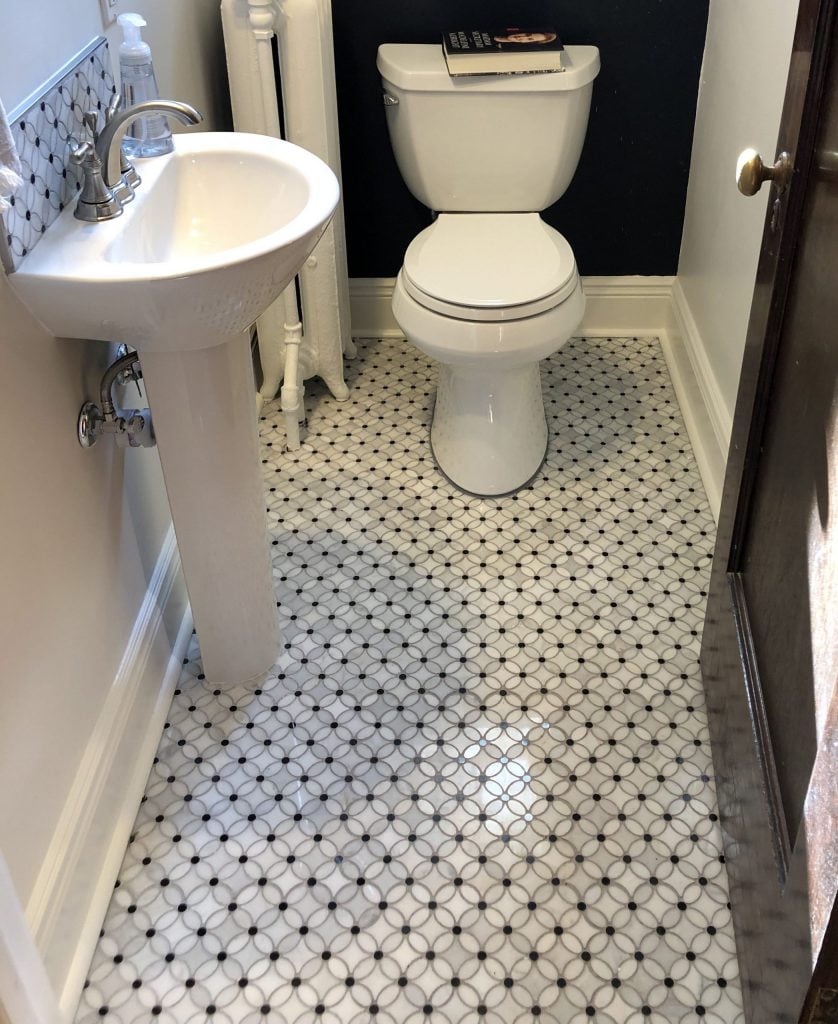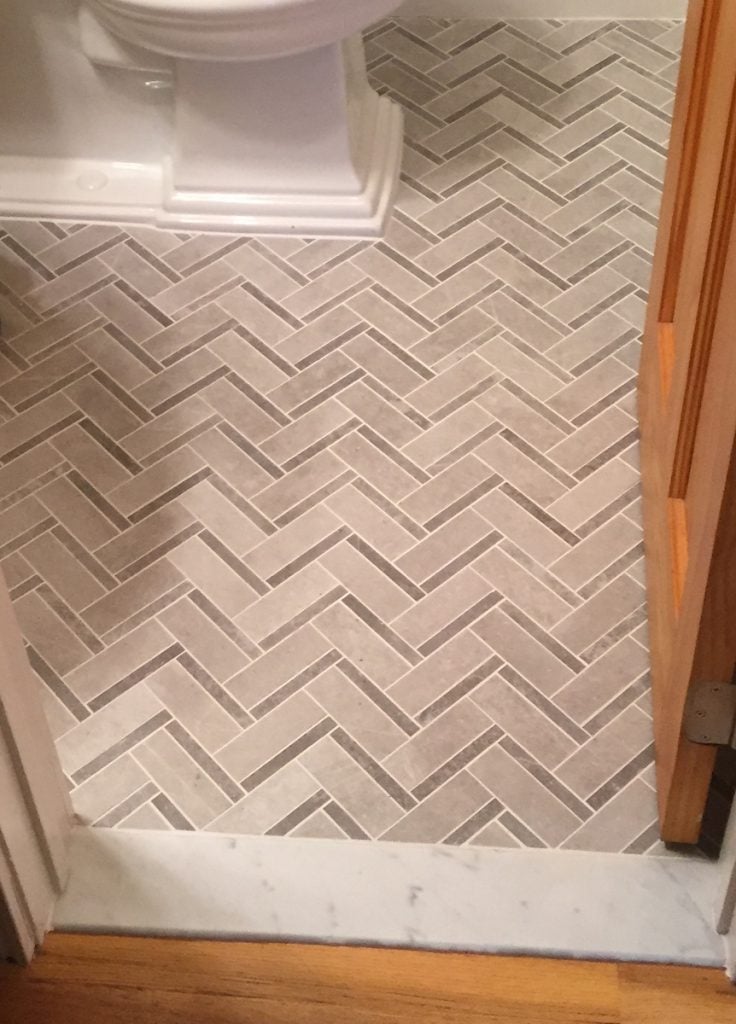 2020 Bathroom Tile Trends and Beyond
Thankfully, we don't see pink and powder blue bathrooms coming back anytime soon. But, there are some classic looks that are making a comeback, along with brand new looks. Here are a few tile trends that we expect to see more of in the coming years.
Tile accent wall. Tiling the wall of a powder room or behind a vanity is a new trend we're seeing. While adding tile here isn't necessary, it adds interest to small bathrooms. In the case of this mater bathroom, the herringbone tile accent wall coordinates with the same tile accent around the tub and in part of the shower, tying the room together.
Bohemian or Old World Tile. Tile like you'd find in traditional kitchens of Portugal or Spain is moving into modern American homes. Found in bathrooms, entryways, and kitchen backsplashes. The modern versions of these tiles tend to be more monochromatic than their original colorful counterparts.
Even more texture. Sometimes referred to as 3-dimensional tile. From smooth and beveled to bubbly to wavy to rough and irregular, textured tile is en vogue. These 3-D tiles can have a modern appearance like the wavy, white tile to the right. Or, they can be more rustic and traditional with a stacked-stone appearance. Any way you use them, textured tiles will be sure to take your bathroom design to a whole new dimension.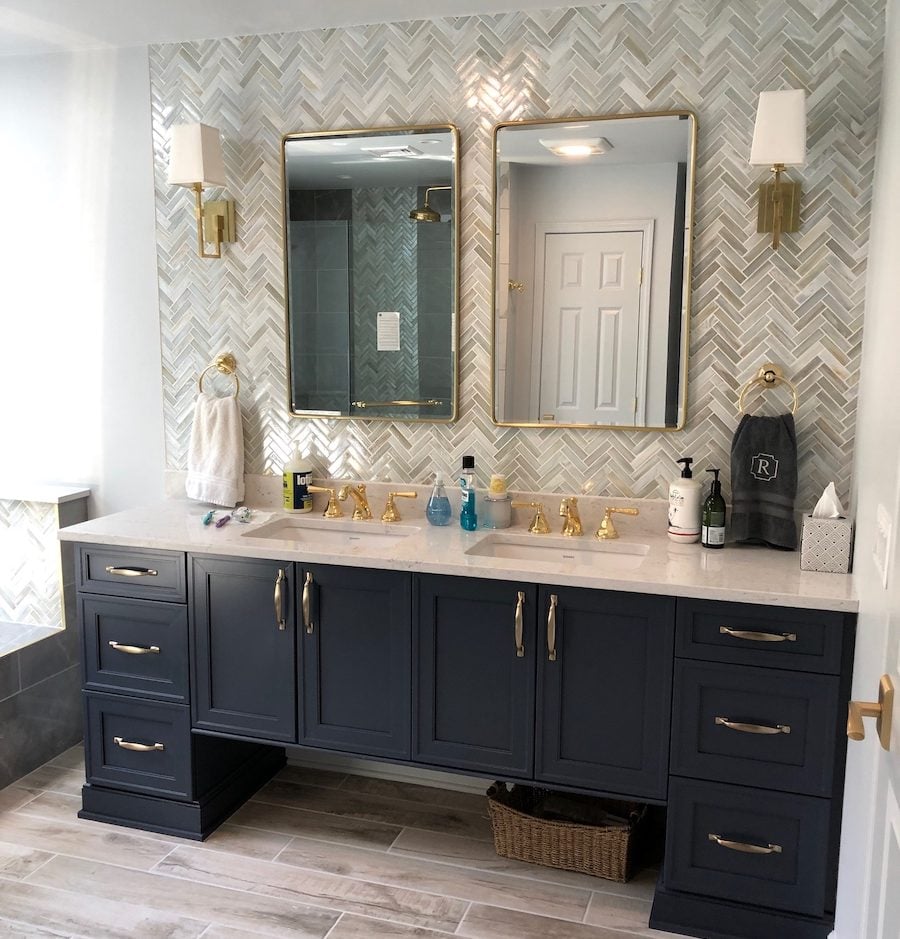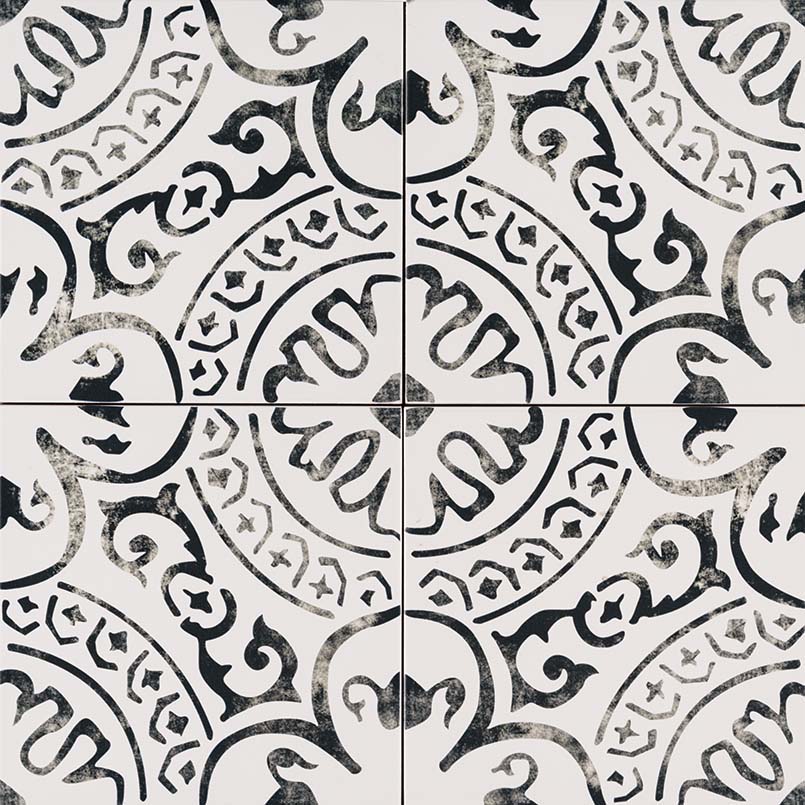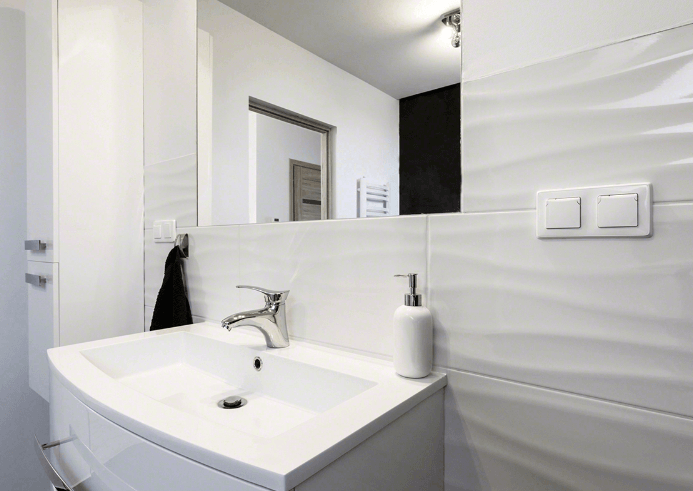 Monk's provides tile design as well as tile installation throughout our northern New Jersey service area. For more examples of tile installation projects we've completed, you can also visit our Tile & Backsplash Gallery.