Benefits of Refinishing Your Staircase
Hardwood flooring adds value to a home. The same goes for having hardwood stairs. Hardwoods are durable and long-lasting. They are suitable for those with allergies and asthma. Their timeless good looks never go out of style. However, they aren't impenetrable to wear and tear. Especially in high-traffic areas, like on stairways, treads and can get worn and scratched. When your staircase has faded or shows signs of use, they should be refinished.
Refinishing stairs offers a number of benefits. Firstly, it offers guests a great first impression of your home. Since typically the staircase is part of the front entryway, a gleaming staircase will welcome your guests. Secondly, when you refinish your stairs, you can update the stain of the treads, as well as the banister. While hardwoods are timeless, different stain preferences do tend to reflect current trends. When you refinish your stairs, you can "update" the look of them with a current stain. Additionally, keeping your hardwoods looking good retains the value of your home.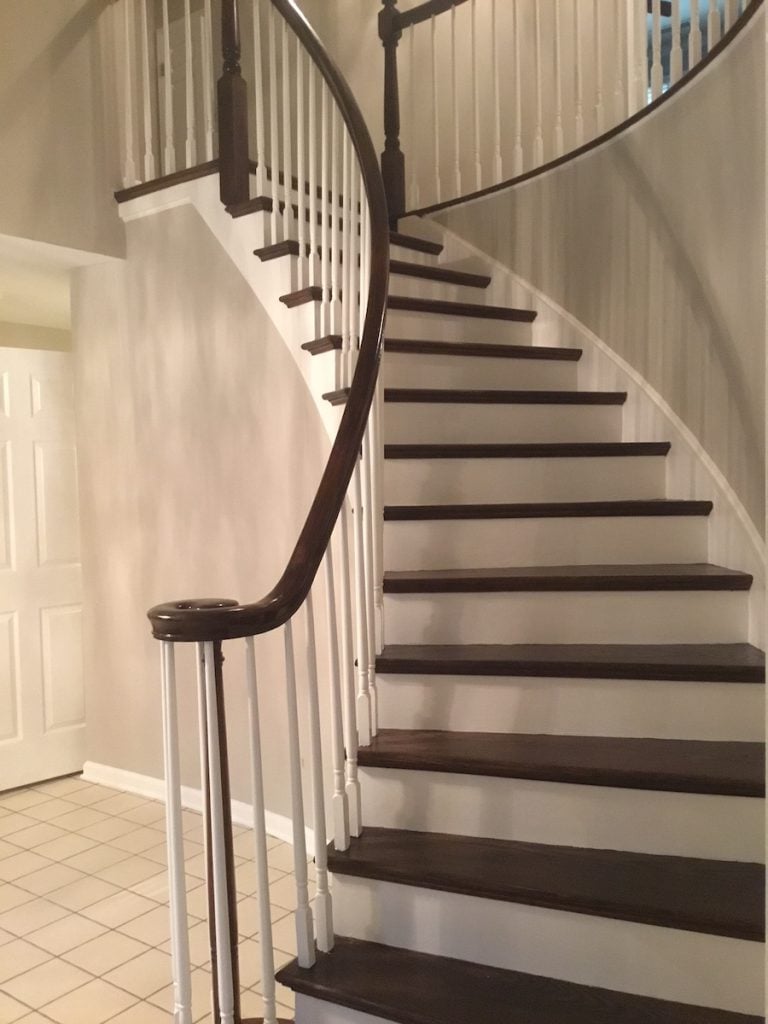 Wooden Staircases vs. Carpeted Stairs
There are some points to consider before removing the carpet from your stairs and going with hardwood. The first, and most important, is safety. Hardwood floors can be slippery, especially going down hardwood stairs in stocking feet. The youngest and oldest family members are most likely to suffer a fall on the stairs. If this is a concern in your household, you may want to consider keeping the carpet.
Additionally, carpet helps to muffle sounds. If you have squeaky floors or thumpy family members, carpeted stairs may be a good choice.
Of course, our four-legged friends are another consideration. Homes with dogs may find hardwood stairs both unsafe and noisy. Plus, when dogs try to grip their paws on the treads, they can scratch the hardwood.
Many homeowners opt for hardwood stairs with a carpet runner. This option offers safety and a noise buffer, while still allowing the hardwood to peep through.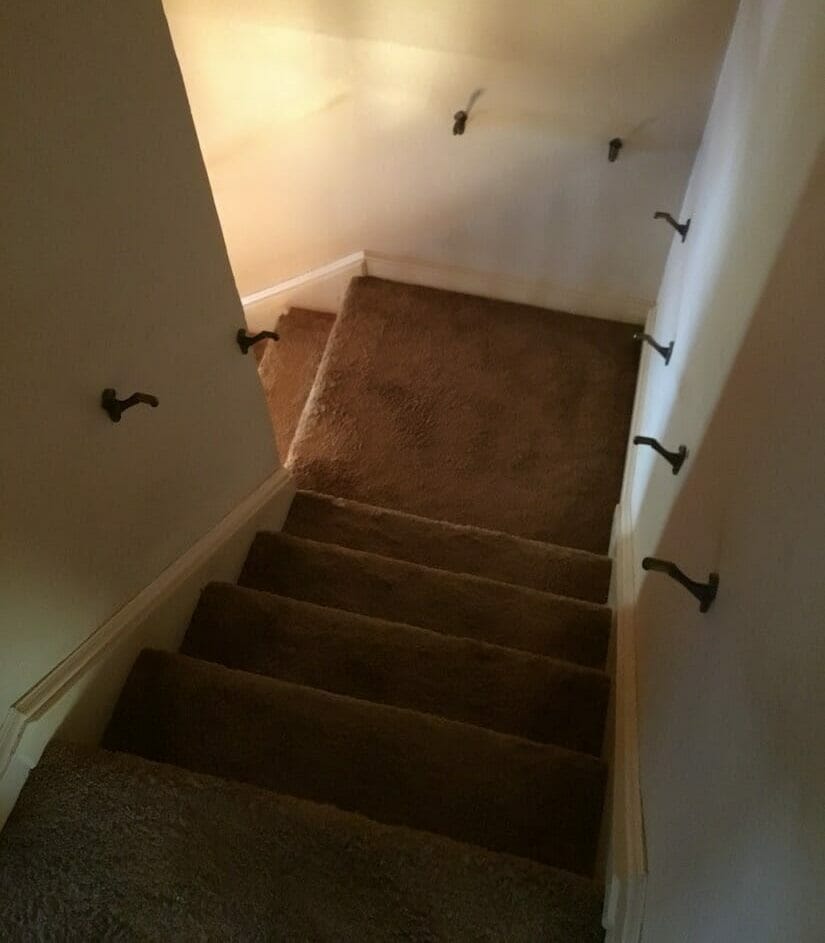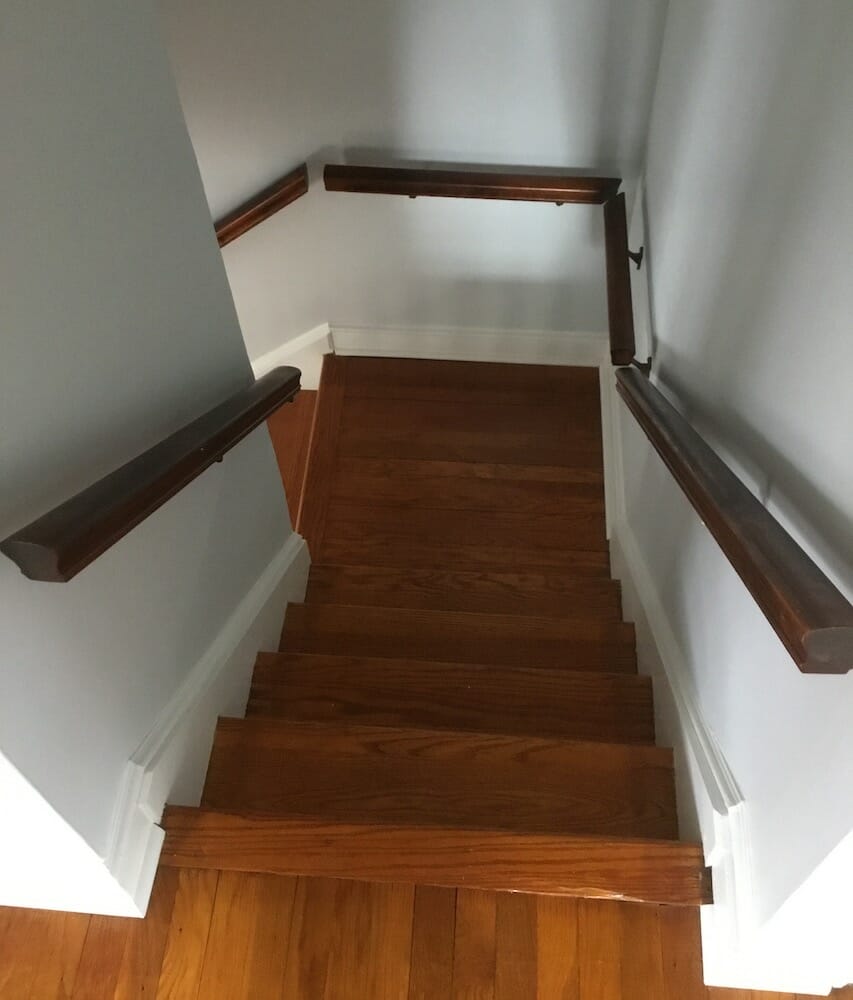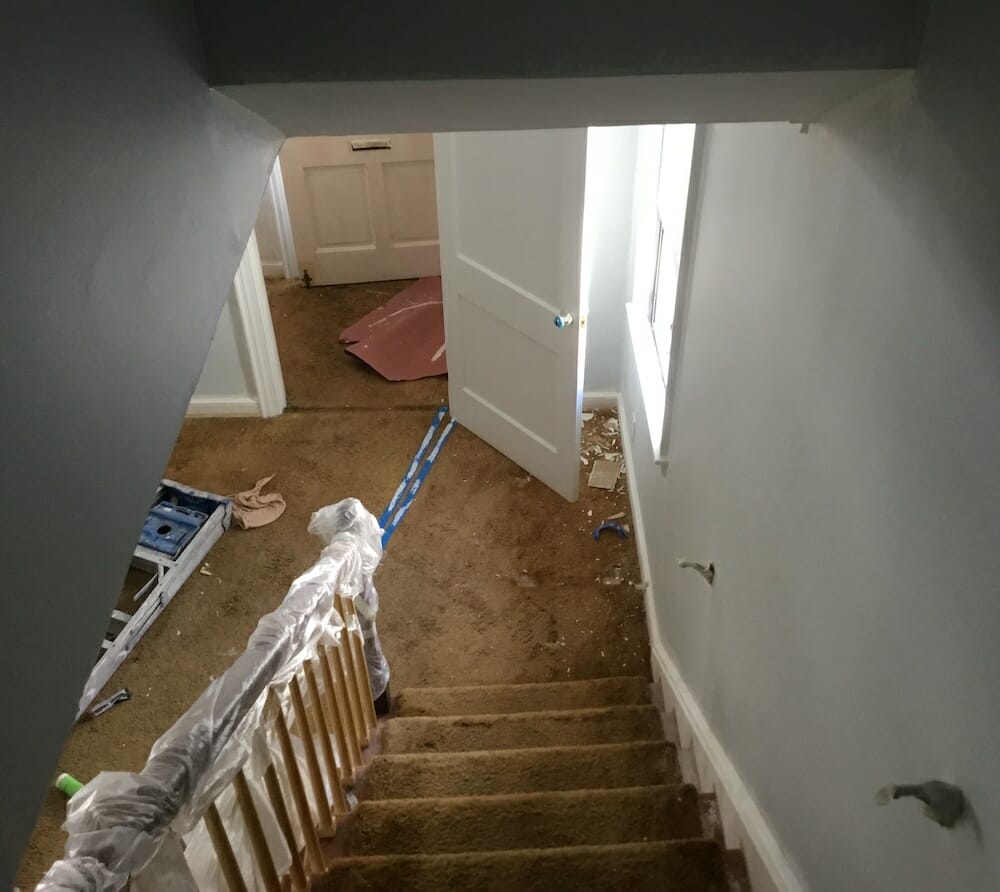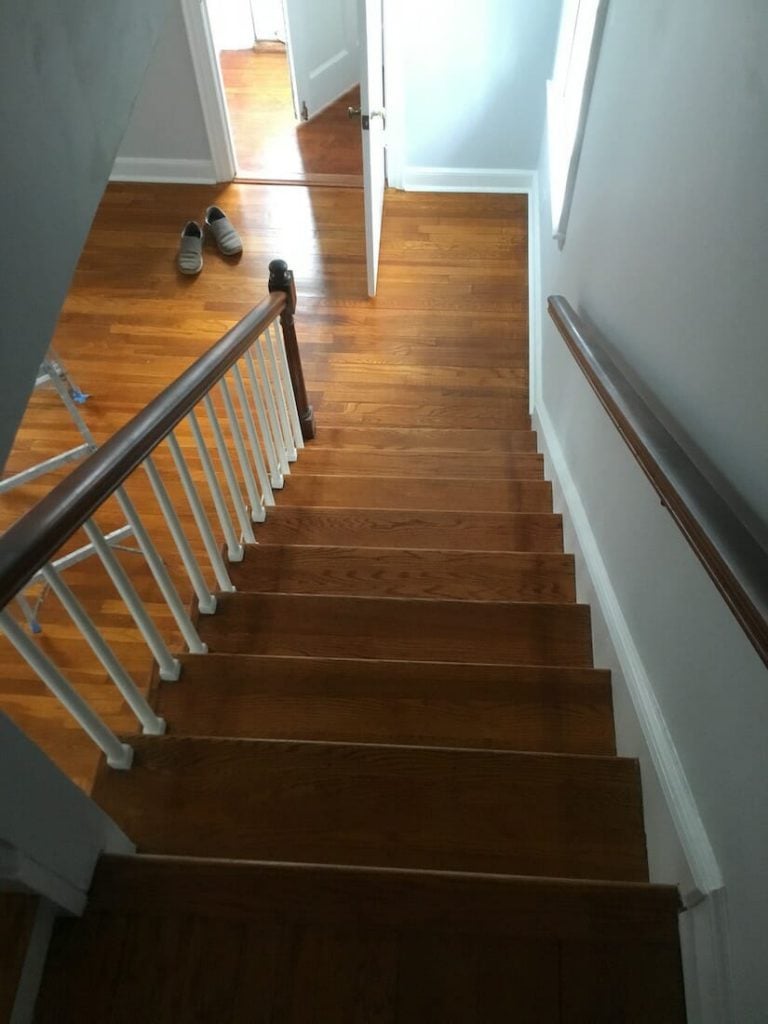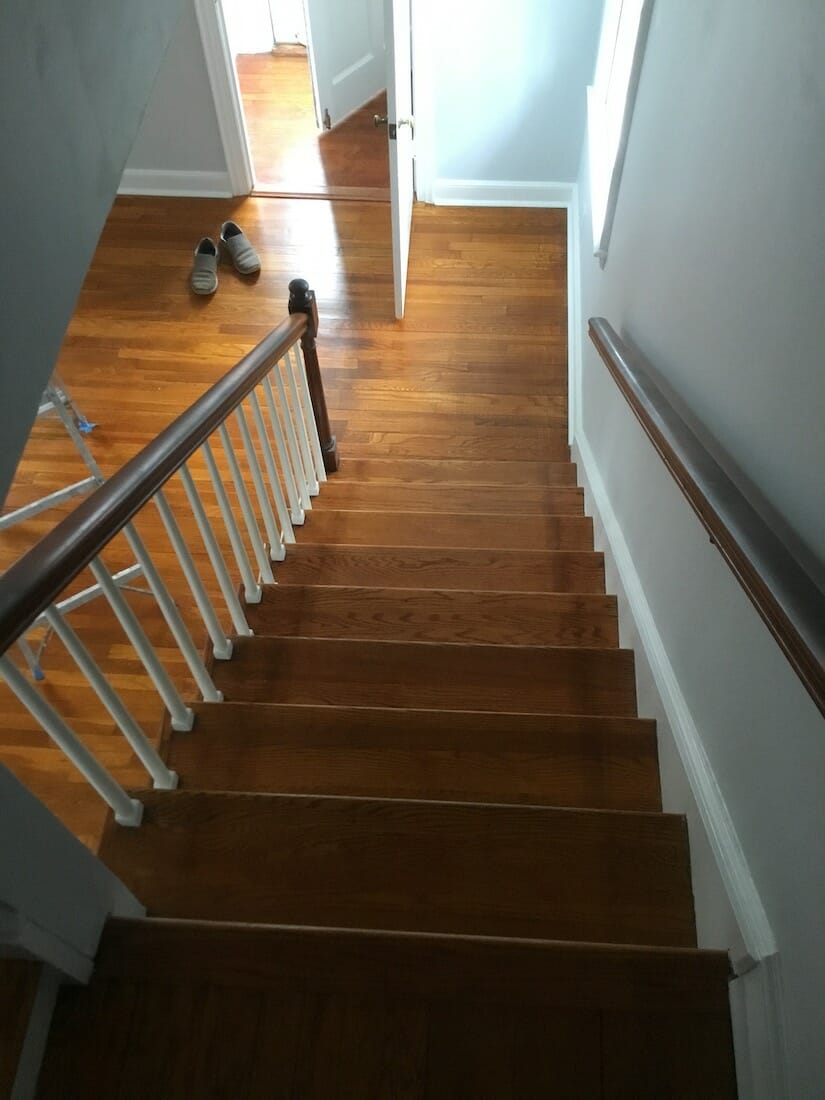 Refinished Stair Ideas
Here are some before and after stair refinishing projects we've completed. This can give you an idea of how you can change the look of your stairs just through refinishing.
We've done projects that match the treads perfectly with the banister. On the other hand, we've stained treads to match adjacent flooring but stained the banister a glossy black. We've also done a project where we stained the treads a deep brown but kept the hallways a natural oak. We've replaced traditional spindles with modern cable systems. There are many options, but we recommend a style that will complement the rest of your home's style and decor.
For more ideas, see our Flooring Photo Gallery.
Can You Refinish Stairs Without Sanding?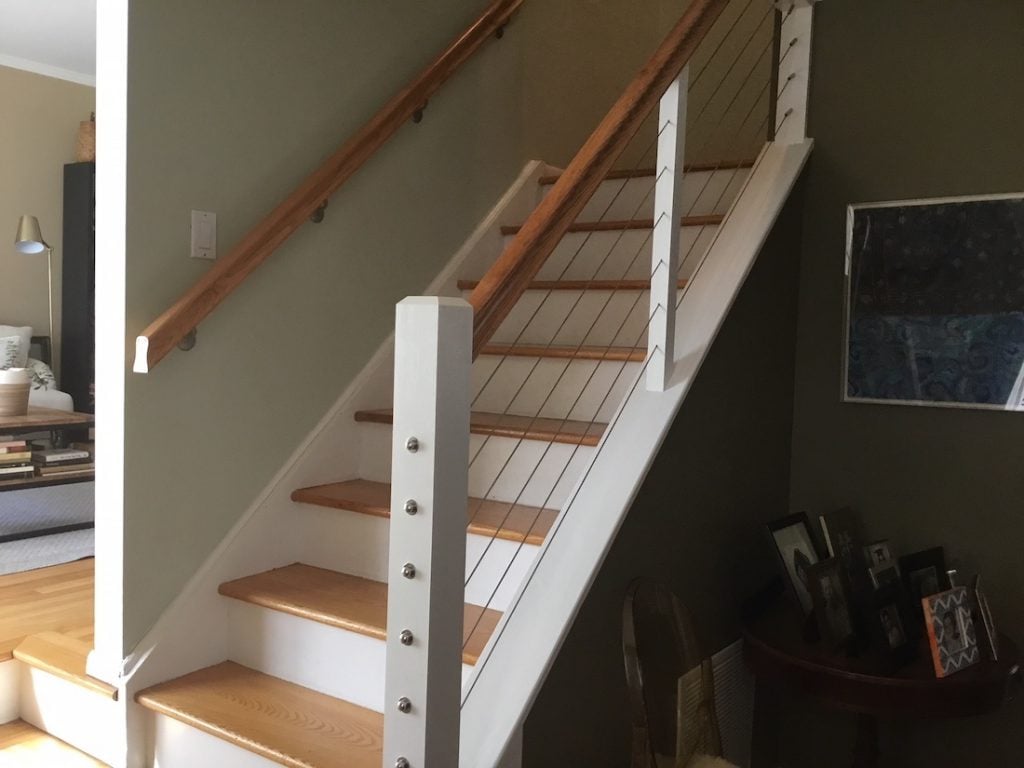 Our customers understand that sanding floors can get messy, and we are often asked if we can refinish stairs without sanding first. The simple answer is "yes". We can rescreen and recoat stairs without any sanding. This process simply involves etching the existing layer of polyurethane and applying a fresh coat (or two) of poly. If your stairs have simply lost their shine, rescreening will restore your stairs. This is also a good maintenance step to have done every few years in order to prolong the time in between sanding and refinishing.
However, rescreening your stairs is not an option if:
Scratches go past the coat of poly and penetrate into the wood
You have waxed your stairs
You want to change the color (stain) of your stairs
UV damage is visible. You can see this when removing runners or area rugs.
Your stairs or are worn down to the wood, which appears as gray patches
If you are not sure, we can take a look and let you know what we recommend based on the condition of your stairs.
Hardwood Stairs Refinishing Process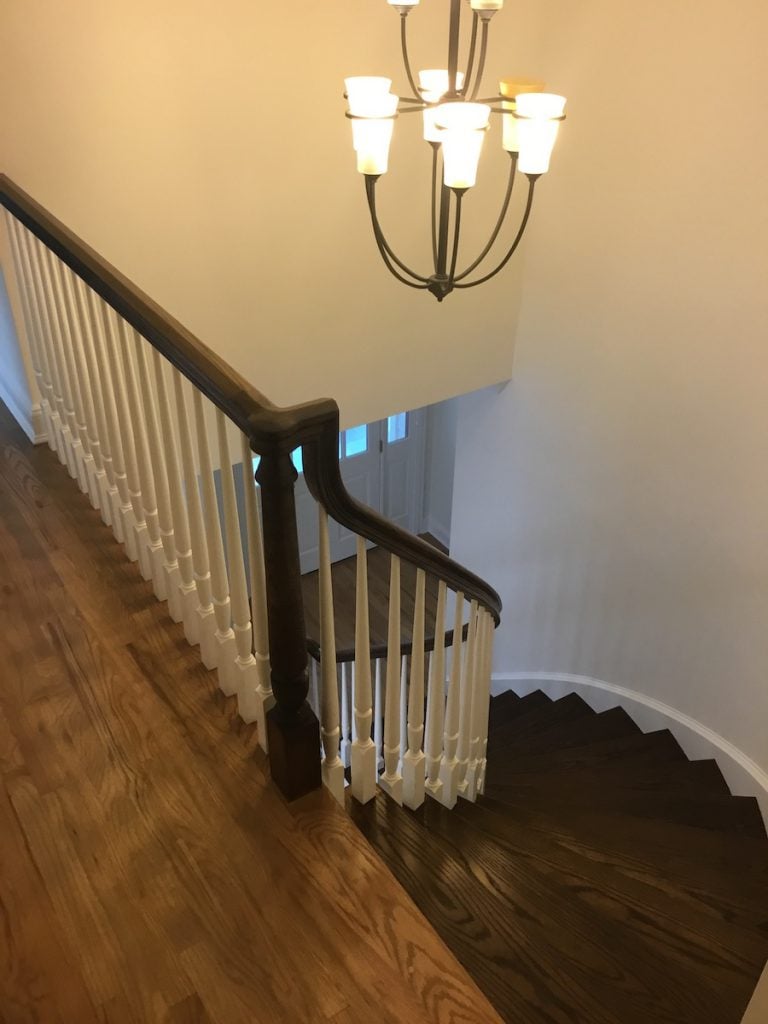 The process of refinishing hardwood stairs generally follows the same process for finishing hardwood flooring. However, everything is done by hand. Therefore, it is a time-intensive task that does require a number of tools and materials.
Steps to refinish hardwood floors
Remove any carpeting from the stairs
Remove all carpet staples
Strip the stain from the treads
Sand the treads and risers using an orbital hand sander
Hand sand the spindles, banister and around the base of the spindles
Vacuum and wipe down everything until the dust is gone entirely
Apply the stain by hand. Depending on the color, this may take multiple coats. Be sure to allow drying time in between coats.
Apply the polyurethane. Multiple coats are required for the treads.
Paint spindles and risers
Learn more about Monk's flooring services and our process.
Cost to Refinish Stairs
As we've mentioned, refinishing stairs requires a lot of detailed, manual work. For this reason, it is much more expensive to refinish stairs than a floor, when you base it on cost per square foot. According to The Spruce website, the average cost of stair refinishing will run you $40 – $75 per stair, on average.
Other costs to factor in, which may not be included in a contractor's estimate, or may not be offered at all, include:
Furniture removal (not necessary for stairs!)
Carpet removal and disposal. Removing the carpet is the easy part. It's taking up all those staples that are a time-consuming pain.
Painting the risers, trim and spindles, and perhaps the foyer walls and ceilings, too. You'll want these done at the same time to complete your entryway makeover.
Cleaning. Your contractor should tape off all adjoining rooms with plastic sheeting, but dust still has a tendency to find its way to adjacent living areas. Expect to vacuum and wipe down every surface, or pay someone to do it for you.