Project Manager:  Greg Kihm
Timeline:  2 Weeks
Scope of work:  Remove old paneling and wainscoting, coordinate with Avelino Masonry, Re-install existing fireplace mantel, install new interior trim,  mount a TV on the wall, and interior painting.
Old Fireplace Before Remodeling
New Stone Fireplace After Remodeling
This customer in Chatham, New Jersey wanted to update their living room by removing older paneling from the 1960's, creating a entirely new look for their fireplace and then freshening up the room with a new coat of paint.  One concern was that if we updated the fireplace, it would look out of place in the house.  We saved the existing fireplace mantel and re-installed it after the stone work was complete so that the fireplace felt as if it were original to the house.  We work closely with quality companies that handle specialty trades like masonry, electrical and plumbing to make even the most complicated projects look easy.
We referred Avelino Masonry in Chester to handle the stone work on this fireplace.
New stone fireplace with new crown molding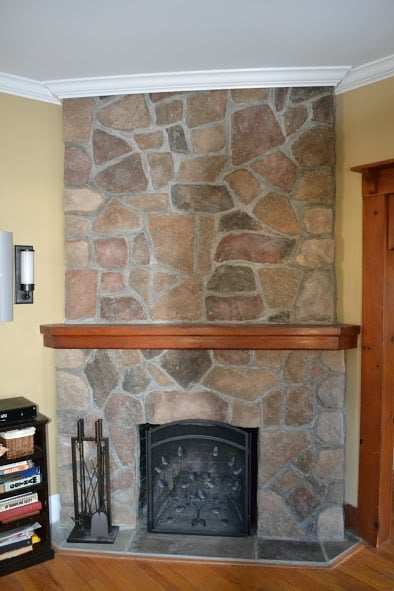 After Avelinos completed their stone work on the fireplace, we returned to install new crown molding around the fireplace, new baseboard where the paneling was removed and then coordinated with the electrician to hang a new TV on the adjacent wall.
After the electrician ran the wiring for the new TV, we painted the walls, ceiling and crown molding before finally mounting the TV.  The dated brick fireplace was replaced with a new working stone fireplace.  The end result made the room feel much brighter and more modern.
If you would like to see more of our projects, check out this new tile backsplash we installed in Madison, NJ or these two bathrooms we remodeled in Morristown NJ.
If you are considering installing crown molding, painting or want to redo your fireplace, please give us a call.  We would love the opportunity to tell you why we think we are the best home improvement company in Chatham NJ!

Schedule a Free Estimate Online