Estimator:  Kurt Becker
Timeline:  3 days
Scope of work: Epoxy Garage Floor
Location: Basking Ridge, NJ 07920
Applying epoxy to a garage floor is a great way to seal and protect your concrete floor.  However, epoxy can only be applied to a floor that has never before been painted.  Luckily, this Basking Ridge home had a bare garage floor that was in need of some protection, and our team at Monk's was there to deliver a great epoxy floor application!
This Basking Ridge garage floor was severely discolored and stained.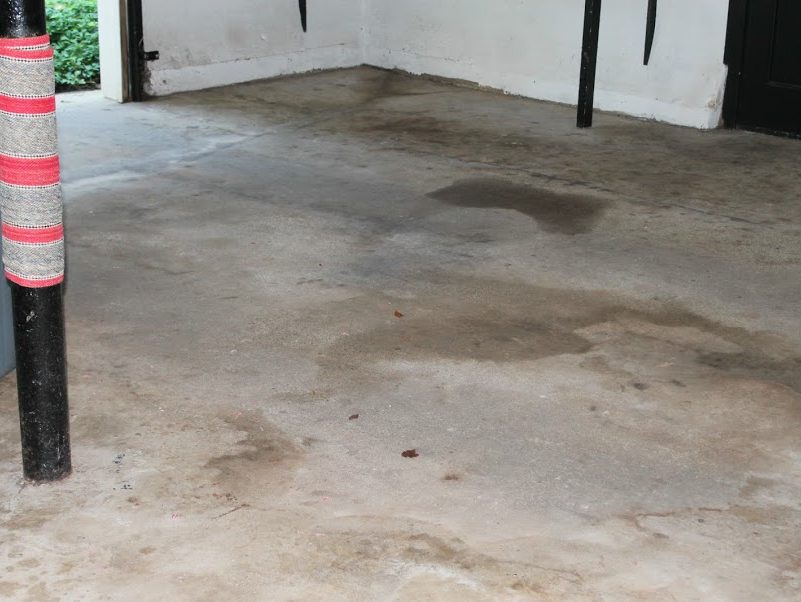 After the epoxy, the floor would not only gain extra protection, but it would also look great!
Epoxy Garage Floor Process
The first step to this job was to mop the floor down with muriatic acid.  This acid opens up the pores of the concrete, which prepares the floor for the next step of the process. Afterward, the epoxy is really able to take a grab of the concrete and soak in when it is applied in the next step.
Our team at Monk's is incredibly careful while applying this acid.
The muriatic acid will sit and soak into the floor for about fifteen minutes. Then, painters will thoroughly hosed off the entire surface with a pressure washer.
The product that will be painted onto these concrete floors is actually a two-part finish. We mix these together before applying it to the floors.
After the substance has been completely mixed it is ready to be applied to the prepped concrete floor.  Painters use a small brush to go along the edges, ensuring that every space is covered. We use larger rolling brushes to cover the rest of the floor.
After the first coat of epoxy finish, we leave it to dry completely before applying the second coat.  An epoxy seal protects the floor, unmatched by regular paint.  If you paint a garage floor with regular paint, the heat of the tires will eventually wear through and ruin the paint job.  However, epoxy is heat resistant.
The second coat of epoxy finish is applied for added protection.
After only three days the epoxy floor refinish is complete!
After the second coat there is the option to add a third clear coat for added protection (not pictured here).
More Monk's Projects
If you would like to see more projects by us, check out this cedar siding and porch repair or hardwood floor installation and dustless floor refinishing job.
If you are considering an epoxy floor refinish we would like the opportunity to tell you why we think we are the best epoxy floor refinish contractor in Basking Ridge, NJ 07920.
Call Monk's at 973-635-7900 to schedule your free estimate today!