Monk's Home Improvements has been painting and repairing homes in and around Basking Ridge, NJ since 2007. We've grown to include additional services like flooring, tiling, and bathroom and kitchen remodels, but painting and carpentry is still the core of our business. We pride ourselves in delivering you a painting or carpentry job that you'll enjoy for years to come. We guarantee it.
Monk's – Your Basking Ridge Painter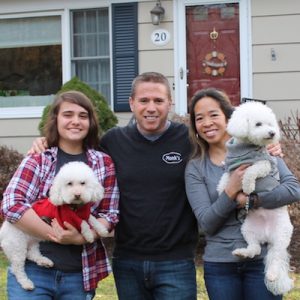 Kurt Becker manages all of the projects for Monk's Home Improvements for Basking Ridge, NJ, and Bernardsville, NJ.
Kurt has been painting and wallpapering homes since 1995. He owned his own painting business up until 2011 when he joined Monk's. Kurt lives in Basking Ridge with his wife, Jill, and daughter, Alexa, who graduated from Ridge High School.
Kurt looks forward to discussing your interior painting, exterior painting or carpentry project with you. Call to schedule an appointment for a free, written, on-the-spot estimate with Kurt Becker. Kurt will tell you why we are the best painters in Basking Ridge! Kurt also services towns surrounding Basking Ridge including Bernardsville, Far Hills, and Bedminster, NJ.
We handle all types of painting projects.  Besides walls and trim, interior painting may include kitchen cabinets, railings and more. Monk's paint exteriors including trim, cedar shingles, fences, decks, sheds and more!
This Is Why Monk's Painting Is The Best In The Business
We determine what kind of paint preparation your specific job needs (beyond just spackle)
Specific protection for your furnishings, floors, and interiors
Monk's has only qualified, trained professional painters
We have our painters on your job every day until it's completed
Written guarantee of paint project satisfaction
Our team cleans up after the end of each workday
The best quality paints like Benjamin-Moore or Sherwin-Williams products
Monk's is fully licensed and insured
How our Painting Services Differs From the Rest
Our painting crews remove all loose paint by sanding or scraping, even if that is 95% of the paint from the siding.
Clean all dirty areas of the house and rinse off any dust from the sanding. Exterior Painting Basking Ridge, NJ 07920
Prime all bare wood with a top-quality primer from Sherwin-Williams or Benjamin-Moore.
Use premium primer ingredients like Duration Paint from Sherwin-Williams or Aura Paint from Benjamin-Moore. (The correct primer is determined if you sand or scrape)
On cedar houses with lots of bare cedar –  we apply the 2nd coat of oil-based primer to prevent the cedar from staining.
Typically a house requires two topcoats of paint. This will make your paint job last for years to come.
Why Choose Monks On Your Basking Ridge Carpentry Job?
Our experienced carpenters only do woodworking
We'll remove any rotten wood and replace with Azek trim.
We've created beautiful Custom Built-ins including shelving, media centers, and mudroom cubbies
Our carpenters are skilled in the repair/installation of gutters and fascia boards.
Full-service carpentry available for trim installations and exterior repairs
Full-service dustless floor sanding and refinishing available and well as a new installation
Monks also install new windows or doors, you now can order directly from us.
Call 973-635-7900 today to schedule an appointment with Kurt to discuss your painting or carpentry needs.