Scope of Work: Master Suite Renovation
Town: Boonton, NJ
Timing: 14 days
The typical master suite renovation we provide consists of some sort of reconfiguration of the closet and bathroom space, sometimes by borrowing from an adjoining room or closet area. However, this was not our typical master suite renovation. The second floor of the newly-purchased home was previously a self-contained apartment. Therefore, there was a kitchen upstairs that was no longer needed. In order to create a master suite, we removed the kitchen and reworked the space.
As with many projects, we began with demo. We removed all the items from the kitchen and upstairs bathroom. Fortunately, it is always faster and less complicated to remove than to install, so this did not take very long. However, plumbing and electric work were required which adds time for the labor as well as for the inspections.
Once the plumbing and electric were reconfigured for our future needs, then we could get started with framing the new space. The plan was to expand the bathroom to allow for a shower stall. Additionally, we would add a closet that would be accessible from the bedroom.
After removing the contents of the room down to the studs, we installed insulation around the exterior walls. The new shower was framed, as well as the new closet. New walls were built and the bathroom began to be put together. Tile went in for the shower, as well as the floor. A slim, stand-alone tub was installed, along with a pretty vanity. A far cry from the pink tile and moldy grout that was there previously.
The bedroom was trimmed with baseboard and door trim to match the rest of the house. In this instance, it was painted white. New interior doors were installed, again to match the style of the home. The new walls were painted a serene, deep green-blue. For the final touch, a crystal chandelier was installed to provide elegant lighting for the room.
This master bedroom renovation is now complete.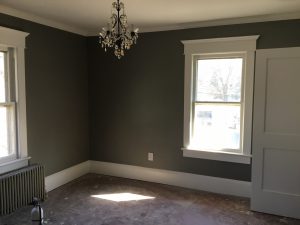 More Remodeling Projects
As you can see from this project, we can provide bathroom remodeling as well as carpentry and room reconfiguration. Did you know that we can also remodel kitchens? Along with our Design Studio in Morristown, we can provide a seamless remodeling experience. Our Project Managers and Designers work together to design and install your new space. Designers will create your layout and help you select and coordinate materials. Our PMs handle permits, inspections, deliveries and coordinate tradesmen.
If you'd like a free estimate for a remodeling project, then please give Monk's a call at 973-635-7900. Schedule your free estimate today! Design services are always complimentary, too.