Project Info
Location: Springfield, NJ
Scope of Work: Basement finishing, bathroom remodel, new kitchen installation
This Springfield, NJ home enjoyed a full basement with high ceilings and plumbing for a bathroom and kitchen. However, it had been many years since this space had been given any TLC. The homeowners wanted to take advantage of their lower level and make it a space that everyone in the household could enjoy. Monk's took it from here.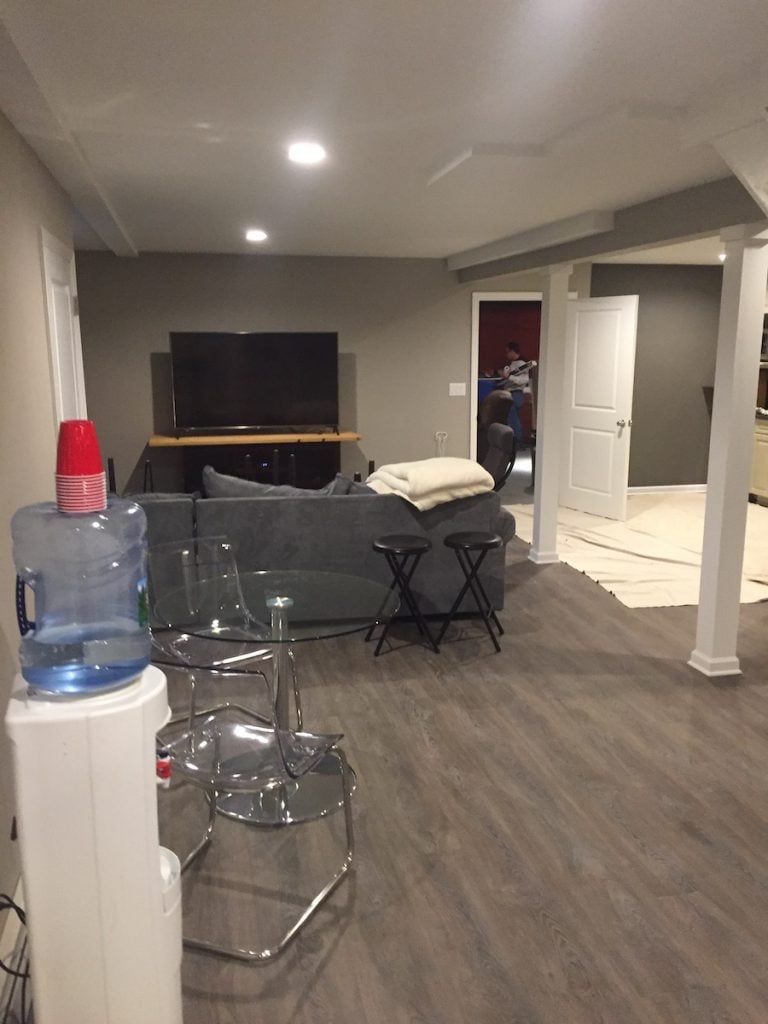 Finished Basement for Kids and Adults
We began this project by mapping out the changes to the layout. The main area of the basement would not change, but the bathroom and kitchen areas would be reconfigured.
The next step was to select the finish materials that would be used in the kitchenette, bathroom, and for flooring. Since these materials take some time to arrive, it is important to order them early so the timeline isn't impacted.
Our crew got to work on the demolition portion of the job. This occurred primarily in the side rooms where we gutted the bathroom, as well as the kitchen. We removed the drop-down ceiling and installed a drywall ceiling. Electricians installed recessed lighting.
We put in new luxury vinyl tile (LVT) planks throughout the basement floor. This is a great choice for basements because it is low maintenance, soft underfoot, and is affordably priced. The homeowners selected a warm grey wood-look vinyl plank.
Bathroom and Kitchenette
The existing half bathroom was large and functional, but that's where its good points end. The homeowners wanted to create an appealing full bathroom that would function as a guest bathroom for visitors. We put in a tiled shower with frameless door and half wall.
The existing "kitchen" was a sink with lots of counter space. In its place went a mini-fridge, dishwasher, sink, and some storage cabinets. Perfect for entertaining and storing snacks and drinks for movie night. As with the bathroom, it also provides overnight guests with all the comforts of home.
We capped off the project with an interior paint job.
At the front of the basement, a colorful play area has been set up. But this finished basement is for kids, as well as adults. In the back, comfy seating and a large television have been set up. Now this space can keep everyone in the family entertained.
Ready to learn how Monk's can help you?
Contact us for your free, no obligation consultation and estimate.
Call the office at 973-635-7900 OR