Project Info
Location: Westfield, NJ
Scope of Work: Full Bathroom Remodel
We have remodeled many, many bathrooms in northern New Jersey. In a fair number of these bathrooms, we've removed bathtubs and replaced them with oversized showers. However, for this project, we were asked to add a freestanding bathtub to the bathroom. Despite working with limited space, we were able to accommodate their wishes.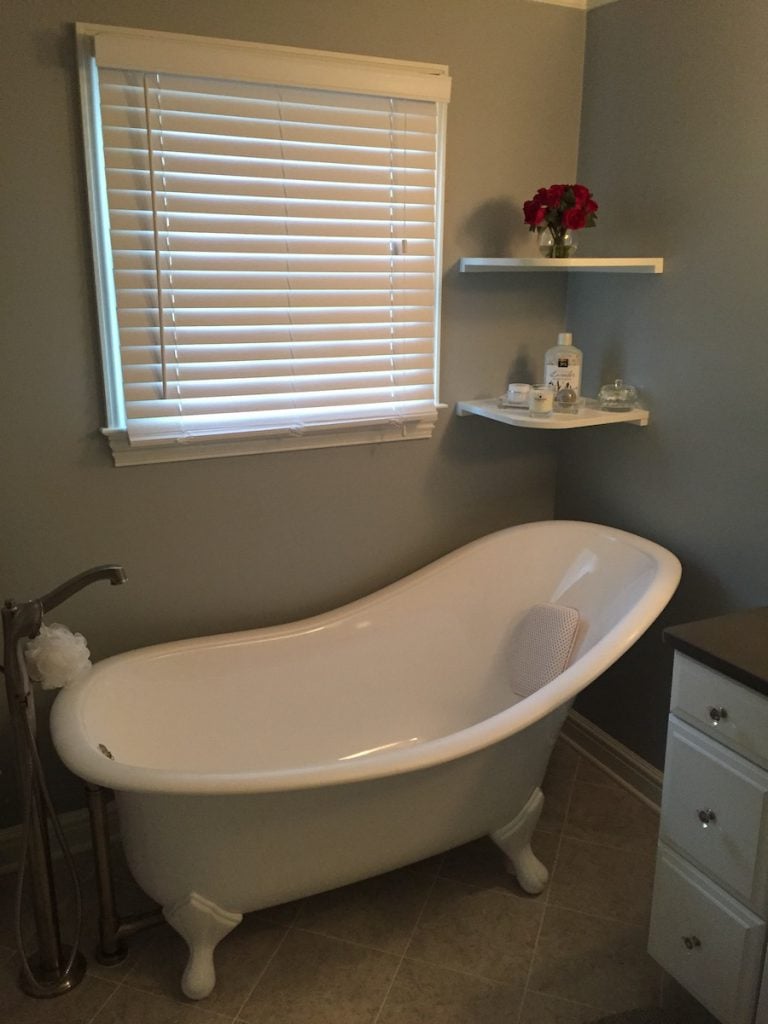 New Freestanding Bathtub
The existing master bathroom in this Westfield, NJ home consisted of a corner shower, a toilet, a double vanity, and a linen closet. In order to fit a new freestanding bathtub in the room, we needed to create some space. It was decided that we would remove the linen closet, and reduce the vanity size to a single basin.
The crew first demolished the bathroom down to the studs. New plumbing would be required for the bathtub. Once the licensed plumber was finished with the rough-in, we built the walls and subfloor. We framed the new shower. Instead of the irregular shape, we created a rectangle. The new shower would be the same width as before, but longer, giving it more square footage. The crew also built a knee wall that would live adjacent to the new vanity. The previously framed shower would be upgraded with a frameless style.
We installed new porcelain tile on the bathroom floor and in the shower. A basketweave accent border was added in the shower and as a backsplash behind the vanity.
On the opposite side of the bathroom, we installed a new freestanding tub.
To replace some of the storage lost by removing the linen closet, we added floating shelves to one end of the bathtub. Additionally, we put up a cabinet above the toilet to provide storage. We also installed crown molding around the room to add some detail. We painted the room a serene blue that complemented the white tile and warm vanity.
Now, this bathroom is updated and has all the elements that the homeowners were after.
Ready to learn how Monk's can help you?
Contact us for your free, no obligation consultation and estimate.
Call the office at 973-635-7900 OR