Project Info
Location: Basking Ridge, NJ
Scope of Work: Full Bathroom Remodel
This hallway bathroom in Basking Ridge, NJ featured standard elements. It had a shower over bathtub and a double vanity with drop-in sinks. It was functional but didn't fit the style of the brothers who used the bathroom. We gave the room a masculine remodel with materials, colors, and finishes fit for these young men.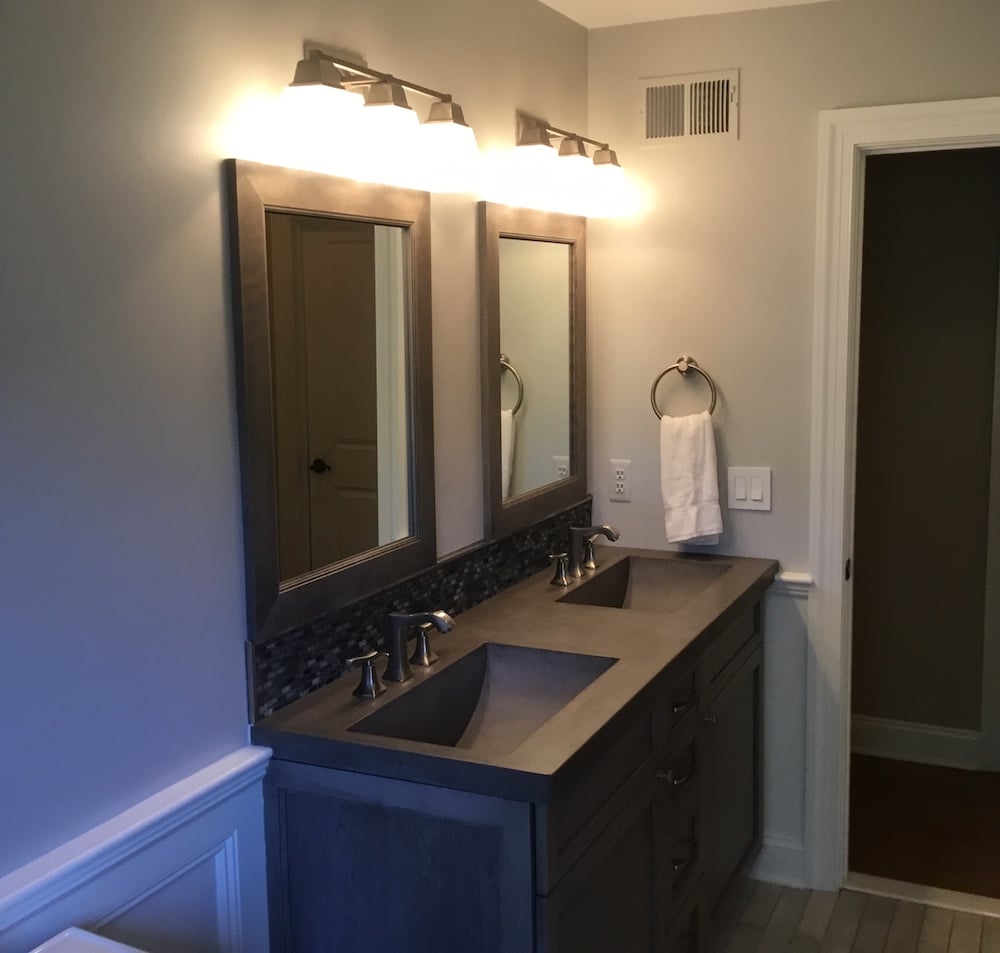 Boy's Bathroom Remodel
We began this remodel by removing everything except the tub. Firstly, we replaced the black and white square floor tile with wood-look porcelain plank flooring. After the floors, we installed wainscoting around the room. Wainscoting is a great way to add character to a room at a relatively low cost.
Our crew replaced the standard cabinets with laminate tops with new grey cabinets. Then, we topped the cabinets with stained concrete. We carried the shower tile through to the nook behind the shower. We edged the tile with a metallic bevel.
The crew swapped out the existing double vanity with a new wood vanity complete with a dark finish. The countertops and sinks were also made of stained concrete. The single piece gives a beautiful, clean look. It also makes cleaning a breeze.
While this hallway bathroom had standard features, it did have a unique ceiling line. The ceiling sloped inwards reducing the room height on the two front sides of the bathroom. We framed and tiled the bump in. Monk's tiled the shower with white subway tiles plus a dark grey accent border. To finish off the shower, a dark grey grout was used to give a dramatic look. Finally, we replaced the shower curtain with a beautiful sliding glass door.
This boy's bathroom went from standard to stunning. This unique hallway bathroom is sure to be enjoyed for many years to come.
Ready to learn how Monk's can help you?
Contact us for your free, no obligation consultation and estimate.
Call the office at 973-635-7900 OR