Project Info
Location: Caldwell, NJ
Scope of Work: Bathroom Remodel
One of the full bathrooms in this home's living quarters was in need of an upgrade. The tile floor was damaged and the tiny shower was uncomfortable. It was time for a complete overhaul. As part of the project, we'd incorporate the closet area into the shower. This closet to shower conversion would allow for a much larger shower.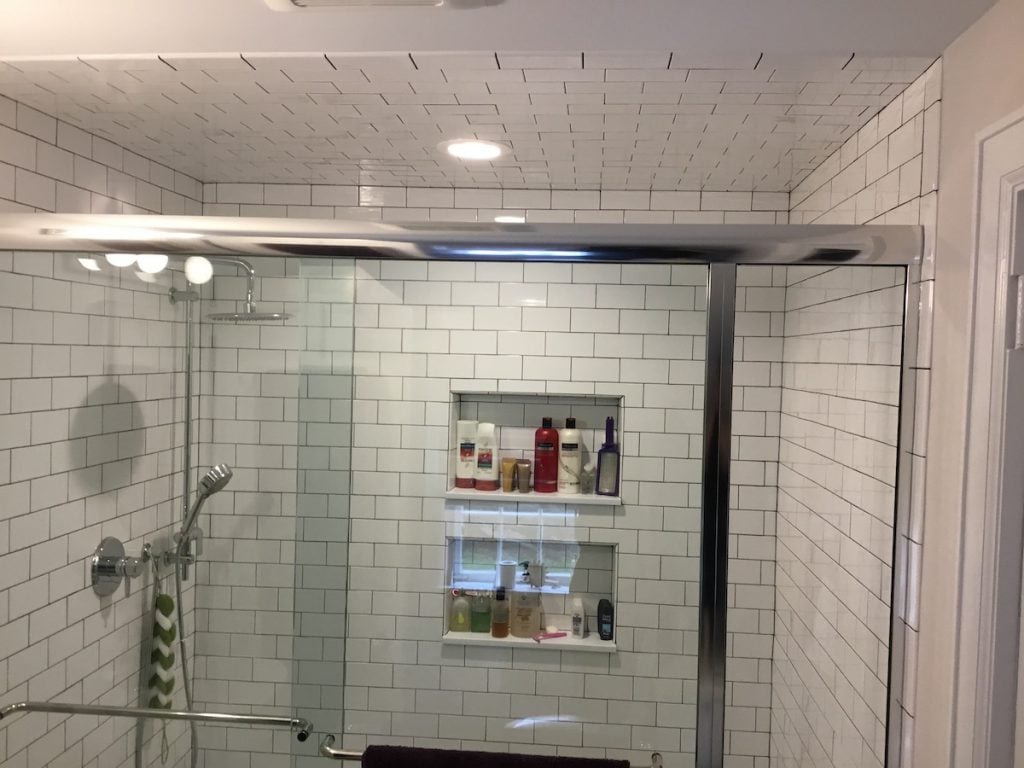 Closet to Shower Conversion
This full bathroom was typical of bathrooms built in the 1960s. The walls were partially tiled. The same tile was used in the shower. The shower was fully tiled but did not utilize the full height of the room. Having a narrow and low shower adds to the tight feeling of the space. Our clients with this type of shower can't wait to get rid of them and create something more open and airy.
These clients were lucky to have an adjacent closet that could so easily be used for additional shower space. We demoed the existing shower and closet. The crew took this bathroom down to the studs. All of the wall tile, as well as the damaged floor tile, was removed. The carpenters framed the new shower. They utilized the entire width of the bathroom for the new shower. Additionally, they removed the soffit so the new shower could run the full height of the bathroom.
The crew installed a rain shower head as well as a handheld showerhead. They tiled the shower with white subway tile, but used a darker grout. They also tiled two shampoo niches. A semi-frameless shower door was installed, along with a smaller fixed panel of glass.
The new tile floor was a marble-look porcelain tile in a larger format than the previous tile. The pedestal sink was reused, as well as the medicine cabinet and over-sink lighting.
The bathroom was trimmed and painted. Now this closet to shower conversion project is complete.
Ready to learn how Monk's can help you?
Contact us for your free, no obligation consultation and estimate.
Call the office at 973-635-7900 OR