Project Info
Location: Towaco, NJ
Scope of Work: Master bathroom remodel
Many clients tell us that they just don't use their oversized tub and takes up precious real estate in the smallest room in the house. Additionally, aging homeowners want a shower that they can easily step in and out of safely. This bathroom makeover project had us building a larger shower to replace a tub.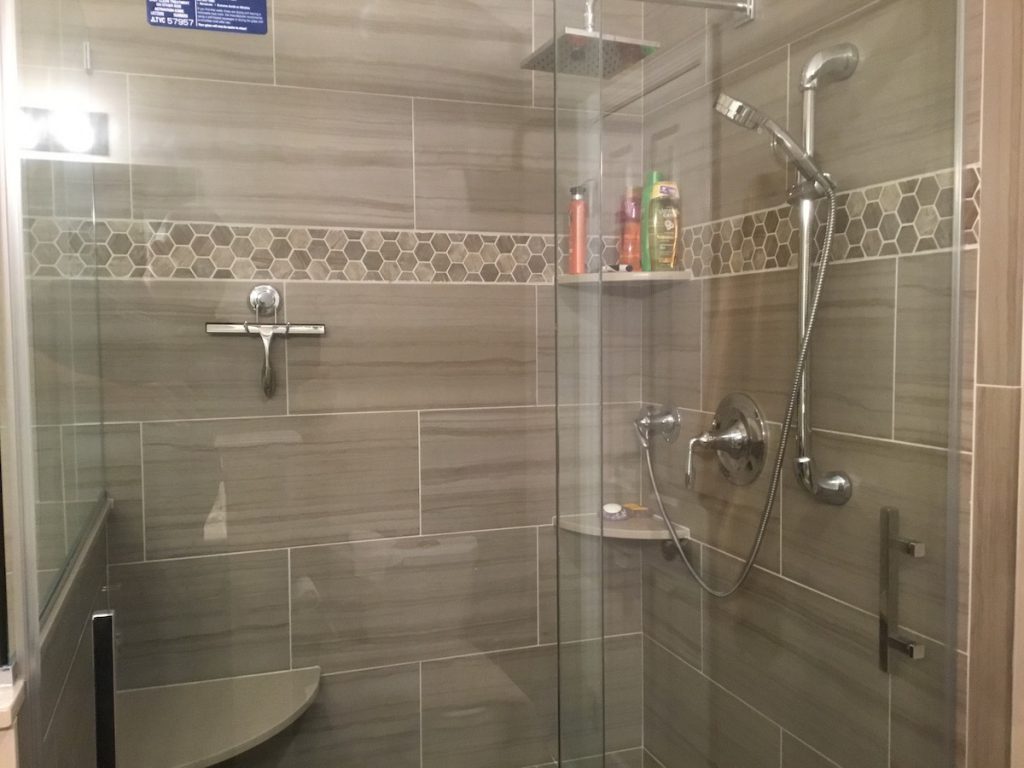 Larger Shower Replaces a Tub
This master bathroom was laid out like a galley. On the right side, there was a double vanity and a toilet which was partitioned off with a half wall. On the left side, there was an oval-shaped tub next to a small, square shower. The right side layout would not change. In fact, we even re-used the mirror and lights over the double sinks. However, we would alter the left side layout. The homeowner requested a larger shower. In order to make room for this resized shower, the tub would be removed. So, now on the left side of the bathroom would be a make-up vanity and a larger shower.
We started the project by removing the tub, shower, vanity, toilet, and flooring. The crew framed the larger shower. We installed the large format 12×24 porcelain tile on the floor. We installed the same tile on the shower walls. A hexagon mosaic tile was used on the shower floor, as well as an accent on the shower walls. We installed two shower heads; one rain shower head and one handheld shower head. The crew added integrated shelves to hold the shampoo bottles that were previously hanging from a temporary shelf. This larger shower replaced the tub giving the homeowners what they requested.
We installed a new vanity with Corian countertops and integrated sinks. We typically install Quartz, but Corian is a low-maintenance and lower-cost option that can be formed into any shape and comes in a wide variety of colors and patterns. On the opposite wall, we put in a matching make-up vanity with matching Corian tops.
All of the materials were purchased through our Morristown, NJ showroom, with the help of one of our Designers.
Now, this master bathroom remodel is complete. A beautiful larger shower replaced the tub giving our clients just what they wanted.