Project Info
Location: Morristown, NJ
Scope of Work: Bathroom remodel
The hallway bathroom in this Morristown, NJ home was very unique. It featured two red sinks atop a white countertop. The flooring was a reddish-brown square tile. The wallpaper was comprised of cartoon funny faces. Fine for the littles, but this bathroom was ready for an update.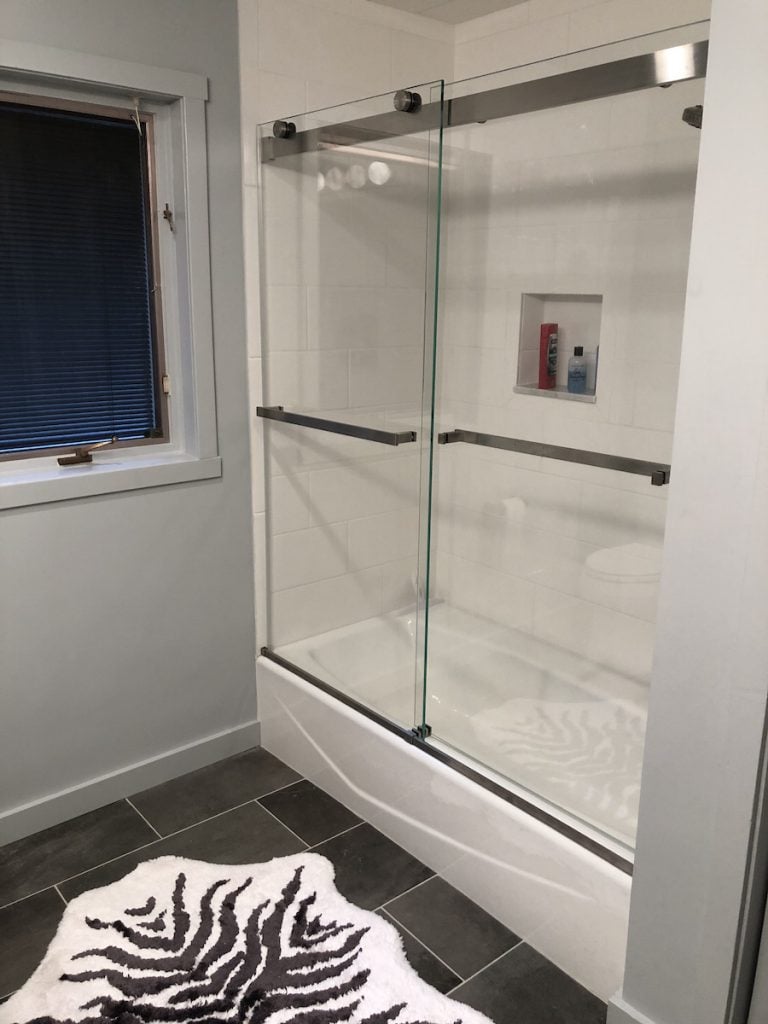 Monk's Method
Everything was removed from this bathroom. We started fresh by installing a new floor and shower tile. We installed a sleek grey floor tile. Then simple white subway tile was installed in the shower.
Then we brought in the new double vanity. Unlike the previous red sinks, the new sinks were under mounted. The cabinetry featured clean, white door fronts. Since these cabinets do not use hardware, they look very streamlined. The cabinet doors are pushed to close and release.
Instead of a shower curtain, we installed sliding glass shower doors. The hardware adds to the modern, masculine look of the bathroom. Lastly, the homeowners finished off the look with a zebra-inspired bath mat.
Finally, this masculine bathroom remodel is complete. Now, these two brothers can enjoy their new bathroom without any cartoon faces watching them.
More Bathroom Remodel Projects
Interested in remodeling your bathroom and giving it a masculine finish? Check out this hallway bathroom remodel for some ideas. We've also created many feminine bathroom remodels, and everything in between.
Our in-house Designers will help you find the perfect look for your new bathroom. She'll help you select and coordinate everything you need, right in our showroom.
Give us a call at 973-635-7900 to schedule your free estimate and get your project started.