Project Info
Location: Bedminster, NJ
Scope of Work: Bathroom Remodel
This master bathroom in Bedminster, NJ was comprised of a room with a bathtub and toilet, another room with a single vanity, and two adjacent closets. The homeowners wanted to update their bathroom, while also making better use of their available square footage. We discussed the homeowners' requirements and created a bathroom layout to meet their needs.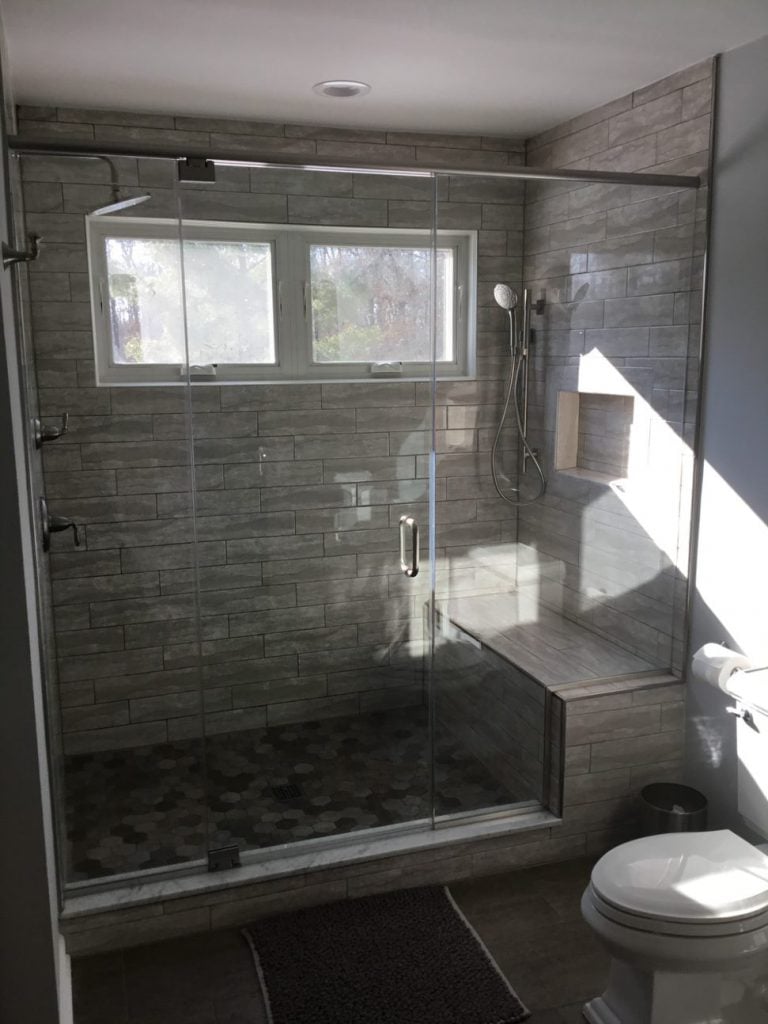 Bathroom Layout Revision
The homeowners expressed that they wanted to reconfigure their current bathroom space. They had a couple of requirements. The homeowners wanted a large double vanity, and to replace the tub with a large walk-in shower. So, they were willing to give up the adjacent closet space in order to meet their bathroom requirements.
Our Designer came up with a new layout that would meet these needs, as well as create a more standard, convenient layout. We planned to replace one of the closets with a large double vanity. Also, we relocated the toilet in order to make room for the large shower. Next, we included a much larger window into the design. It was included to bring in loads of natural light, however, it was positioned high on the wall for privacy. Since the new window is located in the shower, it was made of vinyl and trimmed with Azek composite.
The new shower featured a bench with a handheld shower. On the opposite end of the shower, a rain shower head was installed. A shampoo niche and textured subway tile finish out the new shower.
In five weeks this Bedminster home featured a new bathroom layout with everything that the homeowners desired.
Ready to learn how Monk's can help you?
Contact us for your free, no obligation consultation and estimate.
Call the office at 973-635-7900 OR