Project Info
Location: Randolph, NJ
Scope of Work: Powder Room Remodel
The downstairs half-bath is typically a tiny space. However, it gets a lot of use from both the homeowners as well as guests. The benefit of the tiny space is that it doesn't take too much time or money to remodel it. We took a very dated little bathroom and gave it a whole new look in a handful of days.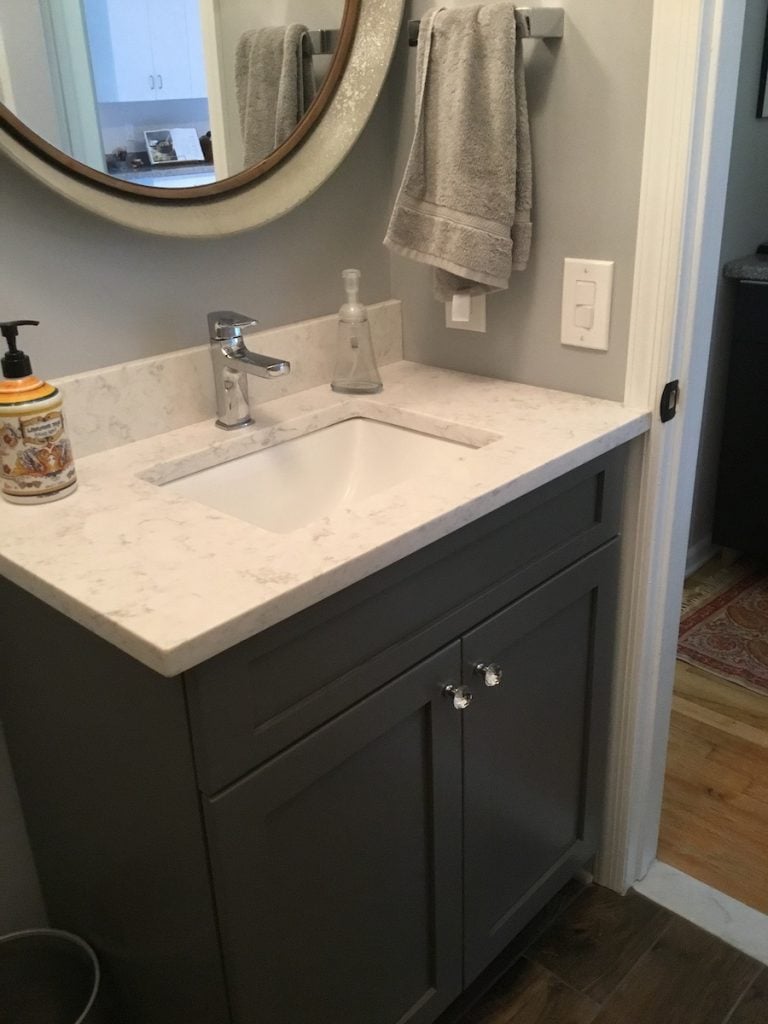 Powder Room Remodel
The homeowners met with a Designer in our Morristown, NJ location. She helped them select a new vanity, top, faucet, flooring, and a toilet that better suited their style. Once the materials arrived, we got to work.
The existing powder room featured beige floor tile and a beige toilet. It had a mismatched white scalloped pedestal sink. It also showcased faux-finished walls that the gang from Trading Spaces would appreciate. We removed it all.
We began the installation by laying a new tile floor. The tile was a dark grey which had the look of wood. We put in the new toilet and vanity. The vanity cabinet would provide storage, unlike the previous pedestal sink. A new quartz countertop and backsplash were installed. Then we installed the compact chrome faucet.
We installed the new accessories including a round mirror with a thick multi-leveled metallic frame. It really made a statement in the small space.
Last, but certainly not least, we prepped, primed and painted the walls to a neutral grey.
In just a few days this powder room makeover was complete.