Project Info
Location: Millburn, NJ
Scope of Work: Bathroom Remodel
The master bathroom in this home featured a corner shower, toilet, and large built-in tub. An oversized vanity was housed just outside in a hallway connecting the bedroom to the bathroom. The homeowners did not care for this layout and instead wanted the hallway vanity relocated to the bathroom proper.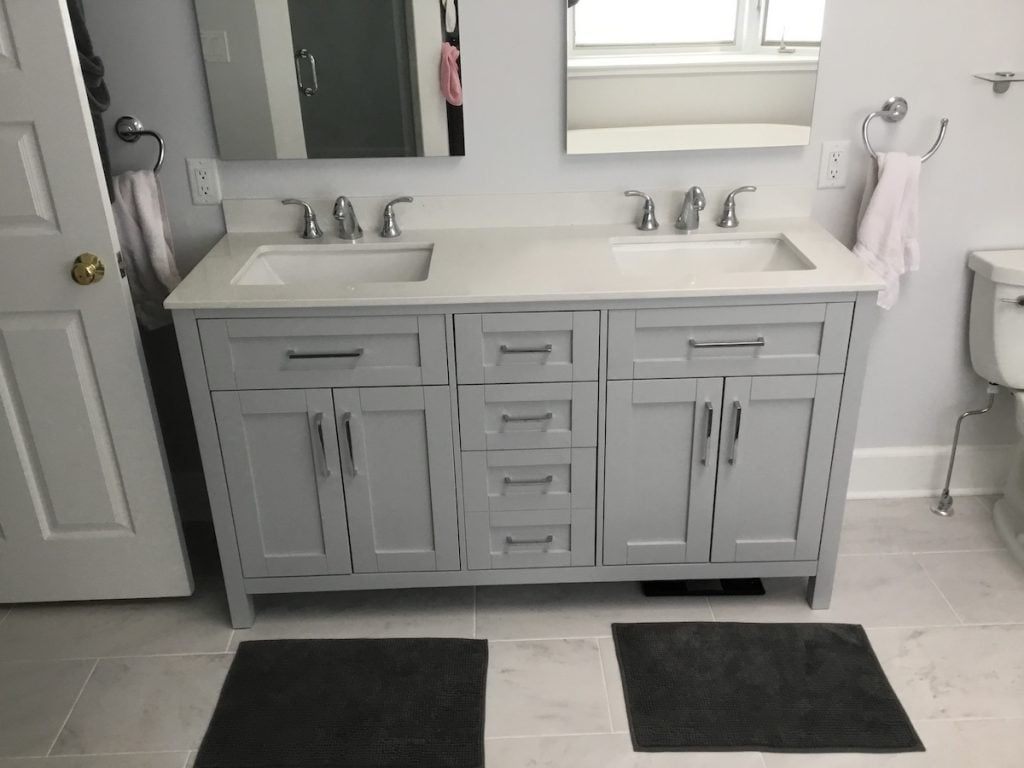 Monk's Method
The tiled-in bathtub took up a very large portion of the existing bathroom. Although the homeowners used their bathtub, they didn't care for its style. Our Designer suggested removing the bathtub and tub surround and replace it with a much smaller, sleeker freestanding bathtub. Therefore, this would allow the bathtub to live next to the corner shower.
Then we suggested moving the toilet all the way to the end of the opposite wall. This would give us enough space to install a double vanity within the existing bathroom footprint.
After our Designer helped the homeowners select their materials and the products were on site, our construction crew got to work. They gutted the bathroom by removing the hallway vanity, the bathtub and all of the tile. Once the demo was complete, the toilet plumbing was relocated and the electric was updated.
We installed all the new materials in the master bathroom. This included a new double vanity complete with doors and drawers. The footprint of the corner shower remained, allowing plenty of room for the freestanding tub next to the bay window.
We finished the project by painting the bathroom as well as the adjacent hallway where the vanity used to stand.
Ready to learn how Monk's can help you?
Contact us for your free, no obligation consultation and estimate.
Call the office at 973-635-7900 OR