Project Info
Location: Far Hills, NJ
Scope of Work: Bathroom Remodel
If you own a home in northern New Jersey that isn't brand new or remodeled throughout, chances are you have at least one bathroom with powder blue or pink tile. This hallway bathroom in Far Hills, NJ featured a blue bathtub and matching blue tile. The best part, a hexagon-shaped blue sink nestled in a dark oak vanity.
The homeowners were ready to rescue this bathroom from the past and make it ready for 2018.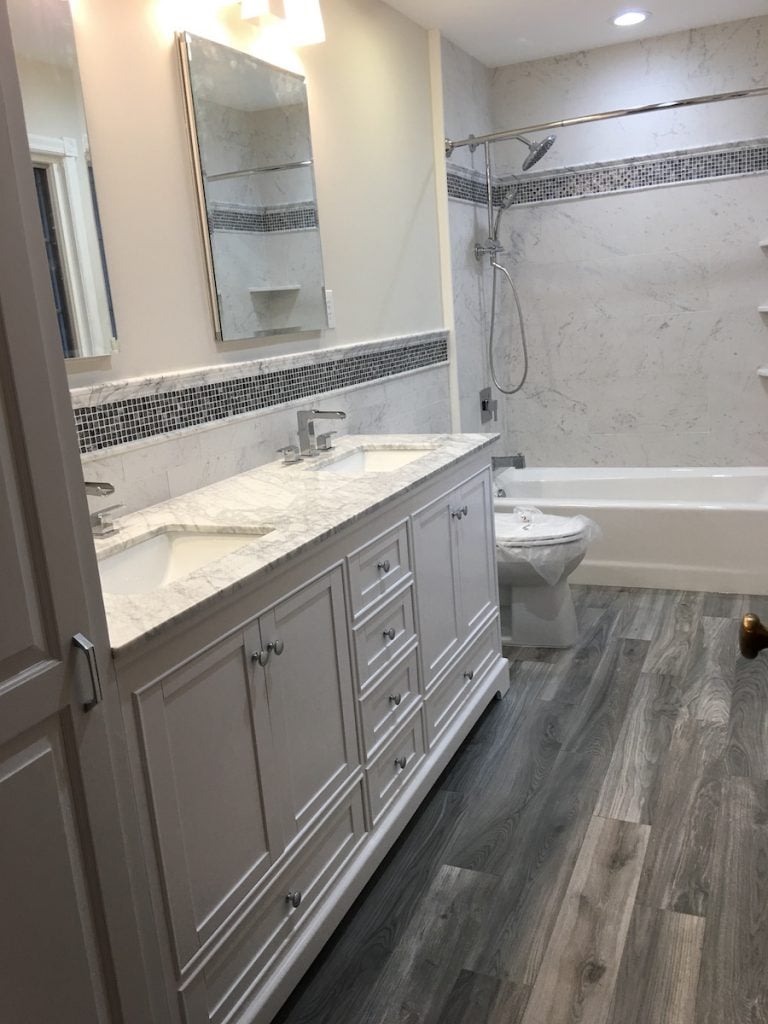 Monk's Method
Because of the long, narrow shape of the bathroom, the basic layout would remain. However, we were able to make a couple of changes to improve the functionality of the room. First, the small linen closet that was only accessible from the hallway was removed and the space was incorporated into the bathroom. This would allow for a built-in, floor-to-ceiling linen cabinet that was accessible from the bathroom.
Secondly, the vanity was very large, but only featured a single sink. We reconfigured the plumbing to allow for a double sink.
We re-tiled the room and shower, including the wall behind the vanity. A new free-standing vanity was installed. This will give the homeowners some options down the road. Since younger children will be using this bathroom, a new vanity can be swapped in without having to disrupt anything else in the bathroom. The vanity is typically what needs to be replaced before anything else in a bathroom.
After all the beautiful finishes were installed, this family bathroom is looking amazing.
Learn more
If you are in need of a remodeling project for your home, please consider Monk's. We offer a full-service solution, from Design through to Install. See more bathroom remodeling projects in our photo gallery. Learn more about our complimentary design services offered at one of our two showrooms.
Call 973-635-7900 to schedule an appointment to discuss your remodeling project.