Project Info
Location: Morristown, NJ 07960
Scope of Work: Full Bathroom Remodel
The master bathroom in this home is quite large. However, it features a steeply pitched roof line. Our Designer and installers faced unique challenges when remodeling this space. It was decided that the majority of the layout would remain, with a few key modifications to open and brighten up the space.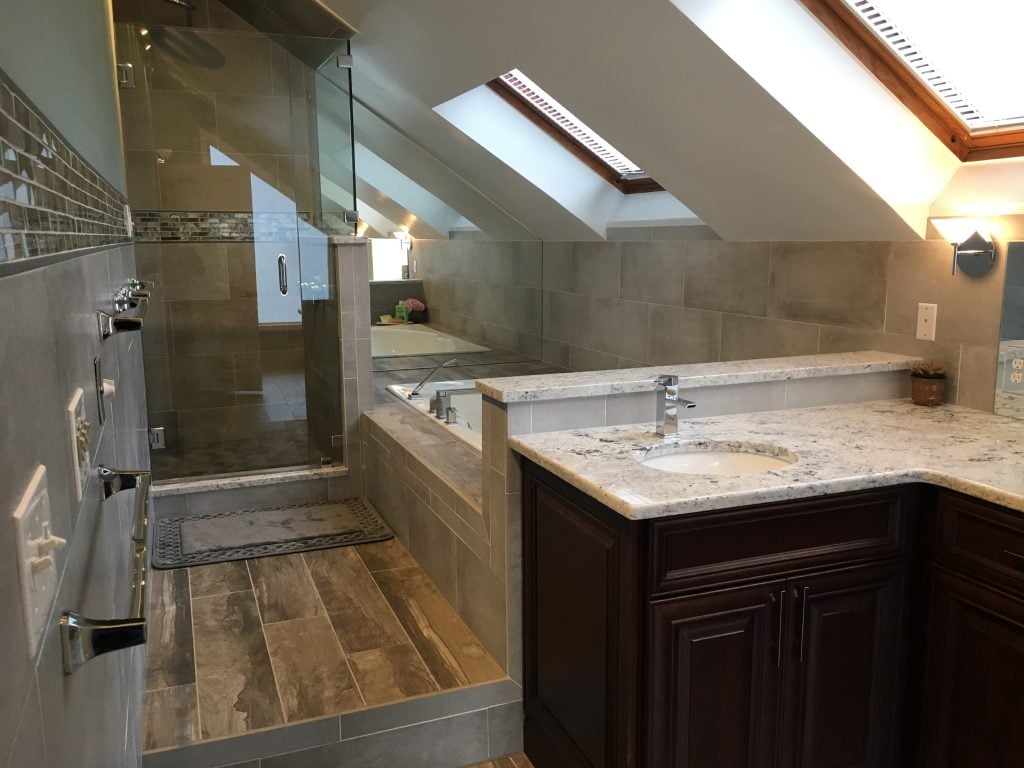 Monk's Method
Once the design was complete and the materials were all ordered, we began by demoing the space. The tile in the existing bathroom went all the way up to the ceiling. We removed all of that tile, along with the old tub, vanity, toilet, and knee wall between the vanity and toilet. Additionally, we removed a bidet from across the toilet.
After we removed all the old material, we installed new walls and sub-floor. Then under-floor heating was installed prior to the floor tile being laid.
One of the modifications we made was to the shower. Firstly, we lowered the shower floor and then we removed a step from the tub deck to the shower. This gave more head room and a more open look and feel. Then we installed a new bench in the shower, along with dual shower heads, including an overhead rain shower. Multiple patterns of tile were installed, including a glass mosaic accent that runs the length of the room.
New faux wood tile was installed on the floor. Porcelain wall tiles, along with the accent tile, went up to about 2/3 rd of the full wall, rather than to the ceiling as they did previously.
We installed two new vanities. We replaced the existing L-shaped vanity with a beautiful updated version. This served as "her" vanity and also provided ample storage. Additionally, we replaced the bidet with a smaller vanity which then served as "his" vanity. Seems perfectly proportioned to me.
Learn More
For additional bathroom remodeling projects by Monk's Home Improvements, visit the Bathroom Remodeling Gallery.
Did you know that Monk's has a kitchen and bath showroom? Located at 1095 Mt. Kemble Ave. in Morristown, we feature kitchen cabinetry, countertops, tile, hardware, fixtures and more. One of our seven in-house designers will help you play your layout and coordinate all your materials. Designer services are always complimentary.