Project Info
Location: Madison, NJ
Scope of Work: Bathroom Remodel Including Replacing a Tub With a Shower
The master bathroom in this Madison, NJ home featured a double vanity, a tub, and a separate shower. It also featured pink floral wallpaper, a mauve tub, sinks, and door. In addition to removing all traces of pink and mauve, the homeowners wanted to also reconfigure the space. The current features of the bathroom weren't meeting their needs. They found the storage space lacking. They also never used the bath tub, so that was just taking up valuable space. Since they always showered, they wanted to expand the shower area to create a large, walk-in shower space.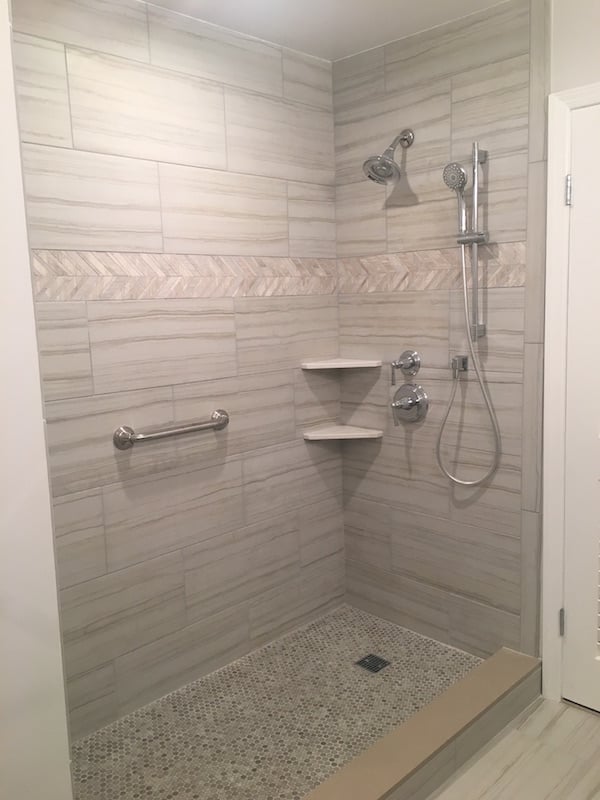 Monk's Method
First Monk's came to the home, took measurements of the space and discussed the homeowner's wishes. Then, the homeowners met with a Designer in our Morristown, NJ showroom. Here, the Designer worked out the new bathroom layout and helped the homeowners select tile, fixtures, the vanity and built-in storage cabinetry, the vanity top and hardware.
Once all the materials were on-site, we began by removing everything in the bathroom. The wall with the shower and tub were re-framed to accommodate the new, large shower and built-in cabinetry.
Once the walls were in place, the tiling began. The large porcelain tiles that were used for the floor were also installed in the shower. A chevron-patterned accent tile was placed along the wall about two-thirds of the way up from the floor. The floor of the shower was tiled with smaller mosaic tiles. In addition to looking lovely, they also provide a less slippery surface than larger tiles. Two shampoo corner shelves were installed, along with a grab bar for added safety.
A new double vanity was installed in the same footprint as the previous vanity. The same angled countertop shape was installed to maximize counter space. The sinks are an interesting shape; the back three sides are squared, while the front is curved.
Where the old shower stall used to reside, built-in cabinets were installed. This will provide a storage area for linens, as well as other toiletries.
Now this reconfigured bathroom meets the needs of the homeowner and looks magnificent!
More Bathroom Remodel Projects
Replacing a tub with a shower is becoming more and more common. People find they don't have time for baths, or find showers safer to use, or simply prefer showering over bathing. Some other examples of when the tub came out to make room for a shower include this conversion for better accessibility, or this Morristown bathroom remodel where we also replaced a tub with a walk-in shower.
Additionally, you can see our bathroom remodeling gallery for some more examples of our work.
If you'd like a free estimate for your bathroom remodeling project, then please give Monk's a call at 973-635-7900. Schedule your free estimate today!