Project Info
Location: Pine Brook, NJ
Scope of Work: Small Master Bath Remodel
Older homes come loaded with character, architectural details, and mature landscaping. However, more often than not, they are tighter on space than their new build counterparts. The master bathroom remodel we completed in Pine Brook, NJ, fit this description. We needed to retain the existing layout, because quite frankly, there wasn't any other option without knocking down walls. Since that wasn't necessary, we were able to completely remodel this small master bathroom in only 3 weeks.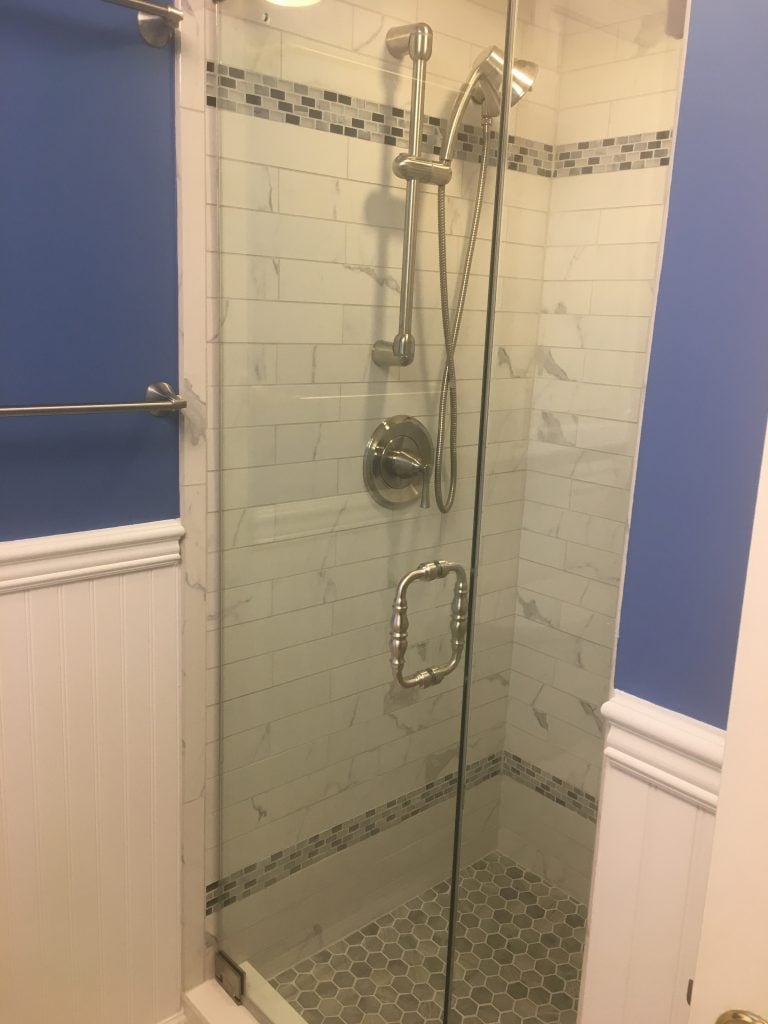 Monk's Method
The existing bathroom was functional, but the decor and features were dated. But that wouldn't be the case for much longer. We removed the brass-framed shower door, and removed the soffit. This would give the shower a more open feeling, while also allowing for steam to escape.
Additionally, all the shower and floor tile, as well as the pink and black wallpaper was removed. We took out the toilet, sink and all the accessories.
We rebuilt the walls and installed all the new tile. The cabinetry over the toilet was replaced with a unit to match the vanity. Both these units will give the room much needed storage space.
Then we installed bead board paneling on the lower portion of wall and painted the upper portion with a pretty bright blue.
Like they say, good things come in small packages. This remodeled master bathroom is no exception!
Monk's can remodel any sized bathroom. See our bathroom gallery for other bathroom remodels we've completed.
Learn More
For your bathroom remodel, we'll come to your home to discuss your project and take measurements. Then you'll visit our Morristown NJ showroom to meet with a Designer. She'll create your layout and help you select and coordinate all your materials. Our showroom features everything you'll need for your new bathroom. We can take care of everything from design through to installation.
Call Monk's at 973-635-7900 to schedule your free bathroom estimate today!