Project Info
Location: Millburn, NJ
Scope of Work: Tile and Tub Replacement as part of a bathroom remodel
The cast iron tub located in this narrow hallway bathroom was original to the home and permanently stained. The tiles in the tub and along the walls were a few decades old as well. The homeowners wanted to replace these dated and stained materials.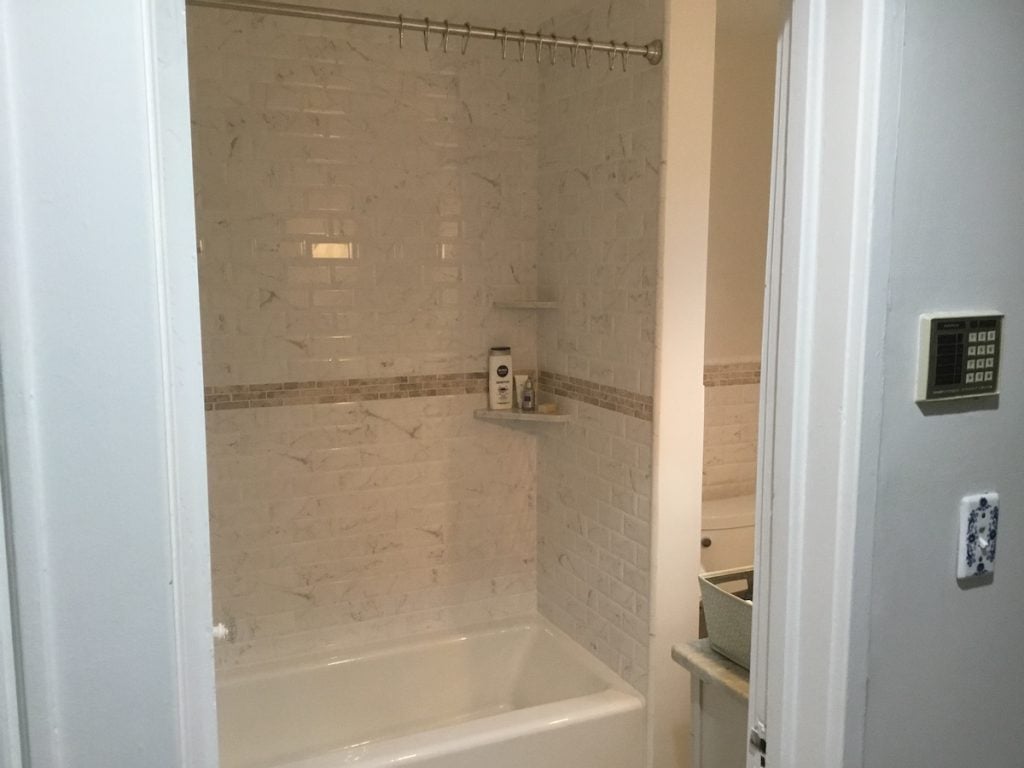 Tub and Tile Replacement
Owners of claw-foot tubs and older cast-iron tubs sometimes opt for reglazing rather than replacement. There is no doubt that this process can make an old tub look like new. Typically, it is slightly less expensive than a new tub. However, it is quite a process. In order for a smooth finish with lasting results, a professional is required. First, they will need to sandblast the tub to remove the paint, rust, and corrosion. Sometimes they use acidic products instead. Then, they will apply a putty-like substance to fill in any chips. This is followed by priming and painting. It should be noted that very strong chemicals are used throughout this process. You will not want to be home until the fumes have subsided.
The cast-iron tub in this home had a very rounded end near the toilet. The homeowner wanted to create a wall between the tub and toilet. Partly for this reason, they opted to purchase a new, rectangular tub. This shape is on trend, and also creates a perfect base for the wall separately the tub from the toilet.
The second part of this tub and tile replacement project was the tile. The crew removed all the existing tile from around the bathroom. With the help of a designer in our Morristown, NJ showroom, the homeowners selected new tile for the walls and floor. We installed a beveled subway tile, a marble mosaic accent tile, and edging tile. The floor tile was updated with a light gray square ceramic tile.
The crew finished by painted the walls a lighter color. Now, this tub and tile replacement project is complete.
Ready to learn how Monk's can help you?
Contact us for your free, no obligation consultation and estimate.
Call the office at 973-635-7900 OR