Project Info
Location: Morristown, NJ
Scope of Work: Custom Built-Ins
Every home could always use more shelving and storage areas. There just never seems to be enough. You can add shelving quick and easy by going to the big box store and buying a couple of tracks and some shelves and getting out the drill. For quality, custom shelving, a carpenter can create beautiful custom storage. Custom shelving and storage will add value to your home and provide character and visual interest.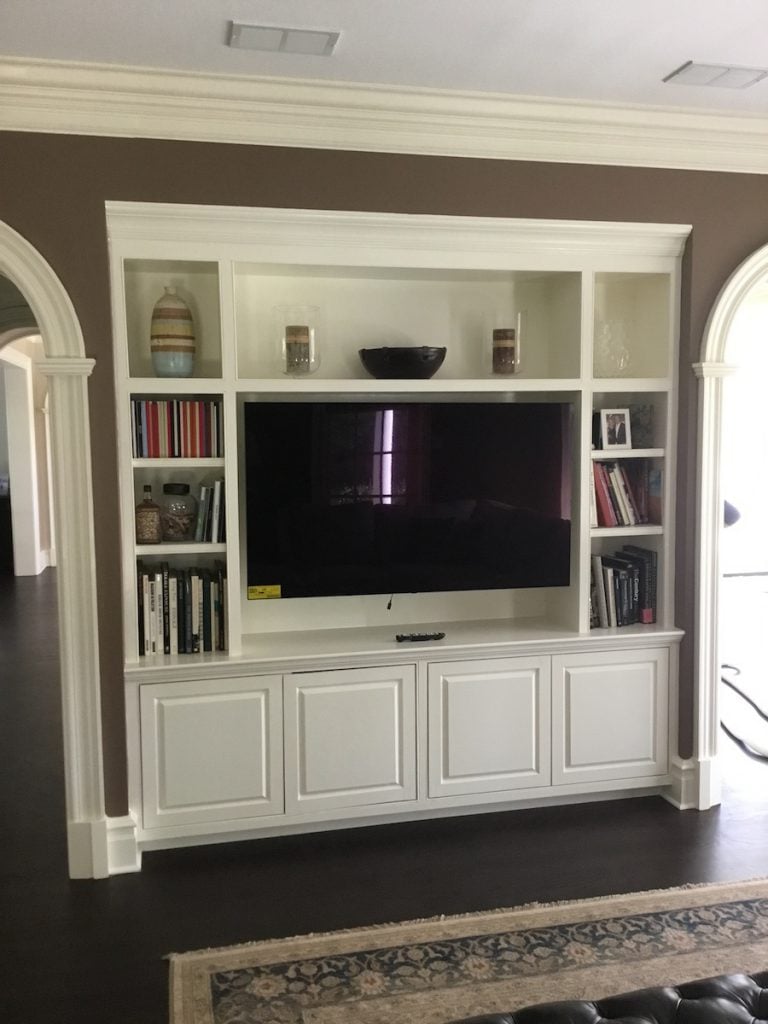 Monk's Method
This home featured a number of unique spaces and recessed areas. To maximize the space, the homeowner requested a few custom built-ins to be designed and installed by Monk's carpenters.
The first was in the living room. It seems like the builders of this home intended for there to be a TV and storage or console table in this recessed part of the room. Instead of trying to find a free-standing piece that would fit, the homeowner decided to add custom shelving to really make the most of the nook. We designed the unit to accommodate the television set. We built cabinetry underneath and installed open shelving that flanked the television.
In the third floor bedroom, the ceiling followed the A-line roof. Both sides of the large window presented an opportunity to add in custom storage. By creating custom units, the homeowners were able to have two bureaus that fit the space perfectly.
The carpenters built and installed the units in both rooms. After their work was complete, our painters came in to finish the project. The raw wood was first coated with a primer. Then, two coats of interior paint were applied. In both rooms, the built-ins were painted to match the room trim.
More Custom Shelving Projects
Monk's carpenters are ready to transform your interior. Floor-to-ceiling fireplace surrounds will add beauty and value to your home. Or, simple shelving in a home office or bedroom is a great addition. Whatever your need, your space, or your style, we can create something that's perfect and just for you.
You can see our custom interior carpentry gallery for some more examples of our work.
If you'd like a free estimate for your custom shelving project, then please give Monk's a call at 973-635-7900. Schedule your free estimate today!