Project Info
Location: Madison, NJ
Scope of Work: Closet shelving, interior carpentry
The bedroom closets in this Madison, NJ home were roomy, but only featured simple hanging rods. In order to be able to make the best use of the closet space, we were hired to install custom closet shelving. We also painted the closets and the bedrooms. While on site, we also boxed up some exposed exhaust pipes in the dining room.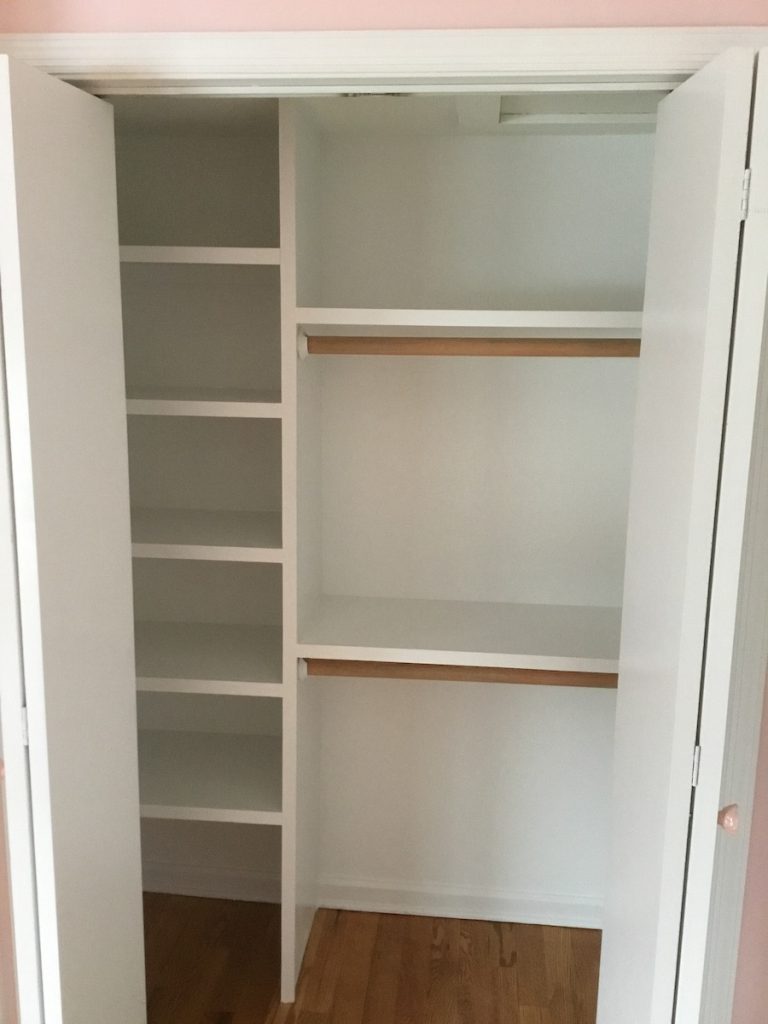 Bedroom Closets with Shelving
These homeowners had a number of carpentry and painting projects and were pleased that they could have Monk's handle it all. We first started on the carpentry projects.
We listened to the homeowner's needs and then sketched out a configuration for the girl's bedroom closet. The new layout would maximize storage, as well as provide plenty of hanging space for smaller clothes.
In the master bedroom closet, the homeowner's requested the back hanging rod to remain, but for both sides to have loads of shelves for folded clothes and shoes.
The shelving was all cut and installed on-site. Once complete, we painted the closets and shelves a crisp white. We also painted the girl's bedroom pink.
Boxing in Exposed Pipes
A new exhaust system was installed for the kitchen stove. Unfortunately, the only way to vent it outside was to run the pipe through the adjacent dining room. While the exhaust was much safer and cleaner now, it was an eyesore in the dining room. Our carpenters framed in the piping and boxed it off from the rest of the room. Then we spackled and painted the new box to match it to the existing room.
In just a few days the carpenters and painters were done and these homeowners had finished off their to-do list.