Project Info
Location: Boonton, NJ
Scope of Work: Window Bench – Carpentry and Painting
This home features a wall of oversized windows that provided plenty of light, a beautiful view and lots of fresh air. However, the homeowners didn't want to place furniture that would block the light or the view. But they also wanted seating for their family and guests. A window bench would provide a great solution.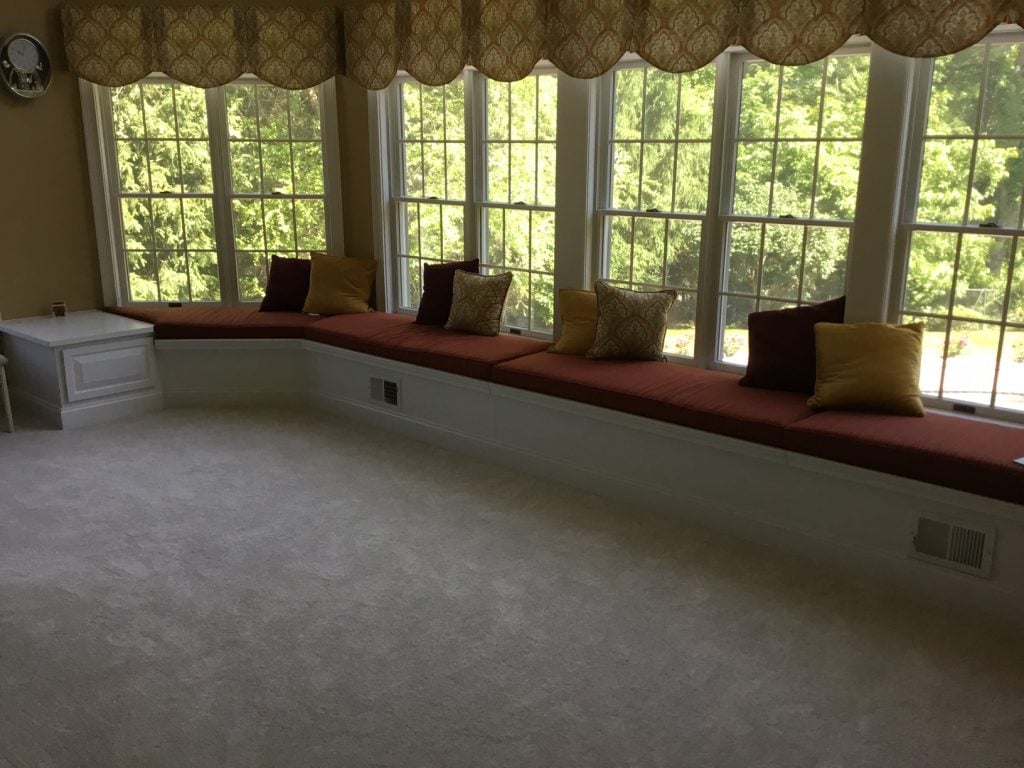 Monk's Method
The first step was to draw out the plans for the bench. The homeowners wanted the bench to front all the windows. Also, they wanted a built-in end table at the left end of the bench. In order to allow storage for toys and blankets, we created cubbies by incorporating a hinged top.
Because the walls included heating and air conditioning vents, we extended the ductwork to the front of the bench. New grills were added once the bench was built.
After the carpentry was completed, we painted the structure white to match the existing trim. The homeowner had cushions made to fit the bespoke seating area. Add in a few toss pillows, and you now have loads of seating for entertaining, or for curling up with a book.
More Built-In Projects
Monk's carpenters can create all sorts of custom carpentry projects. From bookshelves to mantels, fireplace surrounds, to trundle beds, our carpenters have created it – all custom made for our clients. Built-ins are great because they fit perfectly into your space and are designed and painted to match your home and your specific taste.
If you'd like a free estimate for a built-in or other carpentry project, then please give Monk's a call at 973-635-7900. Schedule your free estimate today!