Project Info
Location: Madison, NJ
Scope of Work: Modified Bookshelves, Interior Painting
The owner of this home is a Designer by trade. She wanted to add floor-to-ceiling bookshelves flanking the french doors in her living room. She knew exactly what she wanted, and even drew up professional drawings to illustrate her vision. To make her vision come to life, she purchased 4 flat-packed bookshelves. Then she called us.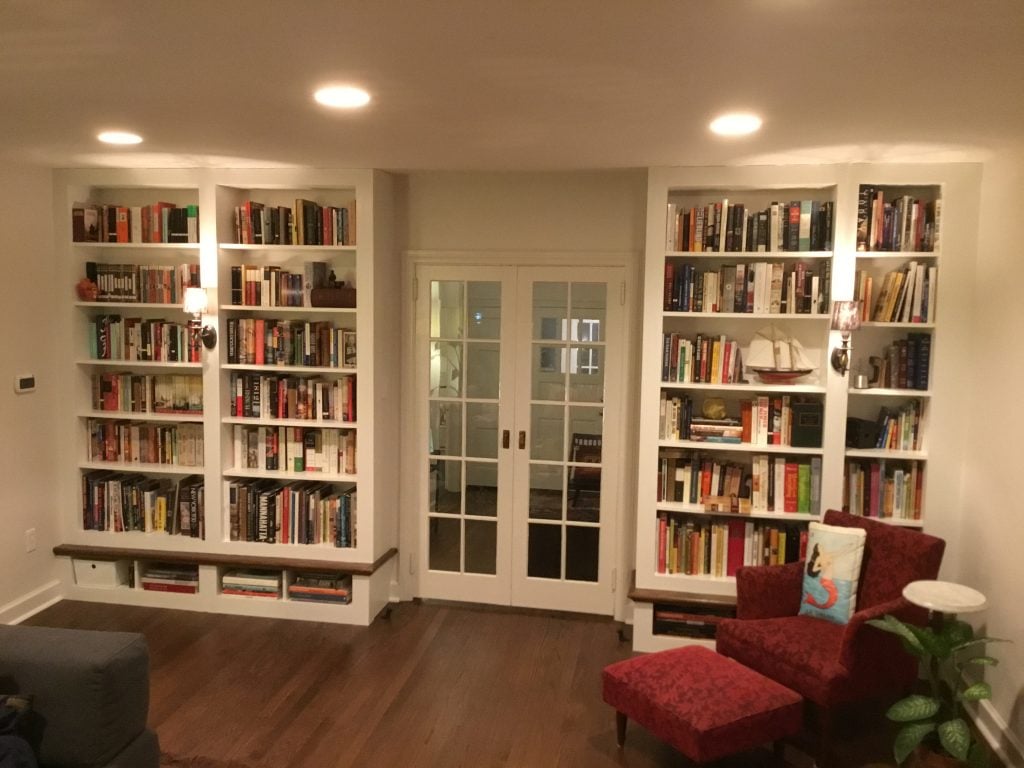 Monk's Method
Instead of simply anchoring these off-the-shelf bookshelves to the wall, she wanted something custom for her home. We began by framing out the new bookshelves. Part of the customization was to add a fixed bottom shelf. This would bring the box shelving up to reach ceiling height.
Additionally, a decorative wooden lip was added above the bottom shelf. This decorative molding was stained to match the hardwood floors in the room. We painted the frame to match the white shelving. Lastly, we installed sconces to both walls of shelving.
By modifying these basic shelves, we gave this living room a high-end, custom look. Now the shelving is sturdy, safe, and beautiful. Time to pick a book to read!
Built-Ins by Monk's
Most of our customers don't have such a detailed vision as this customer. We will work with you to design something specific to your space, and for your needs. Whether it be shelving, entryway lockers, or fireplace surrounds, we can help. We've designed and built lots of custom units. See other built-in projects we've done by visiting the Bookshelves and Built-Ins Gallery.
Call us at 973-635-7900 to schedule an estimate for your custom carpentry project today.