Project Info
Location: Madison, NJ
Scope of Work: Exterior painting, Window replacement
The backyard deck is a space for dining, entertaining and relaxing. Like all good things, they take a little work. Decks built from pressure-treated lumber require regular maintenance and bi-annual staining is necessary. Monk's painters applied a solid stain to this backyard deck so the homeowner could enjoy her outdoor space safely.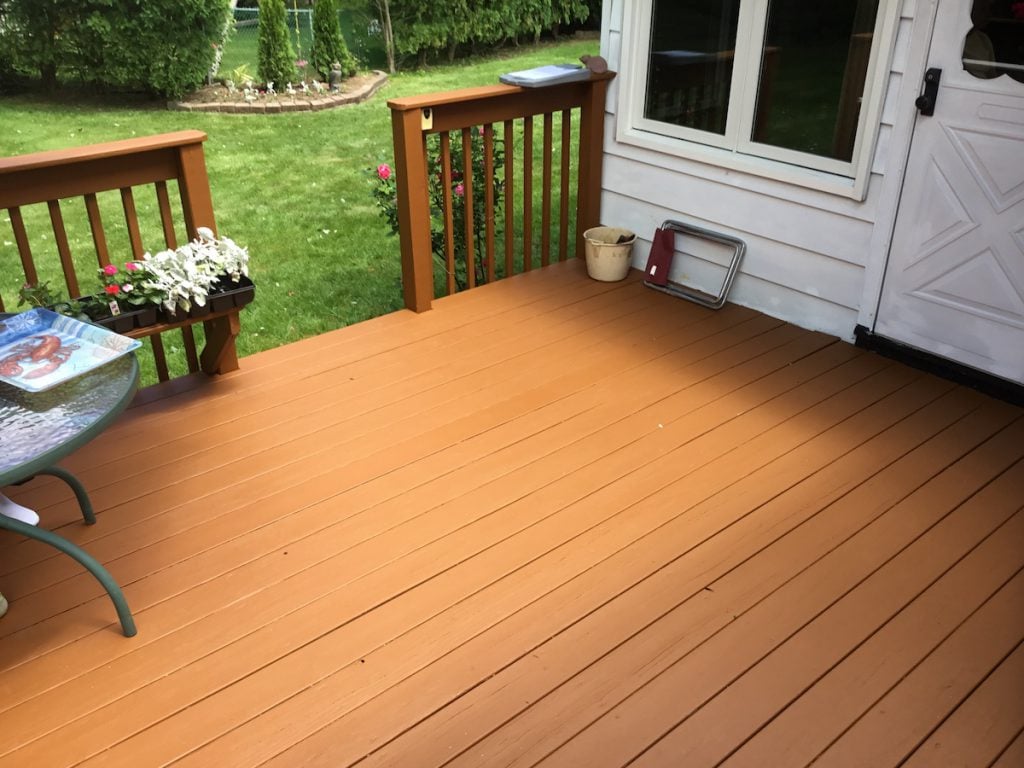 Applying Solid Stain to a Deck
We first visited this home on a rainy spring day. The homeowner wanted her deck to be ready to enjoy as soon as the weather warmed up. She also had a broken garden window that needed to be replaced. The seal on the bottom of the window was broken and had been repaired by the homeowner using painters tape. We provided an estimate for both projects while we were there. We ordered a new window so it would arrive in time to complete both projects at the same time.
When the weather allowed, we returned to the home and installed the new window. The new window provides proper water and airtight seal.
We began this exterior staining project by removing everything from the deck. Then the painters power washed the deck. This removed the loose paint and dirt. Then the painters palm-sanded the deck. This removes any loose paint and smoothes any rough surfaces. It also allows the solid stain to adhere better to the wood.
Stain comes in a few options of transparency. Generally speaking, there are clear, transparent, semi-transparent, semi-solid and solid stain options. Semi-solid and solid stains show little to no wood grain. The more opaque the stain, the more protected the deck is because the less sunlight will penetrate the stain. For this project, we applied a solid stain. This gave the level of protection, as well as color, that the homeowner desired.
Call today to set up a free estimate for your next painting project!
Ready to learn how Monk's can help you?
Contact us for your free, no obligation consultation and estimate.
Call the office at 973-635-7900 OR