Project Info
Location: Chatham, NJ
Scope of Work: Staining Natural Wood Deck
This home features a spacious two-tiered deck running the full length of the home. However, over the years this wood deck has been worn down by the elements. In order to prevent rot, it was imperative that this natural wood deck get protected. Applying solid stain was the option that these homeowners selected.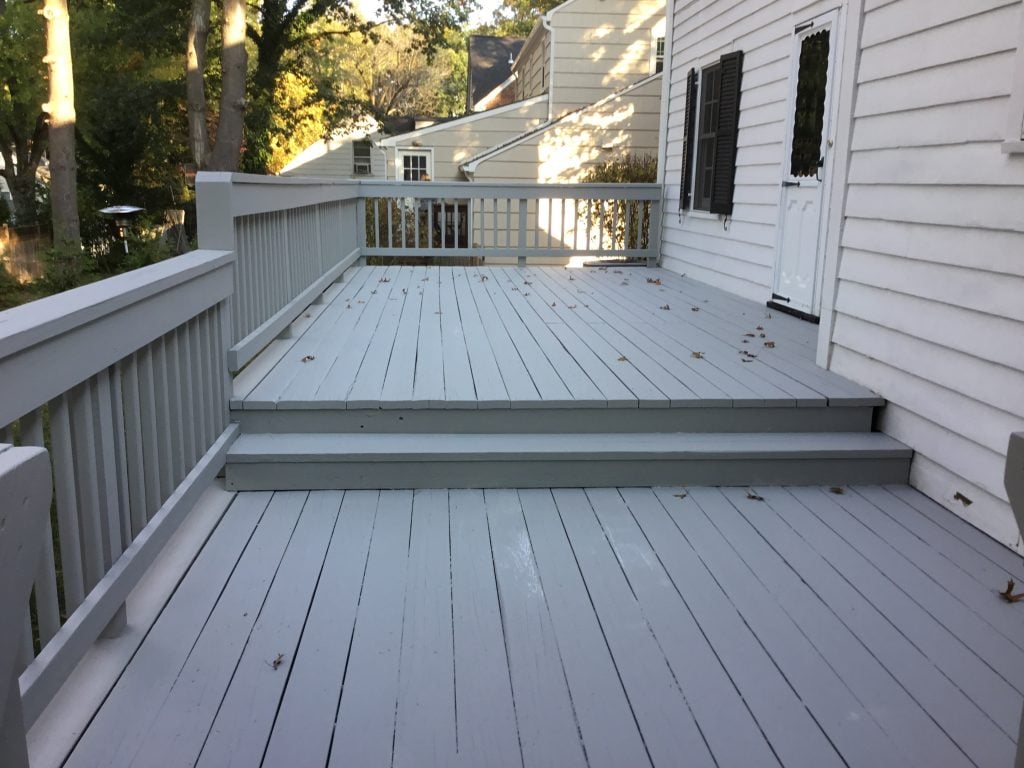 Monk's Method
When we first evaluated the deck it was mildewed and had very little paint remaining on the surface. Luckily, the wood was not rotten so we did not need to make any repairs.
We began by power washing the deck to rid the wood of mildew and remaining paint. We also power washed the adjoining siding that was also mildewed.
Then we lightly hand-sanded the deck to smooth any rough surfaces and prepare the surface to accept the solid stain.
The three main types of stains for wood decks are clear, semi-transparent, and solid stain. Clear and semi-transparent stain is absorbed into the wood. However, solid stain sits on top of the wood and looks similar to paint. For this project, the homeowner requested a grey solid stain. We applied the solid stain to railings, spindles, floorboards and treads.
Now, this deck looks great and is protected from sun and water damage.
Pressure Wash Deck and Staining at Monk's
We provide estimates on decks all year around. If you are considering pressure washing or staining your deck, call our office at 973-635-7900 to schedule an estimate today.
Additionally, we offer exterior painting, carpentry, flooring and kitchen and bath remodels. Any home update you need, Monk's is here to help.