Project Info
Location: Basking Ridge, NJ
Scope of Work: Deck Staining
Monk's built a new deck for homeowners with unique conditions and requests, and this is the beautiful result.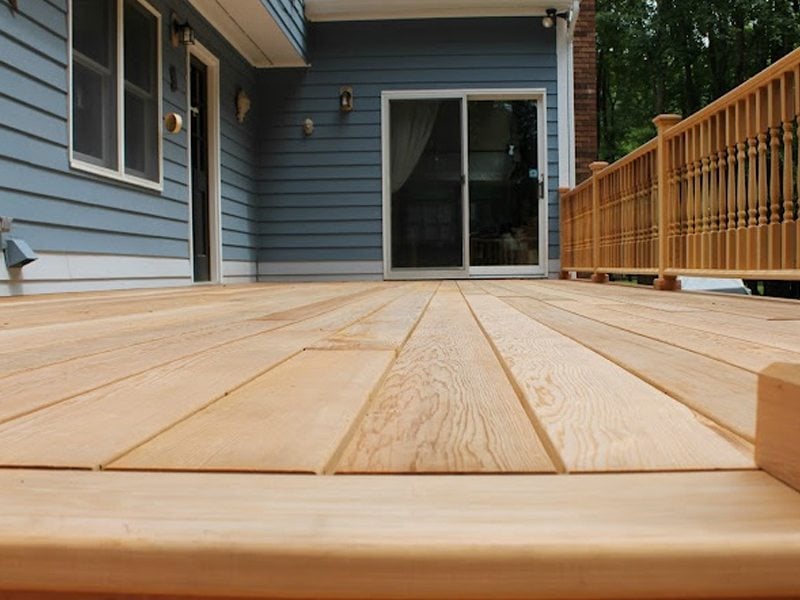 Monk's Method
Materials Used: Western Red Western Cedar, Deck Under Carriage – Pressure Treated Lumber
With just one phone call, the Fowlie family in Millington, NJ was able to get a written estimate for labor and materials, plans drawn, and permits. Creating an easier construction experience for their natural wood deck rebuild. The Monk's Home Improvements team met the project budget and deadline while rebuilding the deck in time for summer entertaining and blending beautifully with the nearby scenic wildlife refuge, another goal of the homeowner.
While Monk's was painting the exterior of the home, the Fowlie's requested a quote to repair the deck. After inspecting the deck, the Monk's team determined too much structural damage existed to be a safe or wise investment for the customer.
After evaluating the homeowner's needs and use for the space, project manager Angelo Santoro drew up designs for the new deck suggesting a smarter use of materials and design by having a single staircase leading to a pretty stamped concrete patio. "It was a very interesting project because the homeowner choose to build a wood deck to blend more naturally with the 7,000 acre natural wildlife refuge, The Great Swamp. This new and improved deck goes the extra mile with nice detailing," Santoro noted. The Monk's Home Improvements team works with 15 different town building departments requiring good coordination. "We have important long-term working relationships with over a dozen hard-working building inspectors.  We earned this reputation by doing reliable work for our customers and making sure the work is done right," Santoro said. For full-service home painting and renovation with one phone call,  contact Monk's for a project estimate today.
Learn more
To discuss your project and receive a free estimate, call 973-635-7900 today.