Project Info
Location: Livingston, NJ
Scope of Work: Deck refacing
In order to keep a pressure-treated wooden deck looking good, annual or bi-annual staining is required. These deck owners were tired of their high-maintenance deck. They wanted something easier to deal with that would look and feel good underfoot for many years to come. Therefore we provided deck refacing at this home.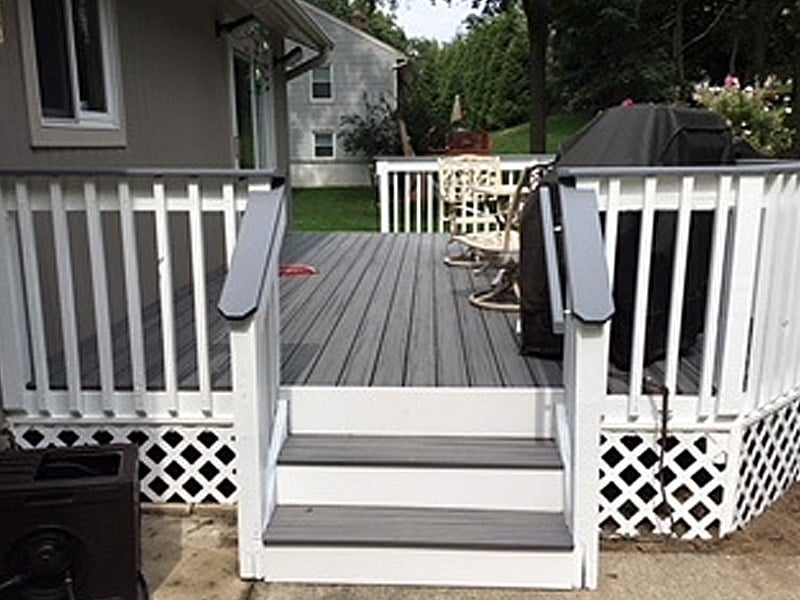 Deck Resurfacing in Livingston
You're probably familiar with a kitchen makeover or bathroom makeover. Did you know that decks can also get a make-over? Pressure-treated wood decks need regular maintenance to keep them in good condition. If there is a lapse in upkeep, the wood can splinter, crack and even rot. Sometimes, resurfacing a deck is the better option.
The first step in this deck resurfacing project was to remove the wooden lattice and floorboards. Then the carpenters cut and installed the new composite floorboards. The homeowners choose a light grey to lighten up the look of their deck.
Then the carpenters replaced the rotted handrails with new pressure-treated pieces. They also installed new white vinyl lattice around the bottom of the deck. At this point, the carpentry work is complete.
Now the painters came to the job site. They lightly hand-sanded all the spindles and railings. The new wooden pieces were primed. Then the painters painted the railing system a bright white to match the lattice.
Now the deck refacing in Livingston, New Jersey project is complete.