Project Info
Location: Morristown, NJ
Scope of Work: New Deck
This homeowner was ready to move his BBQ off his lawn and onto a new deck. Composite decking materials are low (not zero!) maintenance and provide a solid, long-lasting deck surface. The average composite deck owner should expect to lightly clean their deck once every year or two. This deck will not require any painting.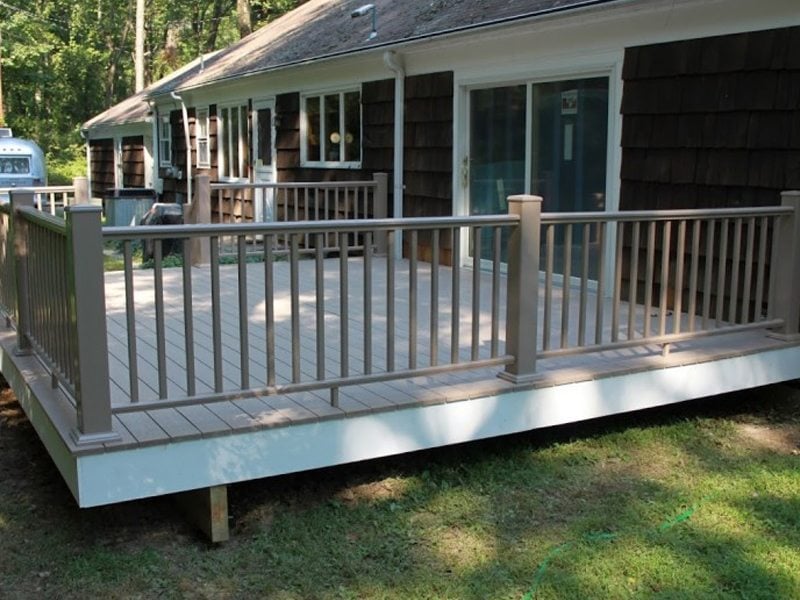 Monk's Method
The existing sliders had rotten trim and lead out to old blue stone steps. We removed both the door and the steps. The dimensions of the new deck are staked out on the ground and outlined with strings. The footings are marked with stakes and outlined with orange spray paint.
Removing the stairs and digging the footings creates a lot of debris. All rocks, concrete, and loose soil are removed prior to framing of the deck and the soil is graded away from the foundation to prevent rainwater from moving back towards the house.
Below, we have removed the rocks and debris and the ground has been graded for rainwater run-off. The framing is complete and ready for the framing inspection. The new sliding door has been installed.
Here is a peek at what the composite railing system looks like before it is installed on the new deck.
Hidden screw plugs for the floorboards and hidden fasteners for the railings.
Learn more
If you are looking to build a new deck, or re-face your existing deck with composite, we would love the opportunity to tell you why we think we are the best deck contractor in Morristown! Call us at 973-975-0044 for a Free Estimate.