Project Info
Location: Mendham, NJ
Scope of Work: New Deck Build
These homeowners were tired of maintaining this pressure-treated wooden deck, and also wanted a larger space for entertaining, and a staircase to access their backyard. They decided to remove their current deck and replace it with something more suitable for their needs.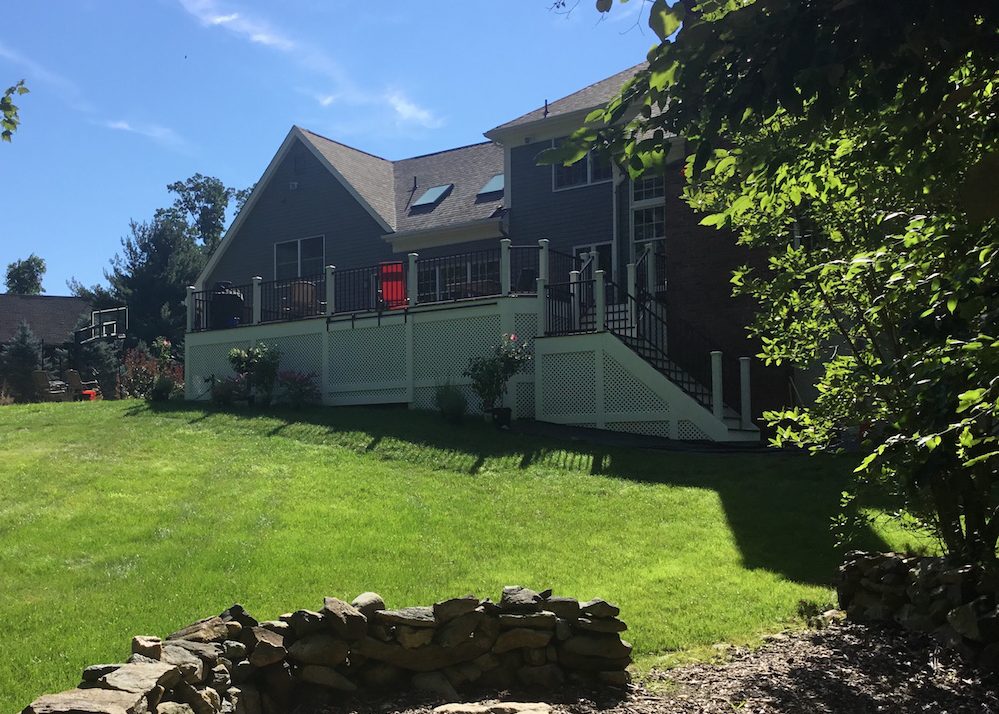 Monk's Method
Since the footprint of the deck was changing, a permit was required. We submitted the client-approved plans and waited for permit approval.
We started by removing the current deck. This was finished in less than a day. Once we had a clean slate, we could measure out and dig the holes for the new footings. After the footings were in, an inspection from the township was required. As soon as this inspection passed, we began building the frame.
Since the lot for this home was sloped, the deck needed to be built at different heights so it would be level. Deck frames are typically constructed from pressure-treated wood. Once the frame was in place, another inspection was required.
Now the stairs and decking could be installed. The decking and stair treads were all composite material. Composite material is nearly maintenance-free and will last for years and years. Once the decking was all laid, the railing posts were installed. The railing system chosen was also a man-made material, again selected for its durability and ease of care.
The fascia boards and lattice skirting were then installed. A fun feature of this deck was the sliding lattice door. This allowed for access underneath the structure, as well as storage. This homeowner housed his lawn mover underneath the deck. The door then closed to deter animals from getting underneath.
The railing system was then finished and this new elevated composite deck was ready to be enjoyed!
More Deck Building Projects
As you can see from this project, Monk's carpenters can build you a new deck from scratch. We work with wood or composite materials. Another popular deck project is refacing. This is where we replace the floorboards, treads, and railings with new material. Again, this could be wood or composite. Deck refacing is a faster process. The reason is twofold. First, a deck reface project doesn't involve installing joists or framing. Secondly, it doesn't require a permit or inspections.
To see examples of different types of decking projects, visit our Deck Gallery.
To discuss your deck project options, call Monk's at 973-635-7900. We'll provide a free, written estimate for any deck project.