Project Info
Location: Morristown, NJ
Scope of Work: Deck Build, Carpentry
Our team of skilled carpenters replaced this home's existing steps and small landing with a brand new composite deck in this Morristown, NJ backyard.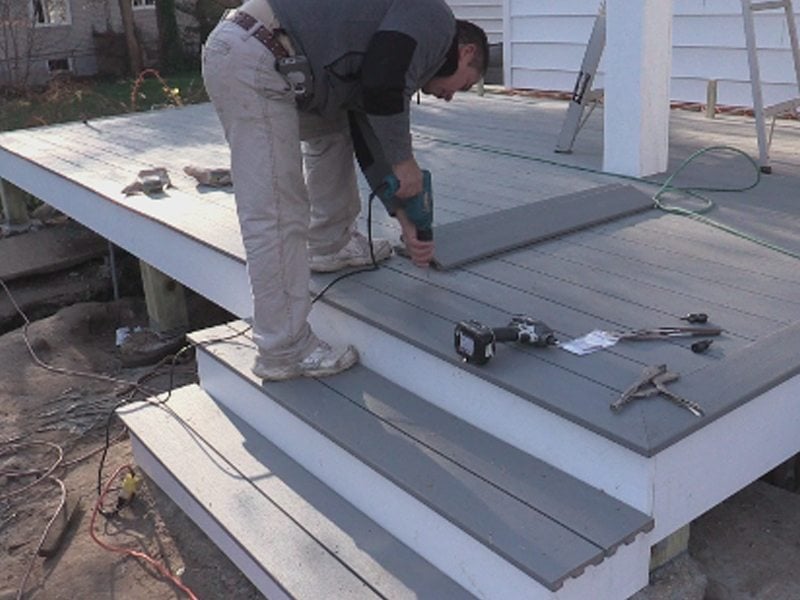 Monk's Method
This exterior carpentry project began with our team knocking down the home's existing landing that leads out of their back door.
After the footings were secured in cement, we built a brand new frame and deck for this Morristown, NJ backyard.
Composite deck material was used for this project. Composite materials are excellent for outdoor projects because they are moisture resistant. They will not rot and nor require the amount of maintenance required for wood structures.
A railing was not part of this project because the deck was low enough to the ground not to require it. The open deck provides an unobstructed view of the family pool.
Our team of carpenters built two separate sets of stairs. One set leading to the side yard, and one leading off the back and towards the pool.
After the framing was complete, the fascia trim boards were installed.
Then the new composite deck boards were installed for the deck and the stairs.
Composite trim was also used to wrap the post and provide detail to match the home's exterior.
Learn more
More Projects: To see deck projects by our team take a look at our Deck Gallery.
If you are considering a deck project for your home we would like the opportunity to tell you why we think we are the best deck contractor in Morristown, NJ 07960.
To discuss your project and receive a free estimate, call 973-975-0044 today.