Project Info
Location: Madison, NJ
Scope of Work: Pressure Wash Deck And Staining
If you own a natural wood deck or porch, you understand the need for continual maintenance. In order to protect your deck and keep it looking new, you should be prepared to power wash and stain it every year. However, finding the time to maintain your deck can be tricky, especially with a busy schedule.
For these homeowners in Madison, NJ, they decided it was time to pressure wash and stain their deck. Monk's helped these homeowners keep their summer weekends reserved for fun.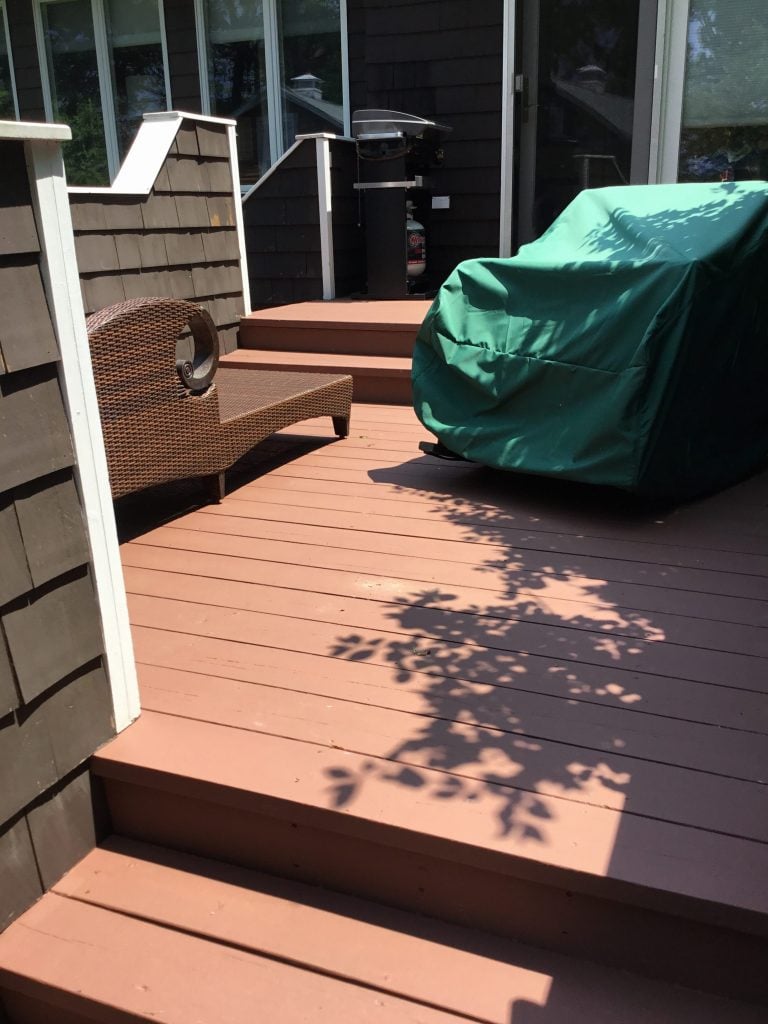 Monk's Method
If you notice peeling, fading or discolored areas, it's time to pressure wash your deck and make it look brand new again! First, we pressure washed their front porch along with the back deck and the stairs, removing grime and peeling paint. Also, if there are any rotted areas, we can replace those portions with new boards.
When staining a deck, the first step is to thoroughly pressure wash the area. After cleaning, our team applied the reddish-brown solid stain selected by the homeowners. The solid stain helps seal and protect the wood, as well as adding a smoother look to the deck.
As mentioned earlier, wood decks need to be stained annually. Because of this yearly upkeep, many homeowners decide to reface with composite material because annual upkeep is not required.
At Monk's we can power wash, stain and paint any wooden deck or porch to your color preference. We also build new decks, as well as and reface wood decks using composite.
To see more of our pressure washing and staining projects visit our Deck Gallery.
Pressure Wash Deck and Staining at Monk's
We provide estimates on decks all year around. If you are considering pressure washing or staining your deck, call our office at 973-635-7900 to schedule an estimate today. You may also visit our showroom in Morristown to browse the different deck materials we carry.
Additionally, we offer exterior painting, carpentry, flooring and kitchen and bath remodels. Any home update you need, Monk's is here to help.