Project Info
Location: Summit, NJ
Scope of Work: Carpentry, Exterior Painting, Railing Replacement
The wooden railings of this home were suffering from years of exposure to the outdoor elements. The homeowners requested that we rebuild the rotted railings and repaint. In only two days these railings were looking as good as new!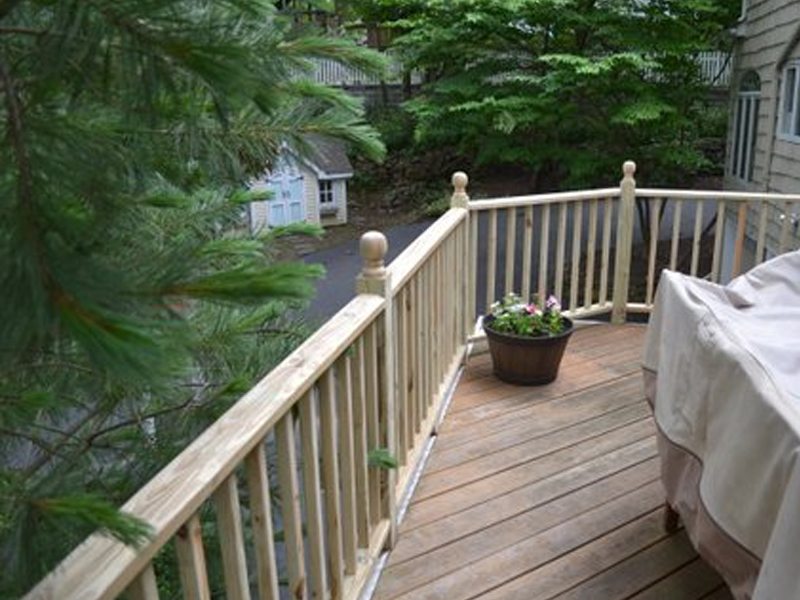 Monk's Method
It's natural for the exterior components of your home to be damaged by the weather over time. It's important to stay on top of your home's repairs- inside and out.
To begin the project our team assessed the damage of the rails. It turned out that the entire railing would not have to be replaced. A portion of the railings were completely rotted and would need to be removed and rebuilt, but some of the railing was simply in need of a new paint job.
After determining how much of the railing would need to be replaced the rotted railings were dismantled. Our team of carpenters then carefully measured and cut each piece of wood to recreate the railings exactly as they were. These custom-built railings were completed in only one day.
After we installed the newly built railings, we painted them. Our team used Duration Sherwin Williams paint for this particular project. The new railings received a coat of primer and two coats of paint, while the existing railings only needed one coat.
In only two days our team dismantled rotting railings, built new railings, installed, stained, and painted the final railings (not all railings are shown with their final paint job here)!
Another great job completed by Monk's!
Learn more
If you are considering new railings in your home we would like the opportunity to tell you why we think we are the best carpentry contractor in Summit, NJ 07901.
To discuss your project and receive a free estimate, call 973-685-5063 today.